How The Quests' Shanty shaped Singapore's pop scene
SINGAPORE — Back in the mid-1960s, you could not go anywhere without reading or hearing about The Quests. One of the first groups to be offered a recording contract in Singapore, The Quests was a pioneering trilingual act, releasing records under the EMI label in English, Mandarin and Malay. Spanning various musical genres, from rock 'n' roll to bossa nova and cha cha, it wasn't surprising to see The Quests' record sales exceeding 20,000 copies and screaming fans at their concerts.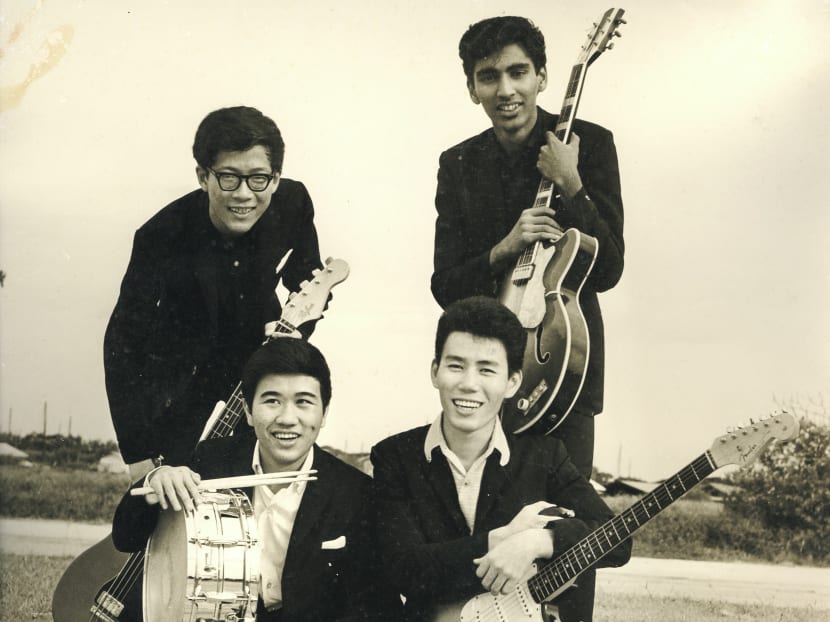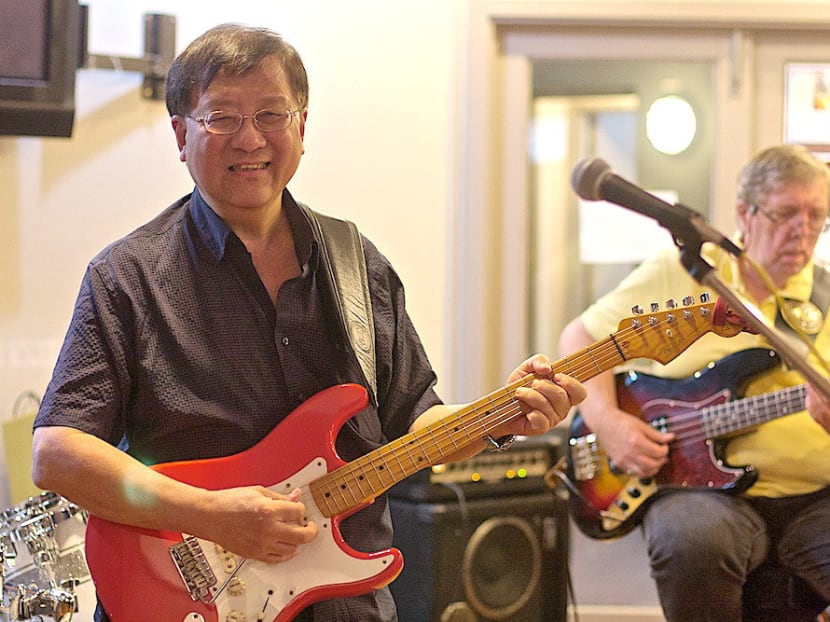 SINGAPORE — Back in the mid-1960s, you could not go anywhere without reading or hearing about The Quests. One of the first groups to be offered a recording contract in Singapore, The Quests was a pioneering trilingual act, releasing records under the EMI label in English, Mandarin and Malay. Spanning various musical genres, from rock 'n' roll to bossa nova and cha cha, it wasn't surprising to see The Quests' record sales exceeding 20,000 copies and screaming fans at their concerts.
But all that adulation and success would not have been possible if it wasn't for a simple ditty titled Shanty. It was the A-side of their first single (the flip-side was the stompin' number Gallopin'), and it became the first original pop composition by a Singapore band to hit pole position on the music charts here.
That song is now 50 years old.
"Wah, 50 years already ah, so fast!" quipped former Quests bassist and Shanty composer Henry Chua, in an interview with TODAY.
Now 67, Chua was a member of the band's original line-up. Formed in 1961, it included the late Jap Chong, Raymond Leong and Lim Wee Guan. This was despite the fact that he couldn't play a note on the guitar.
"Jap taught me how to play. I didn't even know how to tune a guitar, but I could always hear the music in my head," he told TODAY. "I was about 14 when I met Jap and then three years later, I had learnt how to play the guitar and bass."
Within three years, the band had built a reputation for itself. They regularly appeared on TV and radio and were becoming quite well-known on the circuit. "We appeared on a lot of TV shows, like Dendang Ria, before we had a record out," said Chua.
They also had a new guitar player in Reggie Verghese, who replaced Leong when he left to pursue his studies in engineering. "We were playing in various places and we used to see Reggie's band, The Checkmates. So when there was a vacuum, we asked Reggie and he jumped at the opportunity."
At the time, The Quest was also backing a singer named Wilson David, the Cliff Richard of Singapore. It was with David that The Quests found themselves auditioning for EMI. It was at the record label's office at MacDonald House that they met Daisy Devan, the woman who would end up nurturing their career and the one they dubbed "the iron lady at MacDonald House". (After all these years, Chua still refers to her as "Mrs Devan".)
"She was the A&R (artiste and repertoire) manager and she was older than us — 25, I think (and) I was 17 — so she was like a mother figure to us," said Chua.
A HIT WAS BORN
They recorded their audition ("the recording engineer, Mr Lee, used the same type of recording console as The Beatles used at Abbey Road studios") and when they heard the playback, Devan was sure she had a top act on her hands. She wanted to record The Quests — but not David, who later got his own recording deal — but on one condition.
"Mrs Devan said, 'Come back next week with two originals'. Next week! So we cracked our heads to write something. I went back and I think it was that very evening, I sat down with my guitar and started to write something."
That evening, a simple instrumental ballad came into being as Chua worked on his guitar. The following night, Verghese called Chua, whistling his tune, Gallopin', over the phone. "He couldn't write music then so he came over to my place and on the way in the taxi, he kept humming the tune, in case he forgot it. It was a good tune and we recorded it on my father's open reel Grundig tape recorder."
When the week was up, The Quests returned to EMI armed with the two new songs. "Mrs Devan liked both songs and she asked me what my tune was called. I didn't have a name, so at the spur of the moment, I said: 'Call it Shanty'.
"Why? I just liked the sound of the word. Of course, in hindsight, the word itself means a few things. It could be a type of song sung by sailors, a sea shanty; or it could mean a shack. Of if you replaced the 'y' with an 'i', it could be the name of an Indian girl. At the time, none of that was in my head. I just wanted a short name."
The band recorded the songs and Devan said Shanty ought to be the A-side. "We didn't really have a say in which song got the A-side and which song got the B-side. We just went with what we were told," said Chua.
The single was released in October 1964 and shot to No 1 in Singapore, knocking off The Beatles' I Should Have Known Better. It stayed on the top of the charts for a whopping 12 weeks.
"Last time on TV, there was a show called Pop Inn and there were three guys on the show who would review the latest records. The resident judge was Vernon Palmer — Michael Palmer's father — and we had a very good review from him. It became the most-played tune on radio and Redifussion."
The single signalled the start of The Quests ascent to the big time. "We were young kids — I mean, a 17-year-old writes a tune and it's a hit and you suddenly become popular, every newspaper wants to talk to you. Every week there'd be an article about us, either individually or as a group," recalled Chua.
And with that came the fans. "But for us, it was only Singapore and Malaysia where we were popular. We couldn't go on the streets without being recognised or followed or being asked for autographs. It was nice, lah, but after some time, you know, it feels like you're being watched. When you're eating, you'd find people staring at you, watching every move you make. And because we were in the media every week, it was like, just to see the guy on the road was an event. So there were some restrictions and you lost some privacy. But we were a household name."
And life in the fast lane wasn't a bed of roses. Sometimes the band would be hard-pressed to get to bed. "We would play at an RAF base on Saturday evening, finish at 5am, then on Sunday morning, 9am, we had to do the early bird show at Capitol or Odeon Theatre; and then rush back to the studio to record on Sunday afternoon. It was very hectic. So we were a little lazy sometimes."
WE WANT MORE
And EMI wanted more hits, which meant that both Verghese and Chua, being the main songwriters, had to come up with something — and fast. "Mrs Devan wanted us to put out one record a month," said Chua. "But Reggie and I didn't compete. We didn't care who wrote it as long as there was something to record."
Despite Verghese's flair for tune, Chua said he always found it easier to write songs alone. "I find it very difficult to write a song with too many people around. I think it's because then everybody wants to put their two cents' worth in … and you know the saying about the camel? 'The camel is a horse designed by a committee.' So I've always found it better to write songs alone.
"When I write, I try to 'see' the music as well, you know? I close my eyes and try to visualise the song. But because music is emotional, when you hear a piece of music, it must do something, stir some emotion. It must take you on a journey, from the moment you hear the intro until the song reaches its climax. That's what makes a song successful. In a way, that's what happened with my song."
It was Chua who offered the band's next instrumental number, a sweet ballad called Tea Break, released in early 1965. "It wasn't written immediately after Shanty so I had time in between to play around with tunes. At the time I wasn't so good at writing (but) I love a melodious tune, so that was my main thing for Tea Break."
From then on, The Quests would reach even greater heights, particularly when they added Keith Locke to the line-up and later, Vernon Cornelius, who replaced Locke in 1966.
For Chua, though, his journey with The Quests would end a year later. He had just turned 20 when his father passed away and Chua found himself at a crossroads. While the band was still successful, he was skeptical of its sustainability. "We had reached the pinnacle of popularity and it seemed to me there were no further horizons," he wrote in his book, Call It Shanty, which was published in 2001.
He also felt that the band members were getting complacent, turning up late for rehearsals, with a lack of enthusiasm and not wanting to come up with new material. So in 1967, Chua decided to quit. The others in the band and Mrs Devan tried to persuade him to stay, but he was adamant and played his last gig with The Quests at the Happy World Amusement Park.
Distraught fans wrote letters urging him to stay, with some threatening not to support the group any more unless he returned.
"I left because I wanted to study engineering. So we got Sam Toh to replace me and I helped him out with the tunes for a few weeks," he said.
The Quests would later go on to successful stints in Hong Kong, before finally returning to Singapore and calling it a day in 1971.
LAST SONG SYNDROME
These days, Chua, who has been retired for 14 years, sometimes gets surprised by people who recognise Shanty. On YouTube, there are several cover versions of the songs from musicians living from as far away as Australia and Europe. "It's a pleasure to hear others playing the song. I'm surprised that till today, they still know this song. But again, they must have liked the tune to put the recordings on YouTube!"
Chua said he doesn't really want to perform per se any more, preferring to just do music for his church where he is a deacon. He was invited to play with the band last year for the Queenstown anniversary concerts, but couldn't make it as he was travelling at the time.
So what was the formula behind The Quests' success? "To be honest, I don't think any of us were top musicians. We didn't know many chords. We couldn't play all those running scales, we couldn't do all those ad-libs — well, not a lot — but the important thing, I think, was that the band was tight. Very, very tight. I mean, Wee Guan and I grew up together and he used to play 'drums' on biscuits tins. And I would know his next beat, what he would do next.
"But maybe it's because we were a bit luckier than others — right place, right time, right tune, right exposure. I mean, you can only remember a few names from the past, but actually, there were hundreds of bands in Singapore," he said.
"We were young kids. We didn't plan it. It just happened."