Rant and Rave: Art Fazil wants more local heroes
SINGAPORE — For musician Art Fazil, the exhibition he curated for this year's Singapore Heritage Festival, Ole Ole Temasek: 50 Years Of Singapore Malay Pop Music, is more than just about music — it's about culture.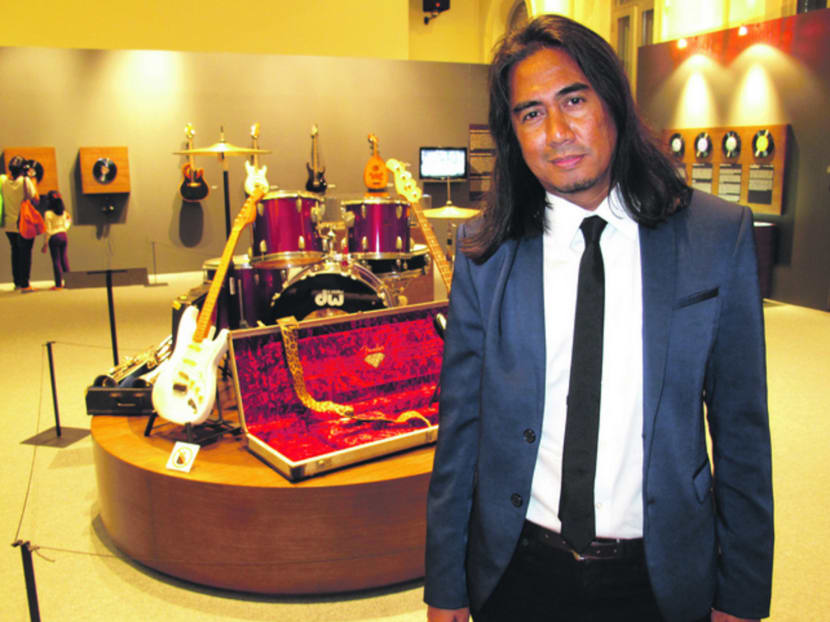 SINGAPORE — For musician Art Fazil, the exhibition he curated for this year's Singapore Heritage Festival, Ole Ole Temasek: 50 Years Of Singapore Malay Pop Music, is more than just about music — it's about culture.
"The approach is more of an exhibition of Malay pop culture, or even Singapore culture, in a way," he said. "Even though it's about the Malay pop music scene, it wasn't only Malays who were involved. Reggie Verghese of The Quests helped produce some records and Jimmy Wee signed Ramli Sarip, which opened up a whole new vista for Malay rock in the region — bands in Johor such as Lefthanded or Search were all inspired by him."
And don't forget the contributions of Malay weddings, he reminded us. "There was a Malay wedding circuit. Bands such as Black Dog Bone or The Flybaits, even when they were making records, they were (also) playing at these weddings."
The exhibition's title Ole Ole Temasek comes from a P Ramlee song, which was quite experimental for its time. "The song was written by a lady called Salamah Basiron, whom everyone knew as Hanimasara.
It's got different elements like psychedelic pop rock with distortion, traditional Malay elements and a Doors-type keyboard," said Art. "Ole ole means 'gift' in Malay, so this exhibition is like a musical gift from Singapore to the world."
The musician originally wanted to put together an exhibition on Singapore pop music in general but realised the scope was way too big. "Conceptually, it seemed okay, but I didn't have the resources. So I decided to specialise in Malay pop," he said.
The challenging thing was that there was no easily accessible archive material. "My references were bloggers on the Singapore music scene, such as Andy Young," said Art.
Getting artefacts wasn't easy either. "I made cold calls to musicians. One thing is that the musicians didn't keep a lot of their instruments or other things. They sold them off. They didn't see it as something of value at the time," he explained. "There wasn't a sense of 'we are part of history' or a sense of ownership that they were part of something special.
"Some items were sponsored by a vintage shop in Joo Chiat. Ramli Sarip loaned two guitars. I met a collector through a friend in Johor who had a huge collection of records and magazines."
Art said that would like the exhibition to be a permanent thing if possible, and is also toying with the idea of writing a book on the subject. "Once you open up a platform then people will come forward.
If you speak to the older Malay musicians, they all have a sense of pride about being a Singapore musician. But there's no documentation of their work. So I wanted this to sort of be a form of documentation of that."
(Ole Ole Temasek runs until May 17 at the Salon Gallery in the National Museum of Singapore. Free admission.)
***
RANTS
1. THE PREVIOUS BAN ON CLUBS AND TEA DANCES. From 1965 to 1971, the bands created the scene and they were everywhere. When the ban on clubs and tea dances came into effect, the pop culture died. It wasn't just the bands, the promoters who organised the shows, the people who rented the venues, the guys who rented the equipment, the tailors — who were making money from making the fancy clothes worn by the bands — they all lost money along with that ban. As Lee Kuan Yew said in 2005, we forgot pop culture.
Our pop culture could have brought people together. Pop culture is like a car, when you make a car, it has four wheels, an engine, wheels, whatever. It's just that Japanese make it small, economical, Americans make it big, Germans make it sturdy. But it's still a car. That ban halted our local pop culture. Which could have been something Singapore could have exported, like Koreans with their K-pop and Japan with its J-pop. There's no lack of pop talent here — there are people playing music, Baybeats gets hundreds of applicants to perform, there are so many studios, music shops and all that — there are ways of marketing and monetizing it. There could have been a more healthy music scene or even an industry.
2. NOT ENOUGH SINGAPORE POP ICONS. We need to develop a Singapore pop culture brand. I did a talk recently and I asked the participants to name a Singapore icon. They came up with names such as Taufik but they were mostly entrenched in their ethnic groups. They couldn't name one general, proper Singapore icon like Fandi Ahmad, you know, someone that identifies a country, like Bob Marley and Jamaica. The only pop icon I can think of is The Merlion. People from Indonesia who come here actually want to buy the Merlion T-shirt. It identifies Singapore. This is what is lacking in the system. We have so much money and beautiful infrastructure and buildings and venues, but right now, we are a just a service centre or hall rental service to others. All the foreign artistes come here to use our halls and we are just the consumers. The local acts just sit there watching and going, "Oh I want to be like them". Then, after a few years, the dream dies. Is this where the country is headed? You have a nice building but what about the human factor? We have a great airport, but we are just cogs in the machine. We have enough talent and soul, we should develop it.
3. THE YOUTH WITH NO SENSE OF HISTORY. For them, everything is centred on the now. Apart from the fact that we have so many distractions, the lack of archived material that is easily accessible means they don't know a lot about their cultural history. You know Elvis or Michael Jackson or The Beatles, even if you don't like their music. Do the young people here know The Quests? It's all about the promotion of our history. I met a kid from Simei ITE and the cafe there is run by (former footballer from the 1994 Malaysia Cup-winning national squad) Malek Awab. But he didn't know who Malek was. I think that's a little troubling. You know Pele or Maradona but you don't know Malek or Fandi? This is the history that a lot of the young don't know about. You can't blame them — so many things are happening that we can't even keep track of who's No 1 on the charts. Maybe I should do another exhibition.
RAVES
1. GREEN SINGAPORE. I like Singapore because it's green. I asked a friend from England, who recently visited, about his impressions and he said, "It's so green!" We have Brazilian trees … in Ang Mo Kio! We're taking care of our green environment, although I wish we could take care of our natural forests more. Something must be happening if all the pigs and wild animals are starting to come out. Having travelled around, I like our green consciousness — we have recycled bins everywhere. Compare that to Kuala Lumpur, where it's so dusty and you have electric cables everywhere. Singapore is so manicured. We're like a drag queen: Very pretty on the outside but if you get deeper and cross the line, we'll pounce on you!
2. BANDS TAKING CHARGE OF THEIR DESTINY. Because we don't have regular platforms, bands and gig organisers are creating their own scene. Sure, the bands still need support like television — I still think that can give you a wider audience, because it's the same people going for the gigs or arts performances. I think the scene is good because bands are taking charge of their own destiny. Musicians such as The Pinholes are doing gigs in Canada. That's great. Compared to when I was starting out, we didn't know what to do, we couldn't even go to Johor to play.
3. A VOCAL INTERNET COMMUNITY. I like the online community in Singapore is rather up-to-date with what is going on out there in the world. I think for a society to be healthy, there needs to be dialogue and that is happening online. Of course, there are people like Amos Yee, who, although he said some interesting things, went a bit off-tangent and p***ed people off because of his rudeness and tone. I feel people are still grappling with the idea of freedom of speech. A bird that has been bred in a cage all its life might be scared to fly when you open the cage. We have an openness now but I think some are still scared of it. So there should be healthy discussion, not being seditious and nasty to others. There might be some discomfort along the way but we need to have that discussion — others we'll regress into Pyongyang.