Roger McGuinn: The full interview
SINGAPORE - Roger McGuinn, the former front man for The Byrds, is soft-spoken and clearly has a big love for folk music. When he talks about that, his eyes light up and you can just about see all that enthusiasm bubbling under. He was also in town recently for a quick holiday before heading back to the United States to start his next tour.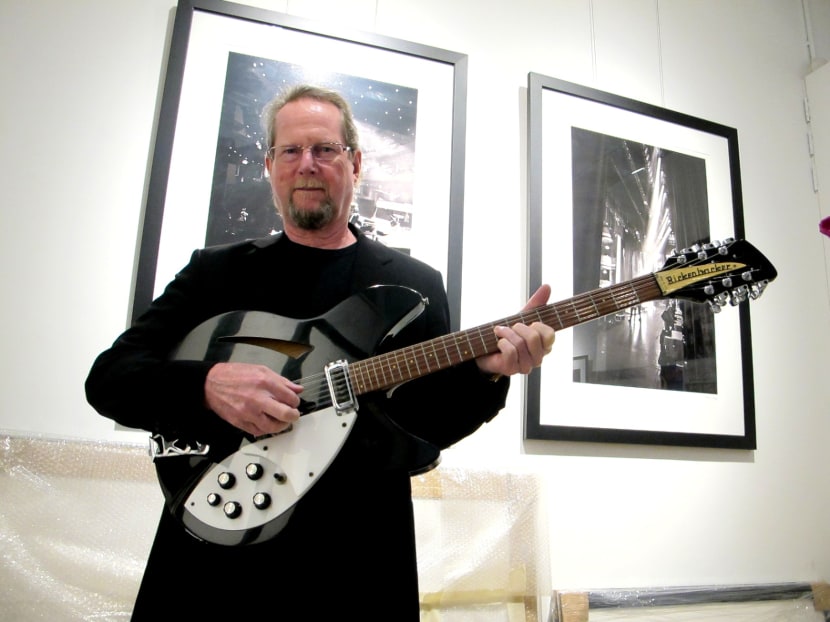 SINGAPORE - Roger McGuinn, the former front man for The Byrds, is soft-spoken and clearly has a big love for folk music. When he talks about that, his eyes light up and you can just about see all that enthusiasm bubbling under. He was also in town recently for a quick holiday before heading back to the United States to start his next tour.
"We go to work in April. We start working in the States and then we're going to Europe to do three months there," he said.
The "we" is Roger and his wife/manager Camilla. And Roger's solo storyteller-style shows, a la those old troubadour gigs, has been drawing crowds the world over. And if you can't catch any of his shows, don't worry, there's always the CD/DVD set, Stories, Songs & Friends, a recording of a concert he did in 2012, which was released in February.
Q: Stories, Songs & Friends was just out, but the concert featured is from 2012. Why did it take so long? It was a recording in 2012, when my mother turned 102. It took us all that time to assemble the audio, and the DVD took a long time to do too. We had all these people on the DVD, and I wanted to make it look good, so I got Final Cut Pro on my Mac and put it together myself. I did pretty much everything. We had directors for the video, and we worked with an engineer for the audio recording.
Q: For those who haven't seen the show, give us a sneak peak. I tell stories and the songs all run together and it becomes one big story of my life. And we have different modules that we can put in different places. It's a lot of fun. It's very organic.
Q: Now, we can't not ask you about The Byrds. You've been insistent on not having reunions. Is that period an albatross around your neck? Do you like talking about The Byrds? It was a big thing I did in my life, but I was with The Byrds for nine years - and I've been doing my solo thing for 20 years. It's not the longest thing I ever did, but probably the most successful in terms of audience reaction and No 1 hits. I don't mind talking about it but, I mean, I don't want to do it again – David Crosby does, but I don't. Every chance he gets with the press he goes, 'I want to get The Byrds back together again, but Roger McGuinn won't do it'. But you know, I'm very happy doing what I'm doing. I get to travel around the world with my lovely wife and I get to play for people with the two-hour concerts and it's great fun. Getting The Byrds together wouldn't be fun for me – not now, anyway.
Q: Do you talk to the other guys? I email David Crosby every August 14 with a "Happy birthday" and Chris Hillman and I have been chatting through email, but I haven't seen Chris or David for a while. We did get together years ago because our friend had throat cancer and we did a song or two for the benefit concert. And I keep saying that – there's a bridge in New York state, called the Tappan Zee Bridge and it's falling apart, and that's they're going to replace it and Pete Seeger, who passed away last month, used to live a few miles from that bridge, so if renamed that bridge the Pete Seeger Memorial Bridge, I'd probably like to get The Byrds to do Turn Turn Turn. That'll be a cool thing.
Q: Pete Seeger was an inspiration for you. How did that come about? I started going to his concerts while he was still in The Weavers back in the '50s and then I went for his solo concerts and I was amazed by how he did those shows himself. He'd been in a four-piece group and nobody thought he was going to be able to pull it off by himself. And he came out there, with a 12-string guitar, a six-string guitar, a banjo and a recorder and he just made the audience sing in three parts and you felt like you didn't miss the other three parts of the band. It was great fun. And I said to myself, "That's what I want to do when I grow up – I want to be like Pete Seeger." I had the pleasure of getting to know him and I went to his house to record, so he was a big influence, and we did songs like Turn Turn Turn, The Bells Of Rhymney and I Come And Stand At Every Door (which was about the A-bomb). He used to write letters to me and I have some postcards from him.
Q: You've been credited for starting folk rock. Is it true that many people didn't like you combining electric guitars and folk? Songwriter Tom Paxton wrote about it, he called it Folk Rot. There was a resentment in the folk community about going electric. They didn't like Dylan doing it at the Newport Festival. And the story goes that Pete was going to take an axe and cut the cable for the amplification, but he didn't do it. He changed his story later, he said, "It was just too loud" – he didn't want people to hurt their ears or something. But nobody liked the idea of merging electric guitars with folk. I was living above John Philips in a hotel in New York, and after I got interested in The Beatles, I showed John some Beatle stuff and he went, "Ugh, that's just bubblegum music, that's not worth my attention". But a couple of months later, he was doing just that with The Mamas And The Papas.
Q: You did that with Bob Dylan's Mr Tambourine Man. His version was actually too long, and radio wouldn't play anything longer than 2 minutes and 30 seconds. So we had to chop it for time and we put a Beatle beat to it and I did the intro based on Jesu, Joy Of Man's Desiring, the version by Pete Seeger - he did a version of it on banjo, and I learnt it on banjo – and so it was in my sub-conscious when I came up with that line. I wanted to make it into a Bach-like thing. The Beatle beat was really cool, you could take any song and put a Beatle beat to it and it would sound contemporary – for that time, of course, now it just sounds like something from the '60s. And it really did work.
Q: Speaking of The Beatles, George Harrison has said he borrowed from The Byrds, for If I Needed Someone, on the Rubber Soul album. Derek Taylor (the Byrds and Beatles press officer) had come back from England with a tape from George Harrison and he said, "George wanted you to know that he wrote this song because of the lick you played on The Bells Of Rhymney," and I said, "wow", because The Beatles had influenced us and it was amazing to get recognised by The Beatles.
Q: You've been credited for starting that "jangle" sound too. Part of it is my three-finger style, and part of it is the compression on the sound that we put in the studio to make the sound have a longer sustain than it normally would. Because the sound made by Rickenbackers tend to fall of pretty fast. So they did that in the studio and it really made a difference on songs like Eight Mile High, which sounds more like a wind instrument than a guitar. I was thinking John Coltrane and saxophone. But people didn't know that so they thought it was, they called it psychedelic, but really, it was jazz. Jazz-oriented rock.
Q: Do you like flying solo? I tried to be a solo act, and then The Byrds came along so I did that for nine years. Then I went out solo with a band, but that wasn't er, The Byrds. But I like just being solo solo. Without a band. It's so freeing. I can do what I want. I bring four instruments when I tour the States with an amplifier. When I go overseas I bring two: The Rickenbacker and the Martin HD7. It's a dreadnought based on the D28. It's got a seventh-string on the G string, like a 12-string. To me, that's the best part of a 12-string guitar, because you can play leads up and down that and it sounds punchy, as opposed to playing lead on the B or E string, which sounds kind of thin. So I came up with the idea to double up that string and Martin liked the idea so much they put out a limited series, called the Roger McGuinn HD7. I think there are still some of them available around the world.
Q: When did this come out? About nine years ago, in 2005.
Q: People had commented about technology in music and how it's killing the artistry of music. Do you agree? If you have a computer, you can programme a track without needing to know anything about music. You don't need to play an instrument, you just need GarageBand and make up a tune. But I think you still need some sort of musical sense to make it good. You can construct a track and it would be a track, but it wouldn't necessarily be a good track.
Q: Do you like technology in music? I love technology. I'm a Mac freak! I've a bunch of computers at home – like the new MacBook Pro. I got it for Final Cut Pro. I got the Thunderbolt display, I use ProTools to record. It's great. It's just like being in a studio back in the day, maybe even better, because you've got all these effects and 96 tracks to play with. I'd never need that many though.
Q: Can you talk about how you got started in folk music? I was actively involved in the folk community when I was in school. I love that music and I've never lost my love for that, even though we strapped on electric guitars, and I went back to it when I had the chance, and I've kind of been there ever since. I love it.
Q: See, you'd think that most teenagers would have been more into Elvis and Buddy Holly at the time, than bluegrass or Appalachian folk tunes. I started out with Elvis, and by the time Buddy came along, I was into folk music. There was a day in school when Bob Gibson, a protege of Pete Seeger, came to our high school to do a show. And I was hoping it would be something like Elvis, but he came with his banjo and I went, "wow!" And then I got into Pete Seeger and found out about the folk music community and I followed it and I'm still there.
Q: The Coen brothers recently did a film paying sort of a homage to the folk scene, in particular... Dave Van Ronk, yeah. He used to play at the Gaslight and be the MC at these hootenannies. And I used to go to them all the time. It was kinda funny, because The Gaslight was in the basement of an apartment building. And at the beginning, when someone was playing at the Gaslight, there'd be loud applause, but the people living in the building would complain about the noise like, "that's too loud". So the audience ended up snapping their fingers, but even that was too loud. So it finally got down to click your thumbnails together.
Q: In the film, the folk community is depicted as being very close. People would sleep in each other's houses and listen to records together.
Q: Can't see that happening these days though. Well, it's more crowded now. There used to be just 10 bands in the world. Now there tens of thousands. Things don't stay the same, you have to move on.
Q: You've done so many things in your career, played with so many people, is there anything you'd like to do that you haven't done? I think I'm doing it. I'm having a good time. I've checked off all the boxes.
Q: What do you feel about all those accolades people have heaped on you? I try to ignore compliments. All the awards I have are in a bathroom in my house. I'm grateful for them, but you can't really go and live in that world. Sometimes I feel like I'm an actor who plays Roger McGuinn. Then I have to take out the garbage.
Q: What's a normal day like in the McGuinn household? I practise an hour a day. I record my Folk Den tunes at least once a month. And I DO take out the garbage. I cook dinner. We're just plain folks. Being able to go on the road with my wife. We travel a lot, we go by train, ocean liners – we're going to take the Queen Mary 2 to London and be there for a few months. I don't think there's a down-side to my life.
Q: Is there a song you'll never play again? I can't think of any. I did stop doing Chestnut Mare for a while, because it's very long and I got tired of doing it for a while. I do it now though. I like it. It's a good song.
Q: What's the secret to your success? Just do what you love. People can tell if you're just doing it for the money. If you're doing it because you love it, they know.
Q: Any advice for young musicians out there? I think rehearsal makes for good theatre. It's the old adage of "How do you get to Carnegie Hall?" "Practise, man." I practise, I rehearse and I love it. With that formula, you go out there with that sense of confidence, you can't wait to show the people what you've got. You feel like you've got something that you can spring on them. It's fun. It's not just a gig.
Q: What would you like your legacy to be? How do you want people to remember you? "That was somebody who did something he loved and people appreciated that." I don't think much about it, it's not healthy to go there. I think about something else.
Q: What about the Folk Den recordings? Well, yeah, I want people to be able to remember the songs and not forget them, because there's a chance that they could be forgotten, these songs aren't real commercial any more. Younger musicians may not have been exposed to them, so I'm doing my part by recording these songs on my website (www.rogermcguinn.com), and there are more than 200 MP3s for free downloads. And they're sponsored by the University of North Carolina.
Q: Let's talk about the Rock Bottom Remainders, the band made up of authors like Stephen King and Dave Berry. You've done gigs with them. I played with them for more than 10 years. Kathi Goldmark, who started the group, died in 2012, and everyone said that would be the last one but we just did one in Miami a couple of months ago, so I think it's safe to say that we will continue do that. It's so much fun. They're fun people to hang out with, because they're so clever and witty, it's like hanging out with Mensa.
Q: But how are they as musicians though? They play pretty well! Well, Stephen King is not a great guitar player or singer, but he's got a lot of spirit, when he sings Woolly Bully. Dave Berry plays really good guitar and sings really well. Ridley Pearson has a nice voice and is a good bassist. And we got Josh Kelly – he's a real drummer, and he used to work with Bruce Willis – and Greg Ilse used to be a professional guitar player before he became an author. He started writing because he thought he could make more money – and he was right! Amy Tan is delightful on stage: She sings These Boots Are Made For Walking and dresses like a biker chick, in black leather and everything. Mitch Albom used to play keyboards on one of the islands in Greece, he had like, a piano man gig. And he knows all these pop songs – he has this unending repertoire of pop songs.
Q: Would you like to be an author like them? This CD/DVD is kind of like my book.
Q: What would you like to have changed in your past? Well, I'd take the drugs away. We really didn't need LSD or pot to be creative. It was just a diversion. It was entertainment, recreational. It didn't expand the mind, it just made us think we were smarter. It just made us laugh a lot and eat too much.
Q: You're also a very spiritual person. Can you talk about that? I was brought up as Roman Catholic – I'd go to mass every morning - but when I went to high school, I got out of the habit of doing anything spiritual. And around the time The Byrds were forming, my mother sent me a book by Norman Vincent Peale called The Power Of Positive Thinking, and she said, this really works. So I tried it and that's where I got that phrase, I trust everything will work out alright. That's what I used to say when I was in The Byrds – I got it from him, you know, with God's help, it's going to work out okay. And it did. God made The Byrds popular because of that positive mental attitude.
But back in the '60s we kind of threw off everything and started from scratch. I threw off Christianity and said, I don't know if that works or not, so I started dabbling in Eastern religions and I got into this non-verbal spiritual exercise based out of Indonesia. And the guy there changed my name. He said, "you'd vibrate better with the universe if you changed your name" and he ended up giving me the name Roger, which didn't really make a difference, but I thought I'd give it a try. Gradually I got of that religion and I was in LA and I started to feel a kind of oppression, like a spiritual oppression. And this piano player I knew said let's pray about it, so I said, okay. And he said, ask Jesus to come into your life and I said okay. And nothing happened right away. But a month or two later, I was feeling this heavy thing again – I felt like my arms were made of lead and I felt really awful - and I was going, "how can I keep from feeling this heavy thing"? And I didn't hear a voice or anything, but something said, "Well you can accept Jesus into your life," and bam, that oppression sort of just lifted and I felt so free, like, "wow, this works!" Yes, Jesus works.
I told my wife about it during an acting class and she stomped off the stage really mad. And all the other students there thought it was part of a play, like a scene from Tennessee Williams. A couple of weeks later we were in a museum and there was a painting of the crucifixion and my wife said, "Jesus doesn't look like that" and I was like, "how you do what he looked like?" But finally she accepted Jesus too and we got married two months later and it's been a honeymoon ever since. It's 36 years on April 1. God gave us the date. We didn't come up with that.
Q: Do you miss the big time? The idea of the big time being the be all and end all? Having done that, I have to say, it's not all that great. I don't mean to be sour grapes about it, but there's a lot of hassle to it. Not just the paparazzi. The little girls would tackle me and rip off my glasses for a souvenir. It's not all that wonderful. I think there's a sweet spot between the big time and er, playing the Holiday Inn. Chris Hillman always said, "I've got this nightmare that if we keep The Byrds together, we're going to be playing at the Howard Johnsons!"