Tapping theatre's 'magic' to discuss racial issues
SINGAPORE — Far from being the white elephant in the room, young and emerging practitioners in Singapore theatre are tackling multiculturalism head on, exploring issues such has hidden bias, inter-racial relationships and what it means to live in a diverse society like Singapore.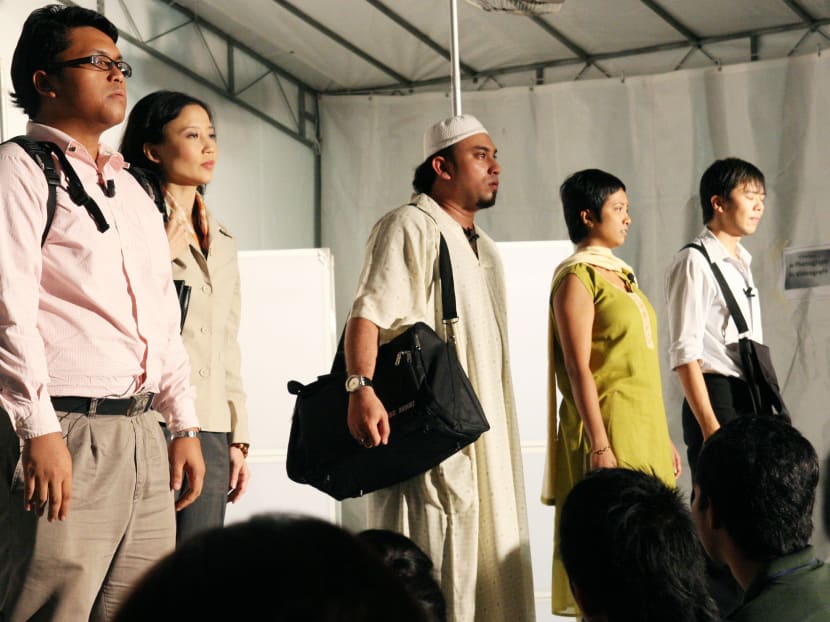 SINGAPORE — Far from being the white elephant in the room, young and emerging practitioners in Singapore theatre are tackling multiculturalism head on, exploring issues such has hidden bias, inter-racial relationships and what it means to live in a diverse society like Singapore.
This year alone, there have been at least three plays staged that touch on race and culture in the country and others are in the pipeline.
Theatre directors and actors told TODAY that they feel beneath the veneer of a harmonious society are issues that are not always discussed openly. They believe theatre can provide a platform that encourages productive engagement when it comes to talking about these sometimes uncomfortable topics because as actress Sharda Harrison puts it, "in theatre, people can accept these things. That is part of the magic".
Earlier this month, Without Reason by young playwright Sim Yan Ying was staged at the M1 Peer Pleasure Youth Theatre Festival 2017 and tackled inter-racial relationships.
The play portrayed challenges couples face, such as the prejudices of their family members and peers and also their own hidden biases.
Sim, 21, wrote the play to explore issues that arise from living in a multiracial society, which she felt she had not really grappled with while growing up in Special Assistance Plan schools.
"I graduated having no friends of other races besides the acquaintances I made in primary school, and I wasn't aware of how problematic that was, until I met people of various ethnicities and socio-economic backgrounds in the theatre industry. I realised then, how much I didn't know about people of other ethnicities even though they live in such close proximity to me.
"Hence, I wrote Without Reason as a way for me to explore this problem, to get to know another race better, and to understand my racial privilege," she said.
Exploring these multiracial themes in theatre also addresses issues that may provoke a deeper thinking and discussion.
"Racial harmony goes beyond producing a National Day music video painting a utopic version of ethnically diverse Singapore, nor should it be simply gauged by the fact that we've never had racial riots since the 1960s," Sim said. "The underlying racial tensions are present in Singapore — we see them erupt on social media sometimes — and just because they don't manifest themselves in violent ways doesn't mean that they aren't as insidious or harmful. Even after we learn how to accept and understand each other — how do we then go beyond merely co-existing, to integrate without losing our sense of individuality?"
Sim wrote Without Reason to join the conversation about these issues.
Exploring multiculturalism in theatre productions allows people "to understand that we must accept the diversity of our communities and those of others", said Shrey Bhargava, 22.
The actor is best known for sparking a fierce online debate which followed his Facebook post claiming he was asked to put on a strong Indian accent while auditioning for the upcoming comedy film Ah Boys to Men 4.
Later this month Bhargava will play a Bangladeshi construction worker in Dragonflies by local theatre company Pangdemonium.
It has been commissioned by the Singapore International Festival of Arts and looks at the world in 2021 —when Mr Donald Trump is re-elected and Brexit is in full force — through the experiences of an ethnically diverse family in Singapore.
Bhargava said it aims to challenge stereotypes. "We cannot assume anything about any community and must do our best to listen, research and open our minds to accept people for who they are, where they come from and what they aspire to be."
Contemporary Chinese Language theatre company Drama Box has been using forum theatre performances — a form of social theatre that allows audiences to step into the actors' shoes to change a play's outcome — to explore multiculturalism over the past few years.
Drama Box explores these issues because "racial biases and how we learn to deal and dialogue with them" are still very pertinent and real in society today and it is important for people to "learn to dialogue with it more openly", said associate artistic director Koh Hui Ling.
Their longest running piece is Trick or Threat!, which is set in an MRT train carriage where the main characters of different ethnic backgrounds are trapped inside when the train stalls. One of them receives an SMS stating that there are rumours about a bomb, and tensions rise.
"The piece was created in 2007, post 9/11 and we worked with local practitioners of different ethnicities in the creation process," said Koh.
"What we'd hoped to achieve with the piece was to unravel and unpack the complexities of embodied value systems deep within us, and how that informs the ways in which we behave when it comes to racial tensions.
She added: "In terms of audience responses, the piece always hits home, and challenges preconceived mindsets the audiences have."
Last year, The Necessary Stage and Drama Box collaborated on Manifesto, which explored the role of the artist throughout a span of a few generations in Singapore, covering multicultural and inter-cultural relationships through the time periods.
Harrison played an Indian artist who was friends with two Chinese artists during the height of the race riots in Singapore. "Race and friendship and cultural beliefs were all tested," she said. "However, what can bring people together despite differences?
"In this, it was the art, the learning and sharing of different cultures and practices that brought the friendship between an Indian Bharatanatyam dancer and two Chinese artists dancing a style of Chinese dance, closer.
"The audiences were forced to think beyond the normal constructs that we presented them. It definitely caused a lot of post-show dialogue. Many of them engaged in conversation and debate after each performance."
But Harrison noted that racial exploration on stage does not have to be "heavy" or "weighted".
It is important for characters to be personable for audiences to be able to relate, and "once this relationship is formed (with the audience), humour can then be injected" as well.
She added: "I think it is healthy to laugh at ourselves and our differences and it is important to have a room full of audiences, who are different in culture, to not just spend a night learning and experiencing racial differences on stage, but also being able to laugh at ourselves together, as opposed to each other."