New TV show aims to promote social integration
SINGAPORE — The Buddha Tooth Relic Temple and Museum in Chinatown is a place that has been an attraction for many.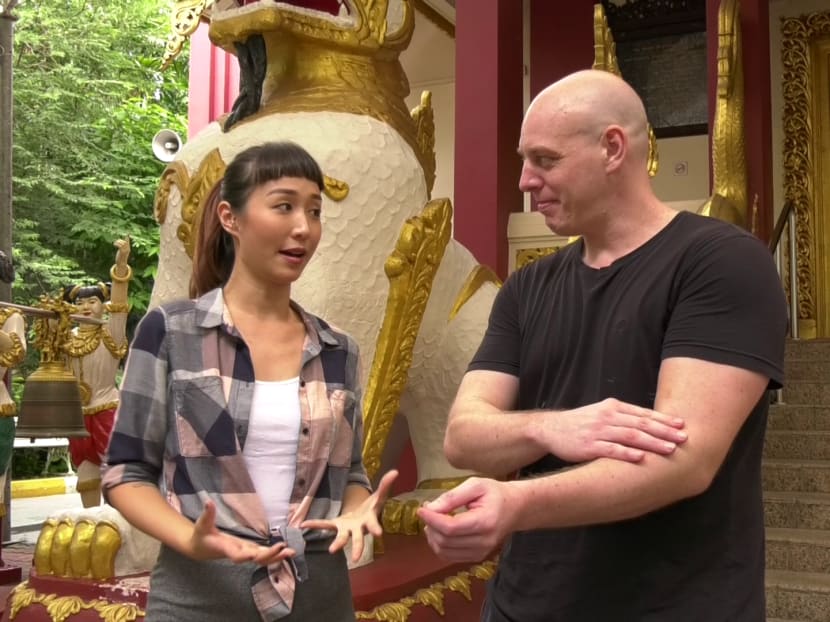 SINGAPORE — The Buddha Tooth Relic Temple and Museum in Chinatown is a place that has been an attraction for many.
But it took a foreigner living in Singapore to uncover a "hidden" spot.
Technical director Allan Simonsen, who was born in Norway and who has lived here for 16 years, found a "secret garden" on the fourth floor of the temple.
Simonsen, 40, will be featured in an upcoming informative-educational series, Steady Lah!, a TV show that looks at Singapore from a foreigner's perspective.
The eight-episode series, which will air on Tuesdays on Channel 5 from March 28, is a collaboration with Mediacorp and production company, The Moving Visuals. It is an initiative organised by the Ministry of Communications and Information (MCI).
"In the show, Allan actually brought our professional tour guides and host, Rozz Lee, to the fourth level," said Sally Goh, director of Steady Lah!, at a press event. The Singapore guides, and former DJ Lee, had not known of the existence of the area at the temple.
Simonsen described it as "very serene."
"It's a five-minute walk away from the crowds and the heat and suddenly, you're in a little oasis of greenery and quiet," he added.
Goh said that this is the value that foreigners bring to Singapore — locals are given a fresh perspective on the place that they live in. This is exactly what Steady Lah! aims to present.
In the show, two foreigners are roped in each week and put through typically Singaporean experiences. Episodes feature foreign-born folk taking on the work of a hawker, doing a spot of gardening at Gardens by the Bay, and going dragon boating. Participants try to "outdo" each other in the activities, selected because they are part and parcel of the Singapore identity, said Goh.
"We are constantly exploring new ways to foster mutual understanding and respect between the increasingly diverse communities in Singapore ... We hope, through this show, to foster a greater sense of togetherness through more shared experiences of the way we live, work and play," said Karen Tan, senior director of public communications at MCI.
Goh took three and a half months to produce and shoot the show, which is hosted by Lee, as well as American-born actor and radio DJ, Bobby Tonelli.
Tonelli, who was born in Las Vegas first visited Singapore in 1997, revealed that he has always wanted to be part of a show that gave a foreigner's perspective of Singapore.
"I would watch food shows and such featuring local hosts," said the 41-year-old. "But with Singapore's growing population of foreigners, that perspective ought to be portrayed, too."
Steady Lah! will also appeal to those who are not born in Singapore, said Tonelli, who has worked on and off in Singapore 2002, but who has been based here from 2007.
The show will answer many questions foreigners probably have, he said, such as learning the subtle differences between different types of coffee and its lingo, as well as first aid skills to use if an emergency were to occur in the HDB heartlands.
Tonelli added that Lee, whom he has worked with before on 987FM, is the perfect co-host, as she is "the ultimate local girl" who loves Singapore food and experiences.
"She has her own way of seeing things" which is the perfect foil to his own unique perspective, he added.
The show also will also features singer-songwriter duo Jack & Rai in an episode, where they will help participants write a song.
Steady Lah! will premiere on March 28 at 8pm on Channel 5.