Singaporean series available on Netflix and Korean streaming service Naver
SINGAPORE – Singapore drama series Perfect Girl has become available on Netflix to viewers around the world. In addition, it has been picked up by Korean web portal, Naver.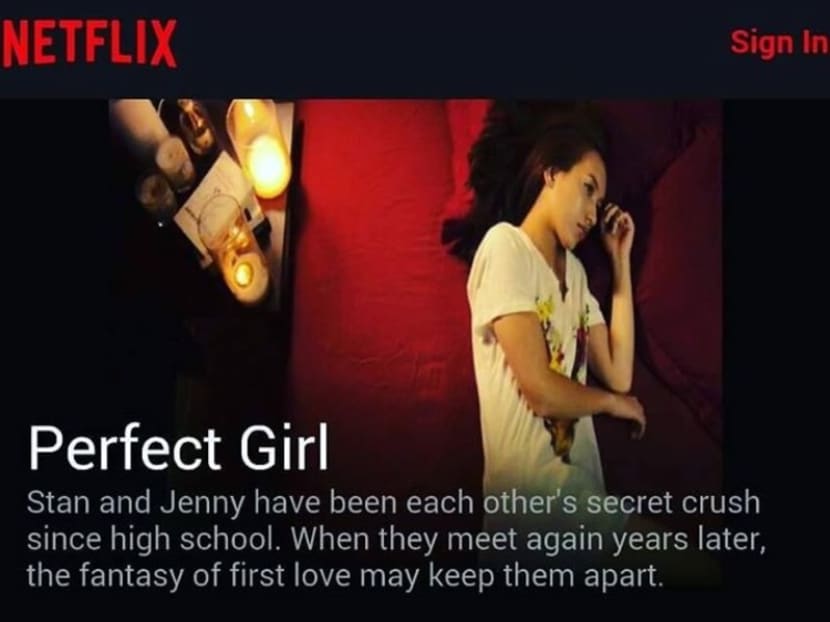 SINGAPORE – Singapore drama series Perfect Girl has become available on Netflix to viewers around the world. In addition, it has been picked up by Korean web portal, Naver.
From Singapore company BananaMana Films, Perfect Girl is about what happens when a guy meets his high school crush 10 years later. Starring BananaMana Films' founders Jason Chan and Christian Lee, who also co-directed and co-produced the drama, the series was filmed in Singapore for just S$1000. The script was written by Chan.
Perfect Girl was initially created as a 10-episode webseries and went on to win seven international awards including Outstanding Drama Series at the Toronto WebFest 2015 and Outstanding Writing, Directing and Drama at the Los Angeles Web Festival 2015.
Earlier this year, it was acquired by Viki, a video streaming website which is an independent subsidiary of Japanese Internet services company Rakuten. As a result, it came to Netflix's attention, said Lee. It is now available to audiences around the world, including via Netflix's USA and UK portals.
"Now, people can watch Perfect Girl locally and globally, while giving us a nice confidence boost to produce more local content that goes straight to global distribution," Lee said. "We hope that Perfect Girl will reach all the people globally who want to watch Asian dramas in English. Even though the series has been translated into Polish, Romanian, Japanese, Chinese and Korean, we think that it being in English will make it as accessible and popular as any Hollywood piece of content."
It is not just Netflix that has welcomed Perfect Girl. The full series, as well as BananaMana's two other series Bang Bang Club and What Do Men Want?, will also soon be available to Korean audiences via hugely popular Korean web portal Naver. The first episode debuted yesterday (Oct 4).
In fact, "We have made history by being the first non-domestic web dramas to go onto the Naver platform," Lee said. He added: "Naver gives it the credibility of quality storytelling on par with the great K-dramas, side by side with web dramas produced by all the big TV stations in Korea, and Netflix gives it distribution marketing and access to the world."
All this means that BananaMana Films is proudly putting Singapore drama on the global map. "The multiple awards internationally have raised a lot of questions about this little web drama from Singapore," Lee said. "Locally, no one was seeing the value of Perfect Girl, but we knew deep in our hearts that we had made something to be very proud of. We also hope that we inspire other local content producers to realise that if BananaMana Films can make Perfect Girl for S$1,000 with a crew of four, it's not (necessary to have a) big budget to make quality dramas here in Singapore that travel outside our borders."
Perfect Girl will literally be travelling around the world: "In addition, Perfect Girl has been picked up by Scoot, and it will likely go on several other airlines through our inflight distributor, Encore Inflight Limited," Lee said.
BananaMana Films' next project is a co-production feature film entitled Jimami Tofu, set in Okinawa and Singapore. Starring Jason Chan, Rino Nakasone and Mari Yamamoto, the film is a romance revolving around food. It is made in cooperation with Okinawa Film Office under the Okinawa Convention & Visitors Bureau, Viki, Encore Inflight Limited and the Media Development Authority of Singapore, and has a Feb 2017 release date.