TheSmartLocal and Toggle get into trouble for content deemed racially offensive
SINGAPORE — Online platform Toggle and travel and lifestyle portal TheSmartLocal have had to take down or remove scenes from two separate videos, after the clips were deemed racially insensitive and drew flak from netizens.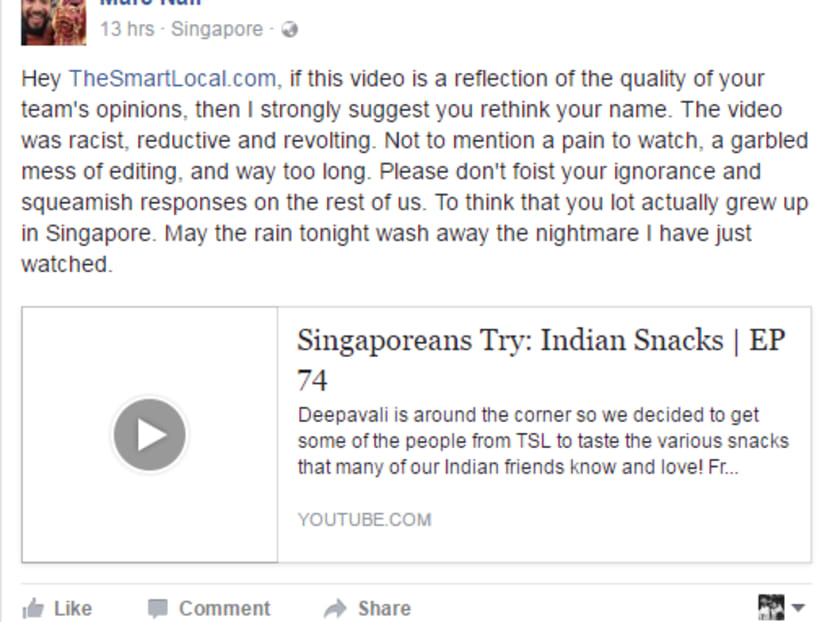 SINGAPORE — Two videos which have attracted a storm of criticism after being deemed insensitive by online users have been pulled. The makers of the videos, travel and lifestyle portal TheSmartLocal and Mediacorp's Toggle, have also apologised for them.
In a Deepavali-related video by TheSmartLocal, titled "Singaporeans Try: Indian snacks", its staff were shown making faces while trying "snacks that many of our Indian friends know and love".
Singaporean poet Marc Nair, who was recently conferred the Young Artist Award, called the video "racist, reductive and revolting" on his Facebook page. "Please don't foist your ignorance and squeamish responses on the rest of us," he wrote. Playwright Joel Bertrand Tan lambasted the site for its close-mindedness, calling it "horrible".
TheSmartLocal has since made the video private.
Separately, in a recent episode from Toggle's original production I Want To Be A Star, a comedy about calefares trying to make it big in the television industry, a casting director was unable to find an African-American actor. A Chinese actor (played by Shane Pow) was made to take his place by donning a "blackface" (in which his face was painted over), an afro wig and a collegiate sweater.
Netizens took to Twitter on Monday and Tuesday (Oct 24 and 25) to express their outrage, describing the scenes racist and insensitive while calling for them to be taken down.
In a statement issued on its Twitter account, Toggle apologised for the scene. "The scene has been perceived as being racially sensitive by some viewers, although that was never our intention in the production," it said.
"We appreciate the feedback and truly apologise to viewers who have been affected by this portrayal. The relevant scenes have also been removed from the programme."
A Toggle spokesman also told TODAY that they are sorry for the portrayal. "In hindsight we see it was insensitive and have removed the scene. We take race-related issues in our programming very seriously and will ensure that such depictions do not recur."