First President's Scholar to pursue linguistics at university wants to create Singlish-friendly chatbot
SINGAPORE — A chatbot that can answer your questions on all government schemes even if those questions are in Singlish.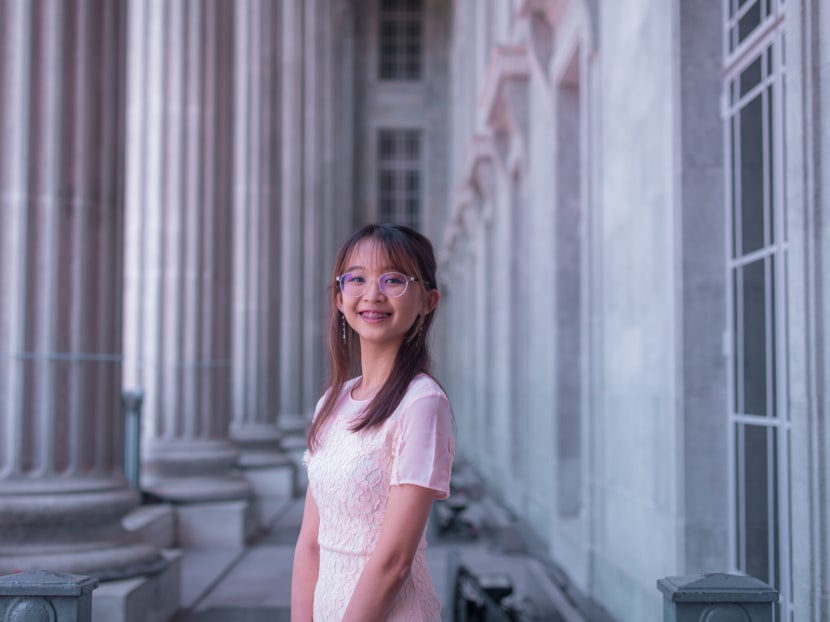 Ms Alyssa Marie Loo Li Ann, 19, is the first President's Scholar to pursue linguistics at university
She hopes to create a chatbot that can recognise Singlish to aid with government schemes
The Raffles Institution alumna has merged her passion for the arts with her volunteer work 
 
SINGAPORE — A chatbot that can answer your questions on all government schemes even if those questions are in Singlish.
This is what this year's recipient of Singapore's most prestigious undergraduate scholarship hopes to create when she eventually enters the public service.
As the first President's Scholar to pursue linguistics since the scholarships were awarded in 1966, Ms Alyssa Marie Loo Li Ann said that she wants to apply her skills to help make government schemes more accessible to Singaporeans.
While there are different schemes for people of varying income brackets, they may have difficulty locating them on various ministry websites or understanding how a policy works, she said. 
"We can integrate that and have an artificial intelligence system where you can just type out your income level and what kind of help you need, and then you can find what policy suits you best," said the 19-year-old in an interview with TODAY on Wednesday (Aug 12).
To do so, she will have to teach the software how to decipher language and sort out search queries, as well as recognise Singlish or informal English.
The end product will help to reduce the time taken for people to enquire about schemes, said Ms Loo, who will begin a four-year course in linguistics at Brown University in the United States next January.
She was the sole recipient of the President's Scholarship on Thursday, which she received from President Halimah Yacob in a virtual ceremony.  
The Public Service Division said that from this year onwards, recipients of the scholarship will be made known only in the year they plan to pursue their studies.
The same reporting method was introduced for recipients of the Public Service Commission scholarships last month. 
When asked why she was joining the public service, Ms Loo said this was partly due to a positive experience working briefly at the National Arts Council earlier this year. 
She said she saw how staff took the effort to organise focus group discussions and understand the issues faced by the arts community here.
"So I really support that move by the government to become more consultative and open in their policy-making process," said Ms Loo, whose mother is an administrative officer and father is a human resources director.
She also has a 15-year-old sister who is currently studying in Xinmin Secondary. 
While she does not know which ministry she will be posted to when she returns to serve out her six-year bond, Ms Loo said she would like to be posted to the Ministry of Culture, Community and Youth or Ministry of Communications and Information.
"I think those ministries will be where I can best apply my experiences in arts volunteering and in linguistics," said Ms Loo, who is also passionate about the arts.
As a child, her mother, now 47, sent her for art classes in the neighbourhood where they lived in Kedah, Malaysia. 
Her family moved to Singapore in 2008 when she was seven and Ms Loo obtained her citizenship at the age of 11. 
She continued to pursue art  — taking it up as a subject in Raffles Girls' Secondary School and subsequently pursuing filmmaking in Raffles Institution.
She has also brought her artistic passion to her volunteer work, putting together a photo essay of rental flat residents living in Stirling Road in a project with non-profit organisation Beyond Social Services last year.
Speaking at the award ceremony, Madam Halimah said that Singapore's population had become more discerning and wanted to be more engaged in decisions that affected them.
With Covid-19 changing the economic environment "drastically", Singaporeans will have to re-examine some of their time-tested ideas and strategies, she said.
"We need civil servants who can not only think critically but who also have unorthodox ideas or unique solutions in a situation where the path to growth is not so clear."
These leaders will have to be "agile and bold" to see Singaporeans through these tumultuous times, added Mdm Halimah.