GE2020: Residents of Aljunied GRC, Hougang SMC get 32-page special edition newsletter from WP on town council funds
SINGAPORE — Residents of the key election battleground of Aljunied Group Representation Constituency (GRC) and Hougang Single Member Constituency (SMC) received an unusual piece of mail in the past few days — a 32-page newsletter detailing the financial position of their town council.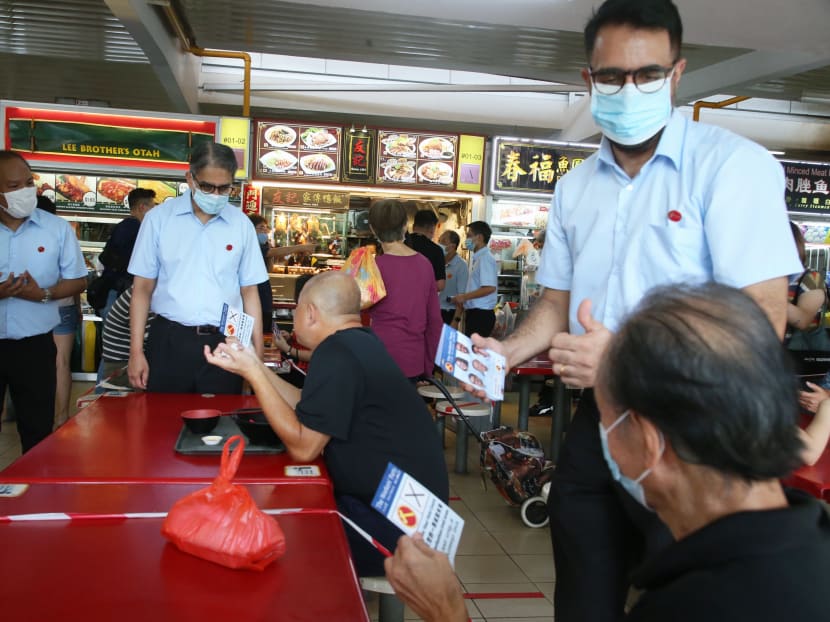 The Workers' Party distributed a newsletter detailing the use of town council funds, highlighting a S$7.9 million surplus
The party, which has been running Aljunied-Hougang Town Council, has had to face court proceedings over mismanagement of funds
Mr Pritam Singh, vice-chairman of the town council, said that the town council is now in a very healthy position
Some residents found the newsletter useful, others were not concerned about the town council funds

SINGAPORE — Residents of the key election battleground of Aljunied Group Representation Constituency (GRC) and Hougang Single Member Constituency (SMC) received an unusual piece of mail in the past few days: A 32-page newsletter detailing the financial position of their town council.
In it, the incumbent Members of Parliament (MPs) of the GRC, who are from the Workers' Party (WP), published the financial details of the Aljunied-Hougang Town Council (AHTC), which is embroiled in a protracted court case over the misuse of its funds.
It shows, for example, that the town council has accumulated a surplus of S$7.9 million and accumulated a balance of S$53 million in sinking funds for future major estate works.
WP chief Pritam Singh, one of the incumbent MPs for the GRC, said that AHTC had produced this special edition of its regular "Good Neighbours" newsletter when it was clear that the election was imminent.
"(The newsletter) gives a broad sweep of what the (AHTC's) financial position is. It shares with residents what the accumulated surplus position has been for the duration of the term, and also the sinking fund position," he told reporters on Saturday (July 4).
"We are in a very healthy position, but I don't want to get carried away with it," Mr Singh, who is also AHTC's vice-chairman, said.
"It wasn't solely our effort. It was also the effort of our contractors who worked very hard, very competitively and our residents, of course, who were very co-operative with the town council in many, many ways."
He added: "If we have done well, it's not our effort alone. It's the effort of everybody who came together, so I am very grateful to the residents of Aljunied-Hougang town and look forward to serving them again."
The AHTC oversees Housing and Development Board estates in Aljunied GRC, including Bedok Reservoir-Punggol, Eunos, Kaki Bukit, Paya Lebar and parts of Serangoon. It also manages estates in Hougang SMC.  
Mr Singh is leading the WP team to vie for seats at Aljunied GRC in the July 10 polls. In his team are incumbent Aljunied GRC MPs Sylvia Lim and Muhamad Faisal Abdul Manap, as well as Mr Leon Perera and Mr Gerald Giam, who replaced Mr Low Thia Khiang and Mr Chen Show Mao.
Mr Low and Mr Chen, who were also MPs for Aljunied GRC, are not contesting this election.
The incumbent WP MP for Hougang SMC, Mr Png Eng Huat, is also stepping down from politics and Mr Dennis Tan is running in his place.
Mr Singh was speaking to reporters during his party's walkabout at Marine Terrace Market, in Marine Parade GRC, where WP is contesting, too.
AHTC was embroiled in a six-year court case over the mismanagement of its funds.
Three WP MPs — Mr Low, Ms Lim and Mr Singh — were sued by an independent panel acting on behalf of the town council as well as by the People's Action Party-run Pasir Ris-Punggol Town Council.
Last October, the courts found the MPs liable for damages suffered by AHTC, which is said to have made millions in improper payments under WP's watch.
Ms Lim and Mr Low were also found guilty of breaching their fiduciary duty, while Mr Singh was found to have breached his duty of skill and care in the hiring of the town council's managing agent FM Solutions and Services.
The WP MPs involved have filed a notice to appeal the High Court verdict. 
NEWSLETTER SHOWS HOW MONEY WAS USED
In the newsletter, the WP MPs said that at the end of their term in 2019, AHTC had an accumulated surplus of about S$7.9 million, based on the latest audited accounts. 
A majority of this surplus will be put into the sinking fund to be used for future town improvement works, they added.
The newsletter states that town council funds are allocated to three types of funds: Routine fund (60 per cent), lift replacement fund (14 per cent) and sinking fund (26 per cent).
Routine expenditure such as cleaning work and lift maintenance had increased from S$37 million to S$39 million in the last financial year, the report stated. This was due to rising water and electricity costs, as well as manpower cost. 
Despite this rising cost, AHTC had steadily accumulated a surplus of S$7.9 million in the financial year 2018/2019, the MPs said. This is S$2.2 million more than the surplus from the financial year 2016/2017.
For the lift replacement fund, it had grown from S$6.9 million to S$20.7 million since it was set up in 2017. This was after deducting expenditure on the replacement of lift parts and the Lift Upgrading Programme.
The sinking fund, which is used for cyclical work such as repainting and reroofing works, accumulated a balance of S$53 million for the financial year 2018/2019 despite increased expenditure. The newsletter did not specify the areas where spending had increased.
On the issue of investing funds, the MPs said that they were "mindful" of their investment strategy, as these were public funds. Their strategies include raising the amount that is placed into fixed deposits with banks that have high credit ratings, from S$8 million in 2015 to S$55 million as of March last year.
"In the recent financial year ending 31 March 2019, AHTC earned interest income arising from fixed deposit placements amounting to approximately S$1 million, which works out to 1.6 per cent return on investment," the newsletter stated.
Two pages of the newsletter were also dedicated to explaining the Enterprise Resource Planning (ERP) System, a management system implemented in AHTC three years ago.
Describing the system as "robust", the newsletter states that it was "an important turning point for the AHTC's management team to meet the challenge of running a large town with over 58,000 households".
The system allows the Annual Statement of Account for Service and Conservancy fees to be issued to residents for record-keeping. It also employs stringent internal financial controls to safeguard AHTC's database.
A further four pages of the newsletter are dedicated to issues that WP MPs have raised in Parliament over the last term. These include issues related to the SingHealth cyber attack in 2018 and the deaths of full-time national servicemen in training.
WHAT RESIDENTS SAY
Among the 12 residents living in Aljunied GRC that TODAY spoke to, 10 said that they had not read the newsletter, or did not care about issues relating to AHTC's funds.
Among the few who read the newsletter was Ms Julia Lim, who said that the information in the newsletter was easy to digest.
"There are a lot of stories regarding the WP and the AHTC funds out there, and I thought the newsletter gave a good breakdown of the funds used by the WP," said the 31-year-old administrator who lives in Bedok.
Ms Jessie Tan, who works in sales and marketing, said that she felt reassured by the newsletter, and that it addressed the AHTC issue well.
The 60-year-old, who also lives in Bedok, added that she also found it useful to read about the issues that WP MPs had raised in Parliament over the years. 
Meanwhile, others told TODAY that they did not read the newsletter because they did not care much about politics in general, or were confident that the issues related to AHTC's court case would be sorted out.
Ms Yuk Zulkifeli, 33, a resident of Bedok North, was among them.
"I don't really follow the news or politics because I don't have time," said the frontline worker.
Mr Teo Cher Ann, a 49-year-old engineer living in Kovan said that the AHTC court case did not concern him as he felt it will "eventually be resolved".
ADDITIONAL REPORTING BY LOW YOUJIN AND LORAINE LEE