Gen Y Speaks: Competitive running is my life. Covid-19 made me almost quit, but I'm glad I didn't
Have you ever walked away from something you once truly loved? Did it change your life for the better? Or did you regret it? Covid-19 has turned our lives upside down. It has reshaped a lot of my perspectives and made me seriously reevaluate something which is a huge part of my life — running.
Have you ever walked away from something you once truly loved? Did it change your life for the better? Or did you regret it?
Covid-19 has turned our lives upside down. It has reshaped a lot of my perspectives and made me seriously reevaluate something which is a huge part of my life — running.
I have been running competitively since 2004 and have taken part in multiple races every year.
In 2020, all my racing opportunities were abruptly cancelled, and I went from training with the aim of breaking national records to feeling like I had nothing to train for at all.
I almost quit running.
With the pandemic putting the sports world on pause globally, with me growing into my late 20s and having achieved almost everything I set out to do in this sport, I actually thought that it could be a good time to hang up my competitive shoes and explore other journeys in life.
Perhaps I could spend more time on my work (I was then working in business development at The Smart Local). Perhaps it was time to explore setting up my own business, or build my way to financial independence, or further my education.
After all, these were all things that I always had an interest in, but have put on hold in order to balance work and running.
With there being no competitions to train for, I wound down my training load.
The daily 16km training runs became 5-10km jogs to exercise. Hard interval sessions were a thing of the past.
It wasn't long before I noticed something: I was supposed to have so much more time on my hands, but I wasn't feeling driven or motivated to do that much more in my free time.
Running used to hold my life schedule together. Without running, that schedule went haywire.
What time and what do I eat? What time do I go to bed? What's my two-week plan, my three-month plan, my goals for the entire year?
I started to feel like I was living life from one day to the next, aimlessly.
I did have a lot more time to spend on work, and actually managed to bring in over half a million dollars in revenue to my company — my best work performance ever.
Yet it still didn't provide anywhere near the same satisfaction that running ever did.
Sure, closing an S$80,000 deal for my company felt good, but it didn't quite give me the same level of fulfilment that came with a breakthrough race, or even a strong track workout.
I regularly receive questions about drive and motivation from my social media followers. For once I felt out of place in answering them.
For the first time in my life, I questioned my own drive. Why was it that I no longer felt that burning passion to succeed, to give the best I got?
My general mood also started to change for the worse outside of running. I felt tired and lethargic often, and more irritable.
Sometimes, I would lose my cool over disagreements or other relatively small setbacks and find myself being a lot more pessimistic about the future than I used to be.
In hindsight, I probably wasn't much fun to be around when I was in that state, and it must have taken a toll on my loved ones who have had to bear with me.
I realised that the source of a lot of that positivity and drive in life I had came from the goals I was chasing in running.
When pursuing an exciting goal, life just falls into place — you structure your life around what it takes to attain success in your chosen field.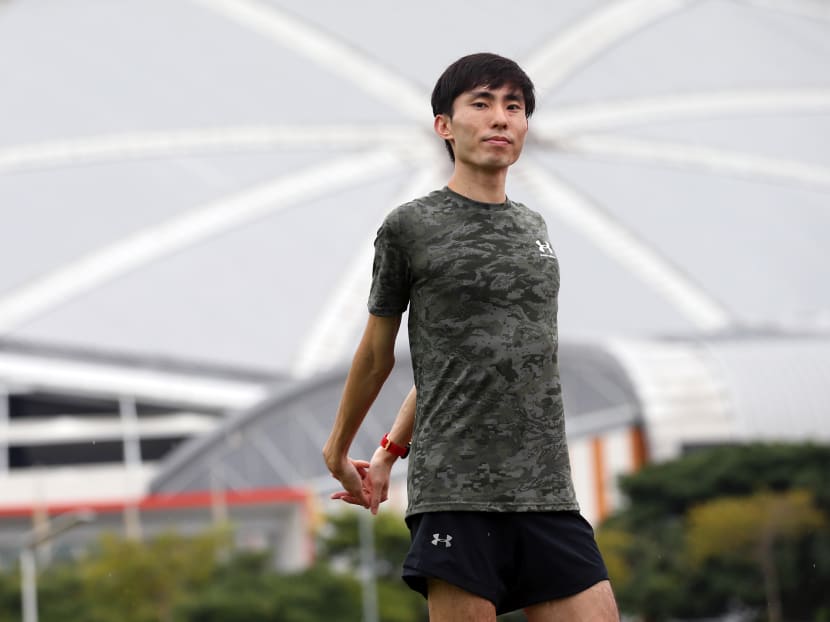 Eventually, I sat down with my former Raffles Junior College coach to catch up. He hadn't coached me for many years, but has always been a mentor to count on when I needed to talk things through.
I shared the challenges I faced in getting myself motivated and out the door for a run.
I asked if he would be all right with me working with his group of athletes as I felt that some company would help me enjoy the sport and get in shape again.
Coach had noticed that I didn't have the same spring in my step as I used to (the exact words he used were: "Yeah come back and start training again, give yourself something to look forward to rather than being like that — sian sian (Hokkien for moody) one."
That little pep talk was exactly what I needed. I made the decision to get back in competitive shape again.
I started being excited again. The positivity and drive returned. The purpose and aim in every day was rediscovered, and life seemed to fall back into balance.
With every successful workout, I felt that sense of accomplishment. With every long run, I felt my body growing stronger, and I became more excited about what the future held, looking forward to my next competition.
As we entered 2021, an amazing opportunity came up for me to sign as a professional athlete with sporting brand Under Armour.
It has always been my dream to compete as a professional athlete, and the offer from Under Armour came just as I needed a spark to reignite my competitive runner career.
With renewed wind in my sails, I headed for the Singapore Athletics Series 2 Meet on March 27, to compete in the 1,500m. It was my first 1,500m in eight years, and a race distance that is more than 26 times shorter than my pet event — the marathon (42.195km).
But training had gone very well, and I was confident. I stuck to my race plan, sticking in a tight pack with the other 1,500m specialists, and then put in a surge of acceleration just before the final lap.
Gapping the field, I won the race by over 2s, and qualified for the 2021 SEA Games by over 3s in the process. Pumping my fist in exhilaration, I celebrated my return to the competition arena.
This is what I was meant to do.
If you've read this far, you're probably either a runner in some shape or form or someone who identifies with motivation, drive, or positivity.
Perhaps you're even facing personal struggles of your own.
I may not be able to help you through it, but I can tell you this: Set an exciting goal. Structure your life to achieve it. Find joy and purpose in the process and strive for excellence every day.
Run when you can. Run when you're stressed and need a mental detox.
It's an uncertain world we live in today, so stay safe, stay healthy.
Run because it's a simple activity and does wonders for your mind and body.
ABOUT THE AUTHOR: 
Soh Rui Yong is a professional athlete who has represented Singapore in four World Half Marathon Championships. He is a two-time SEA Games marathon gold medal winner, and holds every national record from 10,000m to the marathon.