Gen Y Speaks: An ex-professional footballer, I graduated amid Covid-19 and found a new calling
I'm a 29-year-old who graduated in the midst of the Covid-19 pandemic. People at my age would probably have kick-started their career. However, I've had to restart it and unfortunately embark on my job search at the worst possible time.
I'm a 29-year-old who graduated in the midst of the Covid-19 pandemic. People at my age would probably have kick-started their career. However, I've had to restart it and unfortunately embark on my job search at the worst possible time. 
Thankfully, my experience as a professional footballer over four years gave me strength and resilience to overcome the numerous adversities I have faced.
Growing up with a love for sports, I have been playing football since my secondary school days at St Gabriel's Secondary School. 
However, it never occurred to me that I would pursue this as a career. The gamechanger came when I played for Temasek Polytechnic's (TP) football team in 2010. 
Most of my teammates were playing semi-professionally in the Prime League, and some even in the S-League. My coach then, Steven Tan, would push me and he made me a better winger.
I got that break when Hougang United Football Club was set up and the coach then, Aide Iskandar, scouted me when I was playing at TP. I went on to play for Hougang United from January 2010 to July 2011. 
In July 2011, I was selected by Fandi Ahmad to travel to Italy for a training stint. 
I was in my second year at TP then, and I made the tough decision to withdraw from school as I could not get a deferment. I also ended my contract with Hougang United.
Just as I was all primed for the overseas trip, which was a once-in-a-lifetime opportunity, it all fell apart almost immediately. I was called for my National Service (NS) medical screening at that time. 
I was informed that I had to provide a bond if I wanted to leave Singapore to join the training stint. I could not afford it. 
With a broken heart, I stayed back in Singapore. My heart was empty.
I did not complete my studies. I ended my football contract. I could not go to Italy. It felt like it was "game over".
Emotionally wounded by the sudden change of events, I moved on. I enlisted for my NS in March 2012 and underwent commander's training at the Specialist Cadet School. 
Thereafter, I played for the Singapore Armed Forces Sports Association (Safsa) in late 2012 and got called up by the Young Lions in February 2013, playing for them till June 2014.
I enjoyed the days playing the sport that I love. However, I would meet with another obstacle. 
I had to deal with many injuries along the way and it planted doubts in me if this would be a sustainable career in the long run. 
During my time with the Young Lions, I also witnessed how a fellow teammate was not recontracted after sustaining an anterior cruciate ligament injury, a type of knee injury. This made me rethink and realise that someday, this could be me.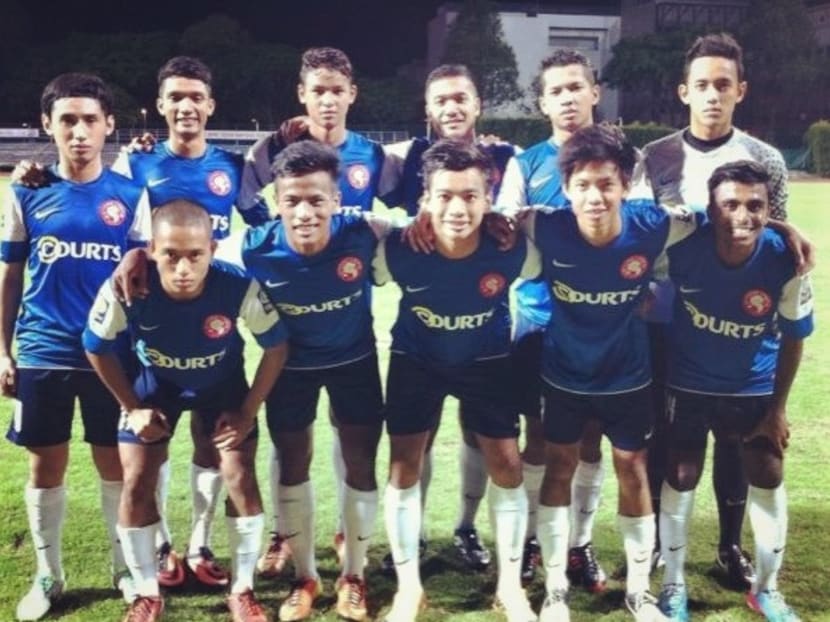 While I witnessed my friends going on to further their studies in university or moving on with their career, I was armed with only an O-Level certificate. 
Though my parents were supportive of me throughout my footballing career, they advised that I should at least complete my diploma as it would be something I could fall back on if things did not go as planned. 
I felt that I should not disappoint them further. With my mother's encouragement, I decided to further my studies. 
I graduated with a Diploma in International Business from the Singapore Institute of Management (SIM) in 2016, and thereafter was conferred a Bachelor in Sports Business Management from Stirling University, under SIM, in May 2020.
During my studies, I worked part-time as a coach for children and youth through various football workshops. 
This helped supplement some income to fund my studies while still being involved in the sport I loved.
Upon graduation, I held on to the hope of possibly finding a sports-related job. Unfortunately, this proved to be a challenge during the circuit breaker period. 
I applied for close to 10 jobs, both sports-related and non-sports related in areas such as operations and marketing, but did not get any response. 
I started to worry if spending years to further my studies was a bad move. The sports scene was badly affected by Covid-19 and the safe management measures that were put in place. 
There were days when I questioned myself: "What next?"
I was upset that things were not going in my favour. I spoke with my family and friends about it, and everyone told me to be resilient and not to give up. 
In fact, it was my sister who encouraged me to consider non-sports jobs to see if they interested me.
It was then that I came across the SGUnited Traineeships Programme while looking for a job on Workforce Singapore's MyCareersFuture portal. 
It felt like an alternative gateway opened up for me.
I reminded myself of the professional footballing days where I always had to handle disappointments, accept the challenges but always continue moving forward. 
I also recall having had to abandon my childhood dream — to be a Republic of Singapore Air Force pilot. 
Back then, I ticked all the necessary criteria, but unfortunately failed at the final stage when I did not pass the medical. 
That dream was crushed instantaneously, but that would eventually lead me to another calling — football. 
I thus gathered a newfound energy to push myself to explore the available traineeship opportunities and to see if there was something else that I could potentially pursue.
An opportunity in the social services sector stood out for me during my search. 
It was with Boys' Town Adventure Centre and the role involved organising and conducting adventure programmes for youth-in-need.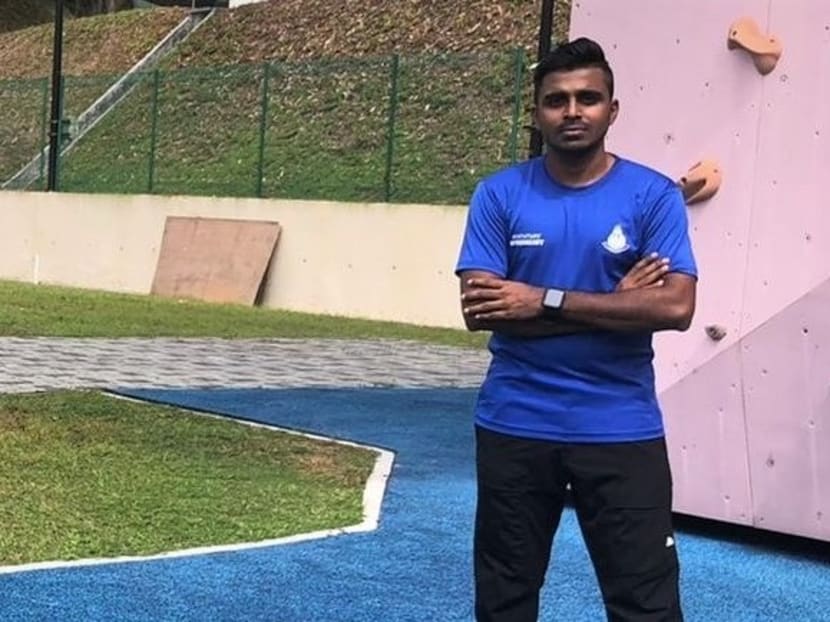 Having played sports since young and being a football coach for kids, I have always believed that sports can help mould the young by instilling discipline and resilience in them. 
Thus, it seemed like a natural option for me to continue the journey of guiding the youth.
In September 2020, I successfully joined Boys' Town on a nine-month traineeship as an adventure programme executive. 
During these past few months, I have organised activities ranging from sports climbing to bouldering and have also attended courses such as the trauma informed care workshops to handle the youth-in-need more tactfully. 
The journey has been nothing but enjoyable, and I feel privileged to have learnt and experienced things that I have come to enjoy.
Looking back, my family and friends have always stood by me regardless of the decisions that I have made. 
Like me, they also feel that I had my fair share of fun during my professional footballing days which I will always cherish. 
Though it has been a longer journey for me as compared to my peers, I do not have any regrets. I am glad to have moved on and to be where I am today.
I have found a new calling — to build a career on inspiring youths to take up sports. 
I believe that sports instil discipline and motivation during their educational years, just like what I had gone through.
In the long run, I aspire to create an impact among youths through sports, which can help them throughout their lives.
Stepping out of my comfort zone and pursuing a field which I never considered previously has allowed me to grow and transform. 
I believe that tough situations build strong people. For fellow fresh graduates, I would advise them to consider various job roles with an open mind as they might be able to find opportunities in them.
ABOUT THE WRITER:
Saseetharan Kaleemuthu, 29, played professional football in Singapore from 2010 to 2014 before furthering his studies. He joined Boys' Town Adventure Centre as a trainee in September 2020 and has long-term goals of using sports to cultivate discipline and resilience in youth.