Gen Y Speaks: I have no regrets quitting the Integrated Programme for top students to chase my nursing dream
​From the time I entered the Integrated Programme (IP) in River Valley High School, I had been on a steady journey towards completing my A-Level examination. But in 2019, I decided to leave the IP and pursue a nursing diploma at Nanyang Polytechnic.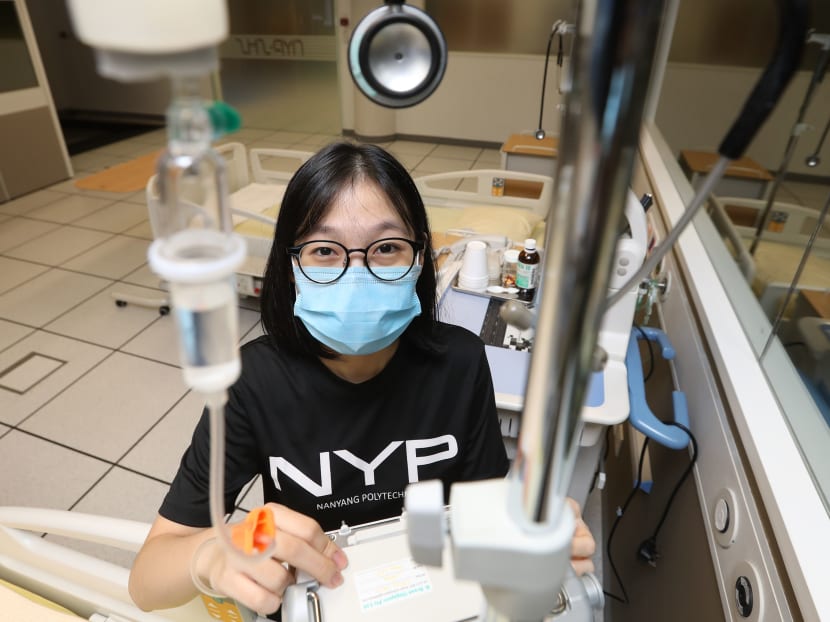 From the time I entered the Integrated Programme (IP) in River Valley High School, I had been on a steady journey towards completing my A-Level examination. 
But in 2019, I decided to leave the IP and enrol for a nursing course at Nanyang Polytechnic (NYP). I am currently in my second year and I have never felt surer about pursuing my passion.
Don't get me wrong: After working really hard and scoring 255 for my Primary School Leaving Examination, I was excited to embark on my life in the IP track — a six-year through-train programme that is offered only in 17 schools islandwide currently, targeting higher-performing students – and the journey was nothing short of enriching.
With dedicated teachers and a curriculum extending beyond the O-Level syllabus, I had opportunities to explore my interests and future career paths, all while learning critical thinking skills.
I have had many fond memories of my time in the IP, and the curriculum has been vital in shaping my growth as a student.
One of my favourite moments was when I embarked on a year-long project to write an essay critiquing the Just War Theory.
It was an unexpectedly interesting experience as I had not foreseen having such an opportunity to explore a topic outside the syllabus.
Even though I didn't top my classes, my grades were decent, averaging a "B" for most modules.
I also learnt how to do in-depth literature reviews, solve problems logically and think critically — useful skills that enable me to handle situations in a logical and analytical manner even today.
But all this while, I knew that I wanted to pursue nursing as a career.
I have always found joy in lending a helping hand — be it giving directions to those who are lost or helping my friends better understand a topic.
So, there came a point when I began to seriously question my choice in the IP.
I was still grateful for the life skills I picked up in the IP but questions like "How will these assessment books and worksheets help me eventually in my career?" came to mind and I struggled to find meaning in what I was studying.
Once, I saw a girl trip and hurt herself badly.
But due to my lack of first-aid knowledge, I was unable to help her. I felt so helpless in that moment.
So, I firmed up my decision to choose nursing as a career. As a nurse, I would be equipped with the knowledge and skills to care for those who are ill or hurt.
The job would also allow me to allay the fears of the patient's loved ones through communication and patient education.
By the time I was in my fourth year of the IP, I had set my heart on nursing in order to make a positive impact on the lives of others.
My mother, who is also a nurse, would share her work experiences and how she makes a positive difference in the lives of her patients.
I yearned to become someone like her: A person capable of bringing hope to those who are unwell.
Thus, at 16-years-old, I found myself at a crossroads.
Do I want to spend two more years studying for a national examination when I can be building my foundation as a nurse?
I remember how hesitant my mother was when I brought up the topic of leaving the IP.
Granted, she had experienced the difficulties that came with nursing first-hand. So she wanted me to be sure of my decision to be a nurse.
But my determination reassured my mother. My friends in IP were initially surprised, too, but they supported me nonetheless.
I truly feel incredibly fortunate to have understanding friends and family members who supported my decision to pursue nursing.
The author with her mother, a nurse.   Photo courtesy of Sarah Ong Xinmin
Despite having to go against the norm and enter a completely new environment, leaving the IP is something I have never looked back on.
After just two years in NYP, I have learned so much about biology, nursing care and the psycho-social aspect of nursing from lecturers who truly care about us.
This change also pushed me to take charge of my life and embrace new experiences.
Apart from excelling in school with a Grade Point Average of 3.91, at NYP, I got the opportunity to join the Youth Expedition Programme, go for virtual overseas exchange programmes and take on a mentee role in the Harvard Business School Mentorship Programme.
My favourite part of school is the attachments. Being able to apply what I have learnt reaffirmed my decision to choose nursing.
There were many heart-warming memories during my attachments, and the most memorable one was when the staff nurse and I celebrated an elderly patient's birthday in the hospital.
He had no visitors and looked very dejected on his special day, so I was glad I could brighten up his day with a birthday song.
Of course, like others my age, I have doubted my career choice on several occasions.
The first day of my first attachment, I nearly got lost finding biscuits for a patient.
It took way longer than usual and she responded by giving me a thumbs down and shaking her head, which left me feeling disappointed with myself.
Despite this, I know good nurses have to be resilient.
At the end of the day, a nurse's job satisfaction comes from knowing that you have made a difference in the lives of your patients and played a part in their recovery process.
Looking forward, I aim to continue learning and gaining experience in hopes of becoming an Advanced Practice Nurse in order to care for patients with more complex cases.
To young readers reading this, I hope you will not be deterred by societal stigma and the fear of negative judgement.
Instead, recognise the importance of being in tune with who you are — your strengths, weaknesses and goals –— and work towards a future that you can call your own.

ABOUT THE AUTHOR:
Sarah Ong Xinmin is a second-year nursing student at the School of Health and Social Sciences, Nanyang Polytechnic.