Gen Y Speaks: I have spent half my life working with animals. This is what they have taught me
I had wanted to work with animals before I could barely walk or talk. My late grandma planted that seed in me as I watched her tend to our cats and a massive collection of plants.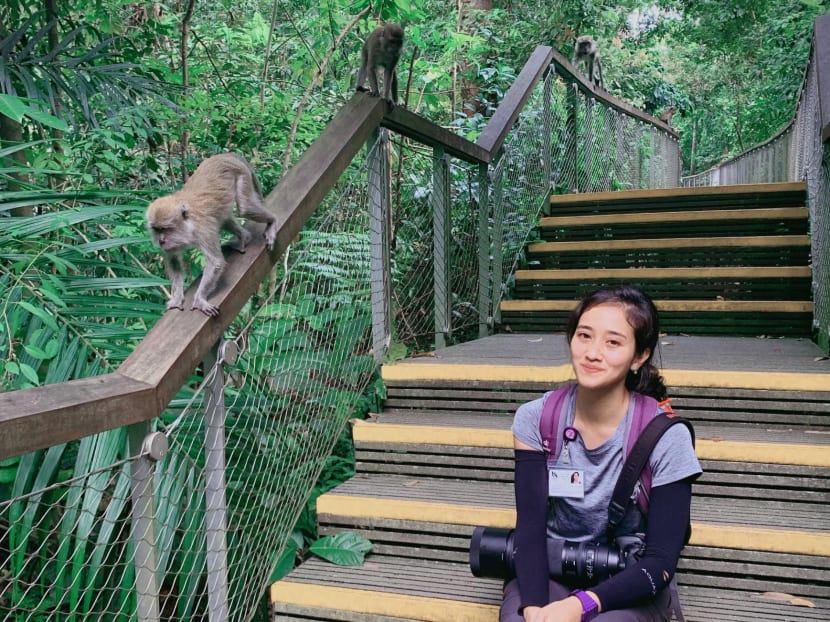 I had wanted to work with animals before I could barely walk or talk. My late grandma planted that seed in me as I watched her tend to our cats and a massive collection of plants.
I recall receiving The Jungle Book by Rudyard Kipling and immediately falling in love with the jungle.
I never wavered from that dream throughout school so in 2006, while waiting for my O-Level results, I worked as a part time zookeeper.
At the time, my parents thought it was just a passing phase but they soon realised that it wasn't.
I entered Jurong Junior College but soon felt like I couldn't fit into the system.
I knew I wanted to continue working as a zookeeper to build experience, so I enrolled to study biomedical science at the Management Development Institute of Singapore.
I completed a one-year foundation course before studying another 3.5 years for my degree.
I was a zookeeper by day and an undergraduate by night. Though it was tiring, there was a sense of fulfilment living my childhood dream.
I became a full-time zookeeper upon graduation and before long discovered a profound interest in primates. I also came to learn more about the plight of wildlife beyond the zoo.
I found a calling to do more. It was a bittersweet decision to leave the zoo because of the bonds created with the animals but I knew it was time for me to leave my comfort zone.
MITIGATING HUMAN-MACAQUE CONFLICTS
In 2013, I began my next chapter with Animal Concerns Research and Education Society (Acres) and a whole new world of wildlife welfare and conservation.
I was a campaigns executive, tasked with mitigating human-macaque conflict issues in Singapore and the rehabilitation of rescued macaques.
Human-macaque conflicts typically stem from a lack of awareness of animal behaviour. These conflicts happen at forest fringes, park connectors and residential areas.
As Singapore is a concrete jungle, wildlife such as macaques are at risk of traffic collisions, illegal wildlife trappings as well as fishing hooks and lines that have been left at forest fringes bordering reservoirs.
Acres staff and volunteers will rescue and rehabilitate these injured macaques before releasing them back in the wild.
At Acres, I also had the opportunity to travel and get better insights on how other countries were helping the community and wildlife.
Mitigating human-macaque conflicts required me to have some very difficult conversations with people. I had to speak up when necessary, even though I was an introvert and still am.
Countless Ted talks and failed conversations with furious residents later, I found my voice to help people and macaques. Advocacy to me isn't about creating disputes but it's about listening and processing information before delivering key messages. This takes time and I had to be willing to make mistakes.
I was a founding members of Acres' Monkey Guards project in Singapore, aimed at providing a modern-day approach to tackle a long-term issue.
It started at Bukit Timah Nature Reserve, where we taught residents nearby the behaviour of macaques.
This helped to reduce the number of visits by the macaques to these homes and consequently their conflicts with humans.
The programme was gradually expanded and more individuals within communities, agencies and organisations were trained so that they could take the lead in mitigating human-wildlife conflict in their respective areas.
Today, I continue to provide Monkey Guards training to the community.
PICKING UP NEW SKILLS; LEARNING TO BE TENACIOUS
Throughout my time at Acres, I saw countless macaques' lives lost. Some did not make it in the process of rescue or rehabilitation.
Each loss has taught me about the fragility and complexity of life.
Macaques have the capability to mourn for the lost lives of family members, but they continue to keep moving and seeking for survival — and that makes them highly adaptable.
This spirit inspires me and makes me more determined  to correct the misconceptions that people have about them. I acknowledge that this job will never make me rich but being part of a macaque's journey from rescue, rehabilitation and to the eventual release back to their natural home always feels like winning a million dollars.
These personal experiences helped to build character and kept me rooted.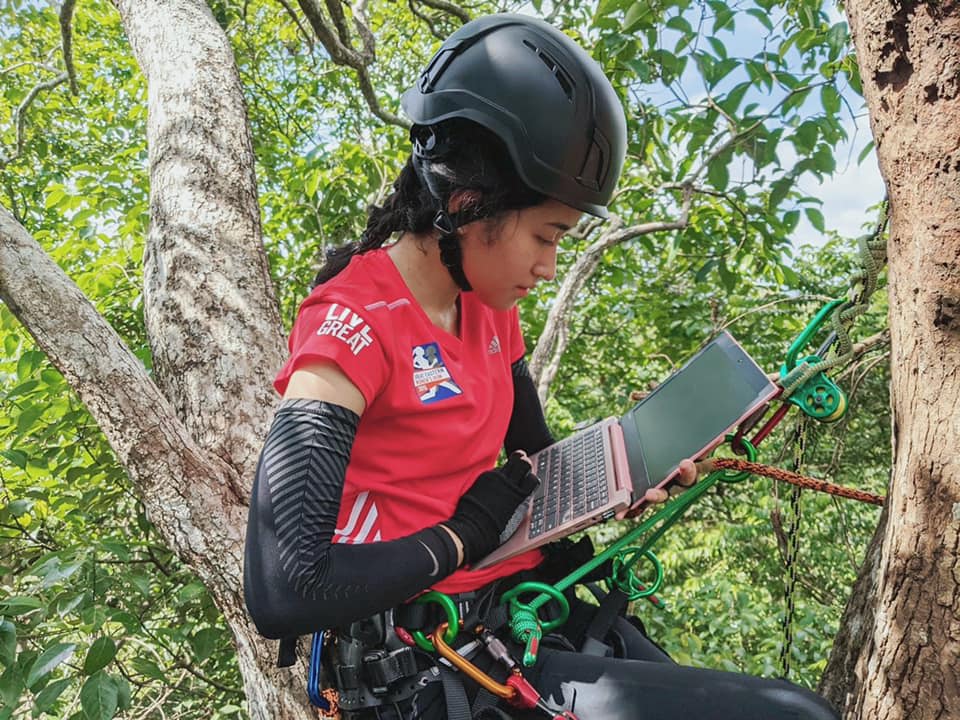 With the responsibilities that naturally come along as I enter adulthood, I left my nest again in 2017.
Seeking a holistic balance in the conservation field, I joined Dr Andie Ang in her Raffles' banded langur project as an assistant researcher under the Wildlife Reserves Conservation Fund — now called Mandai Nature.
The objectives of this project are to recover and protect the Raffles' banded langur through long-term monitoring and conservation research as well as securing the necessary resources and commitments for long-term conservation efforts.
Doing research work meant I had to quickly pick up new skills such as doing laboratory tests and writing reports.  
Observing wildlife requires patience, dedication and precision.
Observing macaques and langurs is slightly different due to their levels of adaptation towards human presence.
When I first started observing the langurs, I missed out on a key piece of information which was rather embarrassing.
One day, I was documenting a family of langurs using the road to cross from one forest patch to another.
I was impressed with myself for photographing that moment for two reasons.
First, it highlighted the importance of having canopy connectivity for safe passage for them (two rope bridges have been constructed by the National Parks Board along Old Upper Thomson Road).
Secondly, those were still pictures of animals in motion, which I assumed was a demonstration of a certain level of photography skills.
However, I only realised that I didn't pay enough attention when I learnt that one of the female langurs was carrying an infant only after reviewing those photos two months later.
This was pointed out by my direct supervisor, Andie!
Five years on, I've learnt to make methodical observations when I'm out at fieldwork and to review every documentation equally. That infant langur which I had missed has grown into a strong young boy and its name is Spade.
Of course, research work has its share of downhearted stories. Andie and I recently published a book on the Raffles' banded langur.
A female langur, Gamora, with its infant, Ultraboy, graced the book cover. We wanted to pay a special tribute to Ultraboy.
After watching it grow till about three years and two months of age, it was struck and killed by a vehicle on Upper Thomson Road.
A lack of stable canopy connectivity above the road was likely the cause for it and the rest of the family travelling on the road to get from one forest to another.
The book highlights conservation plans and promotes a better understanding and appreciation of our shared natural heritage.
The highs and lows of helping the highly misunderstood long-tailed macaques and the critically endangered Raffles' banded langurs continue to humble me and teach me a lot about tenacity.
The wildlife conservation community in Singapore is small; so many of us wear multiple hats.
Both Andie and I volunteer our expertise for the Jane Goodall Institute Singapore and we are also part of a number of wildlife working groups.
I continue to work very closely with Acres. The comradeship, collaborations and contributions by everyone complete the jigsaw puzzle.
As I write this, I realised I have been writing my own Jungle Book all along.
Just like how the book contained important themes of life, I have been evolving through the different stages of my life to develop my own unique tools to adapt and grow.
My advice to all the future Mowglis seeking to find their own Jungle Book — stay open to these multiple phases of metamorphosis as they help create a better version of you so that you can keep your passion growing and serve the community better.
If things seem daunting, try to change your attitude and remember why you chose to start.
I leave you with this quote from the Jungle Book: "The strength of the pack is the wolf, and the strength of the wolf is the pack."
ABOUT THE AUTHOR:
Sabrina Jabbar, 31, is an assistant researcher at Mandai Nature, working on a cross-border conservation project for Raffles' banded langurs. She also provides training on how to mitigate human-macaque conflicts and advocates for harmonious coexistence between people and macaques.