Gen Y Speaks: I juggled studies, motherhood and work to realise a 15-year dream to get a law degree
There is nothing special about me. I am your average Singaporean, living in a flat with my husband and two young children. So when I was asked if I wanted to write about my law school journey, I hesitated.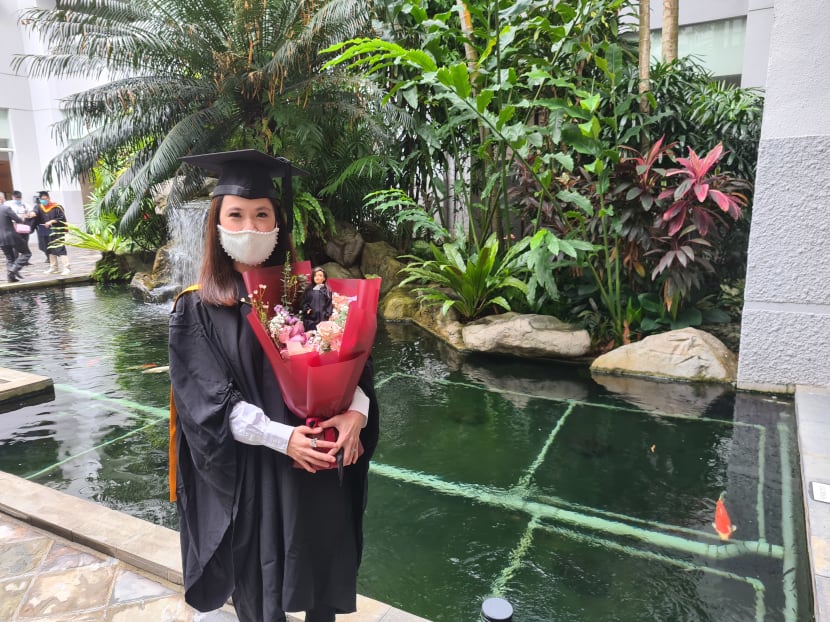 There is nothing special about me. 
I am your average Singaporean, living in a flat with my husband and two young children. 
So when I was asked if I wanted to write about my law school journey, I hesitated. What do I write about? Why should I even write about it? 
I thought long and hard about it and my answer is this: I am writing this to verbalise what others went through; to validate the other everyday heroes. 
It does not matter how long your journey took, nor does it matter how old you were when you finished. It does not matter how you started, what matters was how it ended. You did it. 
This is my story. 
I never saw my father after my parents divorced when I was about four years old.
From then on, my grandmother took care of me while my mother worked hard to provide for the three of us. 
As time passed and the cost of living increased, my mother could have asked for more maintenance for me, but she didn't because the legal process took too much time and money. 
That episode has been seared in my mind ever since.
Coming from a single income family, I pursued my Diploma in Law and Management at Temasek Polytechnic so I could join the workforce right after graduation in 2006. 
I went on to work for Mr Peter Low, a lawyer who is known to champion the underdog.
As a paralegal, my duties were to assist him with research, attending court to take notes and preparing court documents.
Working for him for almost 12 years until 2018 confirmed what I had always known — I want to be a lawyer fighting for the under-represented, giving a voice to those who needed to be heard. 
To achieve this dream, I applied repeatedly to the local universities' law schools but was rejected multiple times. My average grades just didn't cut it.
However, this did not deter me from serving the community.
I volunteered as a scribe at legal clinics. My time there showed me that the same issues from my childhood still exist today.
To many, the legal process is still complicated, intimidating and overwhelming.
Some had to give up pursuing their claims, even if they had a good case, simply because their money was needed for other immediate pressing needs instead of paying legal fees, while some could not wait as their cases dragged on.
My experience as a volunteer made me more determined to give back to society and enrol into law school.   
The stars finally aligned when I was offered a place to read law at Singapore's third law school, at Singapore University of Social Sciences (SUSS).
Having to juggle law school and work was not easy.
When I had class, I would have to leave the office at 6pm sharp (which is unheard of in a law firm), or I would be late and miss the start of class.
Having a real meal was a luxury; in place, buns and iced teh-o kept me going. As a law student, there was plenty to read.
Whatever spare time I had every day was spent reading cases and preparing for class. Weekends were spent chained to the study table, working on assignments.  
When I found out I was expecting my first child shortly after starting law school in 2017, I thought to myself: How difficult can it be to care for a baby while studying?
I have never been more wrong in my entire life. Living life in three-hour blocks meant I was always rushing, rushing, rushing.
In particular, during examinations, I had to submit my papers well in advance otherwise I would reach home only after midnight to attend to my child.
I will never forget the one time when, after electronic examinations were introduced, my child fell asleep seated on me while I furiously typed away on my keyboard because she did not go to sleep before the paper started. 
When my second child arrived late last year, the challenge was starting my legal clerkship programme, a three-month industrial attachment, within a month of giving birth.
At times, I felt trapped, running on a hamster's wheel with no end in sight.
I did think about deferring my studies; though in hindsight, it must have been a sleep-deprived me entertaining that thought.
If not for the advice from my university's academic advisor Dr Daniel Seah to take one semester at a time, and the occasional tough love from my husband, I might have succumbed to that temptation.  
In my second year in SUSS in 2018, I stopped work to focus on my law degree course full-time. 
I am fortunate, and forever grateful to my husband for his unwavering support.
Before the children came along, he would pick me up from classes even if they ended late at night.
After we had children, he would be the one to play with them, feed them, bathe and clothe them and put them to sleep while I did my reading, worked on my assignments or attended to work at the office during my internships.
I want to thank him for being my cheerleader; for holding my hand and dragging me across the finish line. This enabled me to chase my dream of graduating with a law degree, without giving up on other time-pressing wants such as starting a family.
I penned this down so I never forget where I came from, so my clients know that when I say I understand what they are going through, I mean it; and, most importantly, to remind myself that my acquired knowledge and skills are for the benefit of the community. 
However, I am not all altruistic. I hope to, with my degree and experience, provide my children with more and better opportunities than I had, just like any other parent.
Looking back at the last 15 years as a whole, I believe that every step of my journey was part of a calculated plan by a higher being.  
Would I do it all over again? Absolutely. I would not change a thing.
I walk away from my time at SUSS School of Law even more determined than when I started. 
I am certain, more than ever, that what I want to do is to be standing up in court to present my client's story. 
And after 15 long years, I am finally realising my dream to do just that.  
ABOUT THE AUTHOR:
Sara Yang, 34, graduated with a Bachelor of Laws from the Singapore University of Social Sciences (SUSS) in October 2021. She gave birth to her children during her four-and-a-half year course in SUSS. They are now aged four and one.