Gen Y Speaks: I left my dream job to enter the bubble tea business. It's been a tough adventure
This is a story on how I decided to ditch my dream job for a path less travelled, while overcoming various struggles and challenges along the way.
This is a story on how I decided to ditch my dream job for a path less travelled, while overcoming various struggles and challenges along the way.
"Life (is) like a box of chocolates. You never know what you're gonna get." This quote from the 1994 movie Forrest Gump describes my life over the past few years very well.
Most people know me as the co-founder of Teahee SG, which started off as a bubble tea shop and now teaches individuals and businesses how to make bubble tea, among other things.
My identity is a business owner, a mixologist and a trainer. However, five years ago, this was hardly how I imagined the path I would be taking.
Since I was young, I knew journalism was the path that I wanted.
At 15 years of age, I was already a student correspondent with a Chinese paper.
At the end of the first year of university, I was awarded a journalism scholarship and officially began my journalism career with the press upon graduation.
The future seemed great, I got my dream job and was working in an environment that I was comfortable and familiar with.
But things started changing after my first year on the job.
Despite still enjoying what I was doing, I began to have doubts over the meaning of my work at times and started losing motivation.
I was confused and puzzled over this feeling, but very soon I realised that this "sian" or bored feeling was actually caused by my lack of autonomy as a corporate employee. 
I found myself asking this question everyday: "Why should I let others decide the direction and distance that I want to go?"
As a result, I thought hard about getting out of the rat race. At 24, I started investing aggressively in the stock market and planned to start a business.
Due to the low entry barrier of food and beverage (F&B) business, my partners and I decided to head in this direction. 
We took over a bubble tea shop in the Serangoon area without a second thought, thinking that this was a fast and easy way to escape the rat race. My partners and I had zero experience in managing a business or in the F&B field prior to this.
After taking over the shop, I spent one month doing research and development for the drinks that we would be selling. Every day after work, I would rush to the shop and experiment with all types of beverages. 
I remember drinking 10 cups of bubble tea in a day and vomiting as a result. The initial excitement of owning a business is uncontrollable, but very soon, we were confronted with all kinds of challenges.
We realised that we made all the mistakes that a newbie entrepreneur would make: The location wasn't ideal for an F&B business due to low human traffic, and the most fatal mistake was a manpower issue.
Back then, I had a four-year bond to serve with my previous company and couldn't resign. It also did not make sense for my partners to quit their high-paying corporate jobs. 
As a result, we had no choice but to leave the business fully to staff to manage, which resulted in many problems.
After a year, we had no choice but to close the retail business in order to reduce our losses. We had invested more than S$80,000 into the shop at that point of time.
That's when I slipped into deep depression and a quarter-life crisis.
On one hand, I know that I desperately want to be self-employed. On the other hand, I started doubting my capabilities of managing a business.
I lost my self-esteem and confidence, and did not know what I should or could do.
But thankfully, things finally took a turn for the better.
While looking for someone to take over the remaining lease of the shop, we decided to make full use of the space and tried some last attempts to cover the rental.
Taking advantage of the ongoing bubble tea craze, we decided to conduct bubble tea workshops at our shop so the public could learn how bubble tea is made.
Surprisingly, the response was overwhelming.
We observed that there were many cooking studios out there, but there wasn't a place to conduct beverage-making workshops.
As a result, we decided to open a proper studio to conduct bubble tea workshops, from sharing how to cook the perfect tapioca pearls to tips on brewing the various types of tea.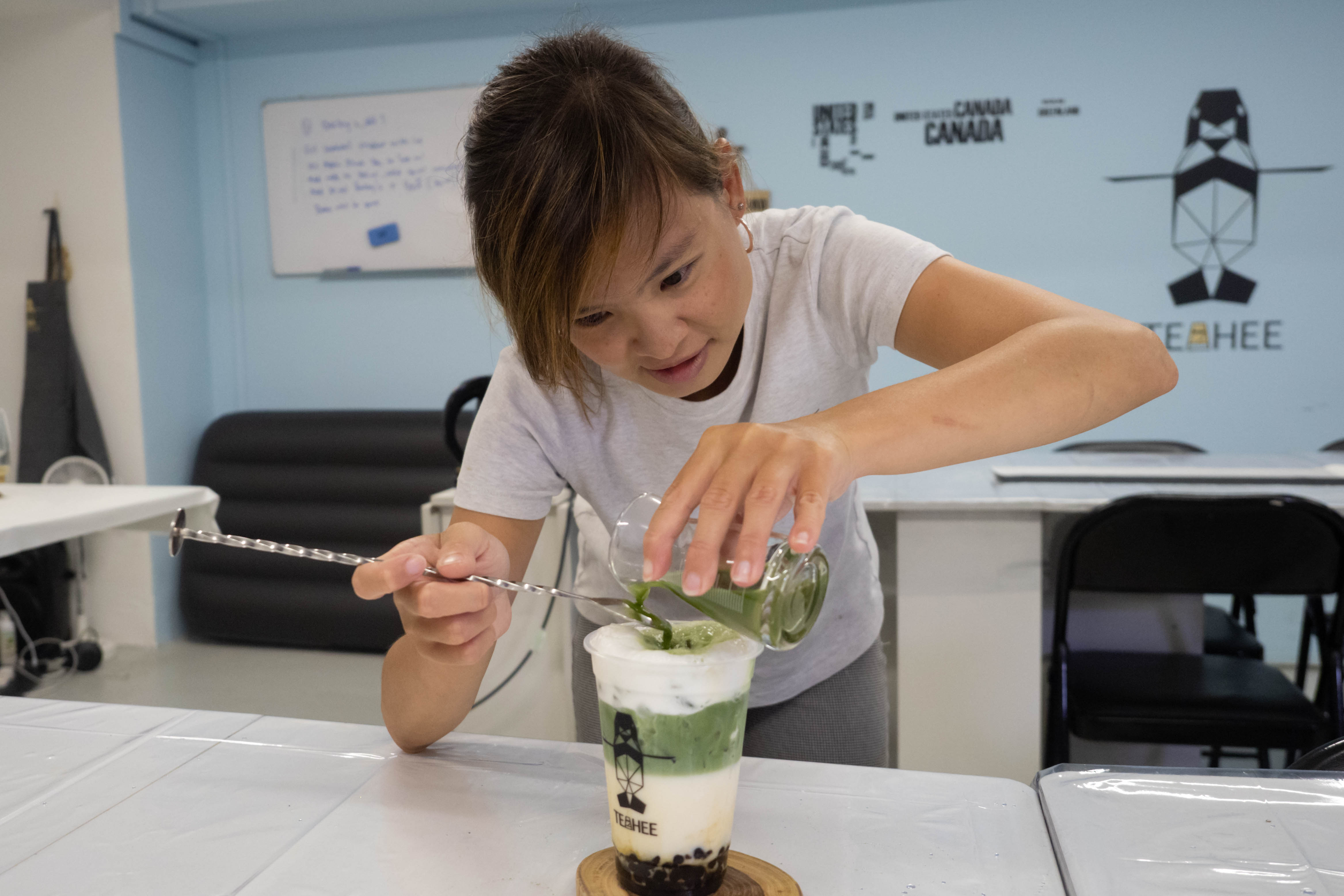 Very soon, we expanded into classes on tea blending, cocktail and mocktail making.
Aspiring F&B business owners also started coming to us to seek advice on running a beverage business.
The failure that we experienced in our retail shop gave us much valuable business experience on the pitfalls to avoid.
It places us in a good position to provide related advice.
As of today, we have also guided dozens of aspiring entrepreneurs from more than 10 countries in setting up successful drinks' bars and bubble tea shops, fulfilling their entrepreneurship dreams.
Of course, our initial business transformation from a retail shop to a training centre wasn't smooth sailing.
Two months after we set up our studio at the end of 2019, Covid-19 hit and we were then forced to switch all our workshops to virtual mode, conducted via Zoom, which was a brand new experience for us.
Having to juggle both my full-time job as a journalist and the business made things even more challenging too.
I got by on no more than six hours sleep a day as we tried to come up with various business strategies. 
It took us close to a year to stabilise the new business model. I eventually left my journalism job in December 2021 after completing my bond.
Today, we aim to transform Teahee SG into a social enterprise to give something back to society.
We have worked with non-profit organisations such as Trybe and ALife, to provide bubble tea-making workshops for youths, with the goal of helping them to discover their strengths and gain confidence.
This year, our goal is to collaborate with institutions to launch bubble tea and tea-blending workshops for those with a troubled mind.
It feels great to bring joy to people through these workshops, while also sharing tips for making healthier bubble tea.
From journalism to entrepreneurship, I would say this phase of my life is an adventure.
The journey of entrepreneurship is not easy, and it will never be.
But once you take the courage and embark on it, it is going to be the most memorable experience that you will ever have.

ABOUT THE AUTHOR:
Jeannie Poon Wan Li is a co-founder of Teahee SG, which started off as a bubble tea shop and now teaches individuals and businesses how to make bubble tea, among other things.