Gen Y Speaks: I once dreamt of designing pretty buildings, but my search for meaning at work led me elsewhere
Design has always held a special place in my heart since I was young.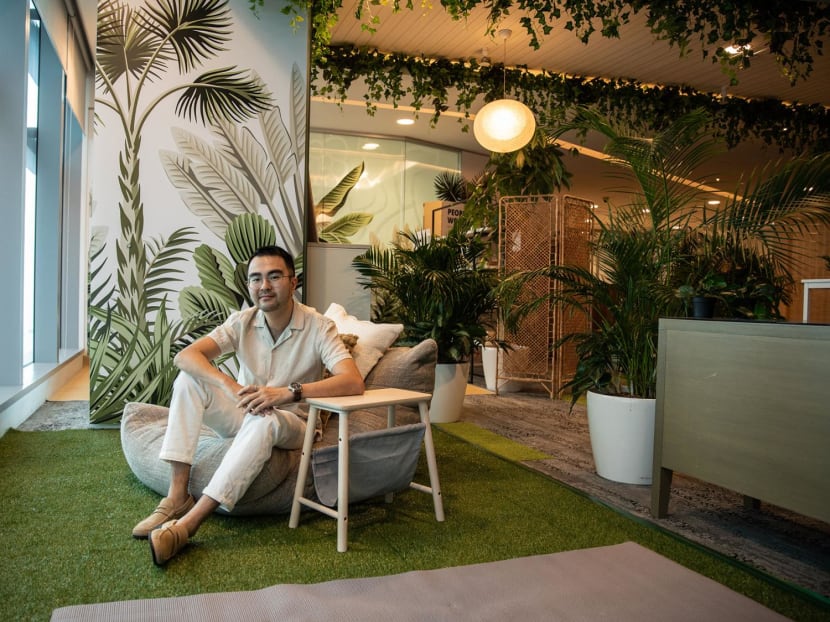 Design has always held a special place in my heart since I was young.
From the satisfaction of neatly arranged text on a form, to the awe at beautifully crafted spaces, I have always been aware and appreciative of the profound influence of good design.
At the same time, I was also piqued by how designs, even poorly conceived ones, lead people to change their behaviour.
There's the concept of desire paths — unsanctioned routes that are inadvertently created when people take repeated shortcuts, over a field for example, because the paved pathways fail to consider pedestrians' needs.
I was always noticing things such as insufficient signage and convoluted wayfinding in larger MRT stations that confuse commuters on which exit they should take, or how bus drivers always had to get out of their seats to deploy the ramp for passengers in wheelchairs.
All of these small frustrations people face on a daily basis are linked to design. Growing up, I paid special attention to examples where more thought could have been given to user experience and make lives easier.
So, it was only natural for me to pursue a degree in architecture at the National University of Singapore, graduating in 2020 with a Master's degree. 
Just as my predecessors ahead of me trod the well-beaten path of becoming an architect, I did so too, joining the industry shortly after my graduation. 
I thought I could carve out a career designing various beautiful and thoughtful spaces that people would admire and love.
During my internships and early in my career as an architectural designer, I had the opportunity to work on diverse projects from public housing competitions to good class bungalows, and in the commercial sector, from shophouses to hospitality resorts. 
FINDING MEANING IN DESIGN
But it was during the peak of the Covid-19 pandemic that I experienced a profound shift in perspective towards work.
Witnessing first-hand the impact and limitations of physical spaces — living rooms morphed into office spaces, while open offices became insufficient and underutilised in the era of Zoom calls and hybrid work — I began to doubt the lasting impact I could make as an architectural designer.
For me, architecture is the application of design in a way that is well-positioned to impact people, being largely related to the spaces we work, play and sleep in on a daily basis. 
A well-designed space can impact much of our daily lives, from designing with thermal comfort and natural ventilation in mind to providing inhabitants with a sense of safety.
But while being an architect was challenging and exciting, I wished I could go further with my work. What comes next after a space is built? A space is so much more than its initial design, yet the impact of designers often ceases upon the handover and completion of the project.
During Covid-19, one of my projects at the time was to work on staff accommodation where we had to future-proof our design to comply with quarantine requirements, while still ensuring the efficient use of limited space. 
But that got me thinking further: What about the existing spaces we already have? Who then tackles these changing requirements as they arise? 
An empty school can double up as a testing centre, but it was designed firstly as an institution for learning. A hostel can likewise be repurposed for quarantine, but was designed for social interactions and communal living. 
While they serve their new, functional purpose, they were never intended to and are not ideal for what they were now meant to achieve. 
People's needs change, and the intended user likewise changes, even if our buildings do not. 
I found myself wanting to do something that was more focused on the human experience, to see where I would be able to work directly with end users of my work to constantly iterate and improve to build better impact.
I wanted to seek out something beyond simply making a bungalow or skyscraper prettier for a single property owner. I wanted my designs to have a positive impact on many people, to improve experiences and to remove the frustrations that others face.
Most of all, I wanted to find meaning in my work.
SWITCHING CAREER TRACKS
As I was exploring options outside the industry, I was also working towards taking the professional exam in my journey to qualify as an architect.
Being an architect was a career path I had decided to embark upon all those years ago. 
Making a career change at that juncture felt like it was going against all I worked for and it felt like I was giving up before achieving my goals.
Some friends also cautioned against making such a move, emphasising how doing so would be a waste of those five long years invested into getting a Master's degree in a specialised field.
To them, it seemed like a waste of time, money, and effort. I'd also worked for a year in the architecture field at that point.
Friends were also concerned that I would be forgoing the opportunity to become a professional architect and the possibility of setting up my own practice, which they saw as something prestigious and illustrious.
While they definitely had my interests at heart, I was also fortunate to have a counterweight in the advice of my family and other friends who encouraged me to explore new horizons while I was still young.
They persuaded me to view things from a different perspective: that if my intention really was to create good designs to impact people, there were other ways to skin this cat. 
Despite their surprise at my decision, it was through the help of my supportive friends that I landed my current role as a workplace experience designer in late 2021 at DBS' Corporate Real Estate Strategy and Administration team.
BECOMING A WORKPLACE EXPERIENCE DESIGNER
In my current job, my team and I work by observing users, soliciting their feedback, and conducting experiments to find out what works best for them.
For instance, as part of the bank's effort to create purposeful spaces for hybrid work, my teammates and I ran pilots to design "ideation rooms" to enhance productivity and creativity which were based on behavioural research.
We designed these purpose-built spaces to be used for brainstorming workshops, but occupying the space to make conference calls would be a poor utilisation of their value, impeding their use for those who need them most. 
To nudge intended behaviour, we placed atypical meeting room furniture such as stools and standing desks to create an atypical meeting setting, whilst also encouraging active participation to keep workshops focused.
To catalyse recycling habits among staff members, my team and I prototyped intuitive recycling bins and educational nudges. We experimented with reducing vending machine usage and optimising food waste management in our two staff cafeterias.
Ultimately, it's about tailoring workspaces to meet needs.
Unlike an architect whose role is largely done once the building is built, as a workspace designer, it also means continuously monitoring and dealing with user feedback so that the design of spaces, or otherwise, can be improved upon.
While some may scoff at the idea that I've moved away from designing buildings to create office waste bins, I do not see this job as any less important or prestigious.
To me, the expanded scope of what I am doing now is an exciting challenge and getting to work on a wide variety of projects was something I looked forward to in my work. I was lucky to be able to make this career transition without a significant financial impact on myself.
At the end of the day, workplace experience design is a different trade from architecture.
To me, I derive more meaning from creating a good working environment for many more people than I did as an architect.
Spaces are meant to be used by people, and so their designs can either elevate or detract from their purposes. I know that the work I do thus has an outsized impact on more people who actually need to work in these buildings.
Nearly two years into this new role, I continue to learn and grow each day. While transitioning from architecture to experience design required a significant shift in focus, I was thankful that my university education in design thinking had helped to ease the change.
On this note, my career switch might not be as drastic or a complete change as many others, but the personal journey I had to go through to find meaning in work was still a challenge. I still needed to overcome my mental hurdles.
Looking back, I always had a choice of what I wanted to be committing my time and energy to.
Not everyone might make the same choices I did if they were in my situation, since one can find meaning in work in many ways.
Some choose to dive deep into their passions, others look squarely at the money they make from work, or some see the impact they leave behind from their work as the most important factor of all.
What matters is that you have to decide what is important to you. And at the end of the day, when you find out what that is, know that it is better to have tried something that might not work out than to regret not trying at all.
ABOUT THE AUTHOR:
Marcus Liu, 29, is a workplace experience designer at DBS Bank.