Gen Y Speaks: I run a cafe for seniors. They teach me it's not too late to start being brave and happy
My ambition was to be a policewoman, but I ended up playing squash competitively from age 13 to 31, and managing parks and park connectors across our green city from 24 to 31 after graduating with a geography degree.
My ambition was to be a policewoman, but I ended up playing squash competitively from age 13 to 31, with 10 of those years as a national player.
After graduating with a geography degree from the National University of Singapore, I spent seven years with National Parks Board managing and enhancing public parks.
Among other things, I made sure the parks across Singapore were safe, shady and well-maintained, rising from being a manager to a deputy director.  
And for the last four years, I have been running a cafe for older persons in Whampoa. At 36, I feel both accomplished and lost.
Being at the crossroads is not new to me. When I was transitioning from my 20s to 30s, I hit some roadblocks and took a short break to find myself.
I loved my previous job where, in addition to keeping park spaces safe (free of falling dead branches), I got to chat with park users to see how I can enhance the place — such as adding dog runs and sand pits for a game of petanque — based on their interests and needs.
That career break led me to Tsao Foundation, which came up with the idea for the cafe that I am now managing. What's next for me after running parks and cafes? 
Luckily for me, hanging around a group of feisty and fun-loving seniors gives me invaluable life lessons which bosses and business schools don't teach.
In return, I make coffee for them and lend them a listening ear.
Running a cafe for older persons has given me a head start in life. Meet the wise and wonderful women who taught me some important lessons…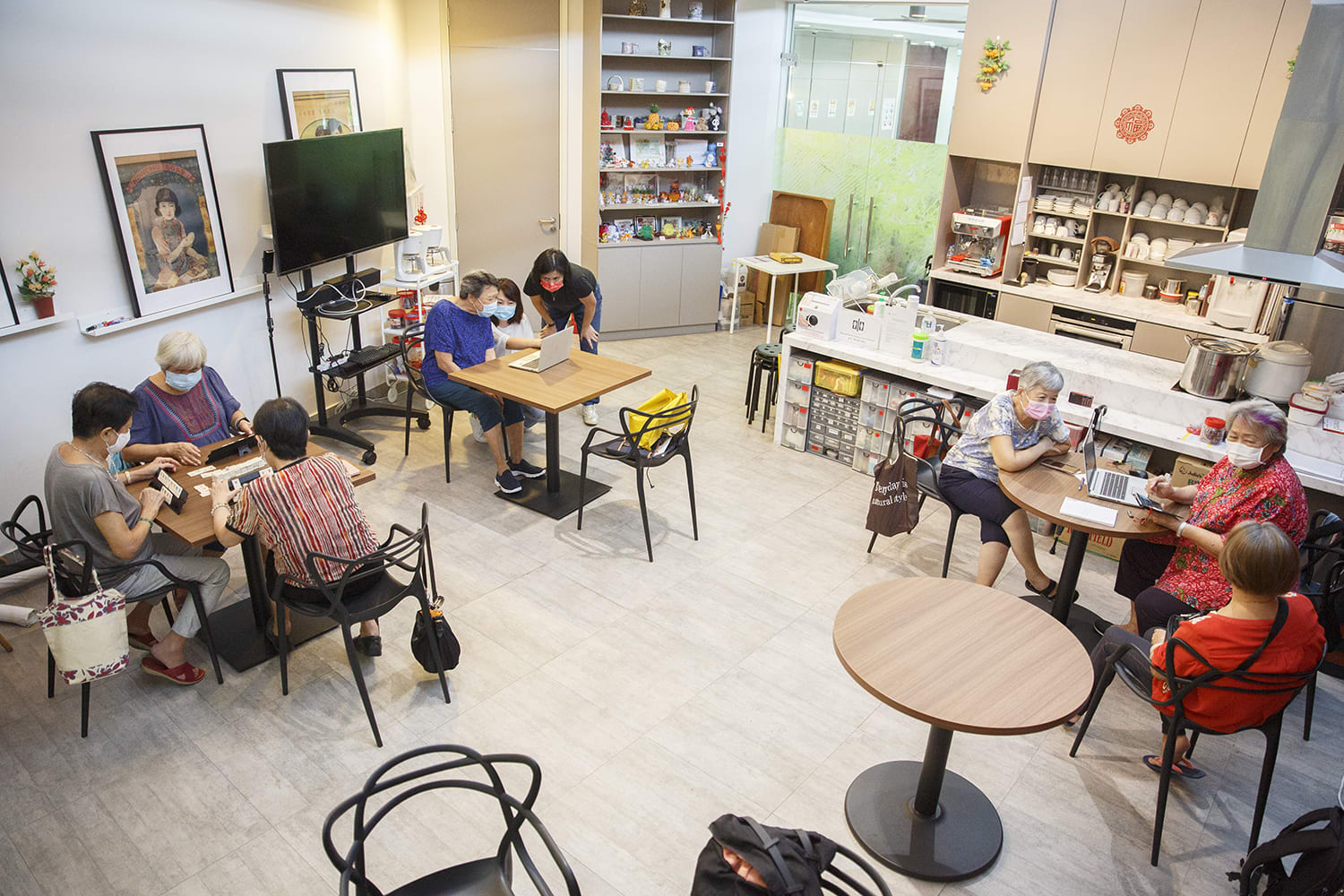 #1: Trudge on even when your partner passes on
A handful of the older women whom I got to know from the cafe have lost their spouses by now, mostly from old age and related issues but for one, the tragedy took place in her prime.
Wendy Khon was 34 — two years younger than me now — when she lost her husband, leaving her a single parent to a five-year-old girl.
"There's no time for grief. You just need to get up and get going," she told me.
She sprang into action and took charge of her life — not easy for women during that era. Wendy tried her hand at various jobs — being a housekeeper, nursing aid at a nursing home and selling insurance, before joining Tsao Foundation as an assistant care manager.
Today, Wendy helps me to manage the cafe.
When we first opened, she was instrumental in bringing the seniors in. She would tell her neighbours living in Whampoa to drop by when they are free, enticing her wide network of professional and personal contacts with coffee.
A couple of days a week, she whips up delicious desserts for our patrons and colleagues. In the cafe, she chats with them to discover their interests so that we can curate meaningful programmes that keep seniors coming back.
Wendy is twice my age, has double the wisdom and triple the life experiences. 
While we bicker at work, I am in awe of her resilience and zest for life: She rode a motorbike, ran many beauty pageants, sits on committees of at least three non-profit organisations, speaks three languages and two dialects, and was a competent toastmaster in her younger days.
After hours, she pours her heart and soul into her grandsons and community work. If you know Wendy, you'd agree that she is the life of any party.
Wendy taught me all about resilience, independence and to trudge on, even when the music stops.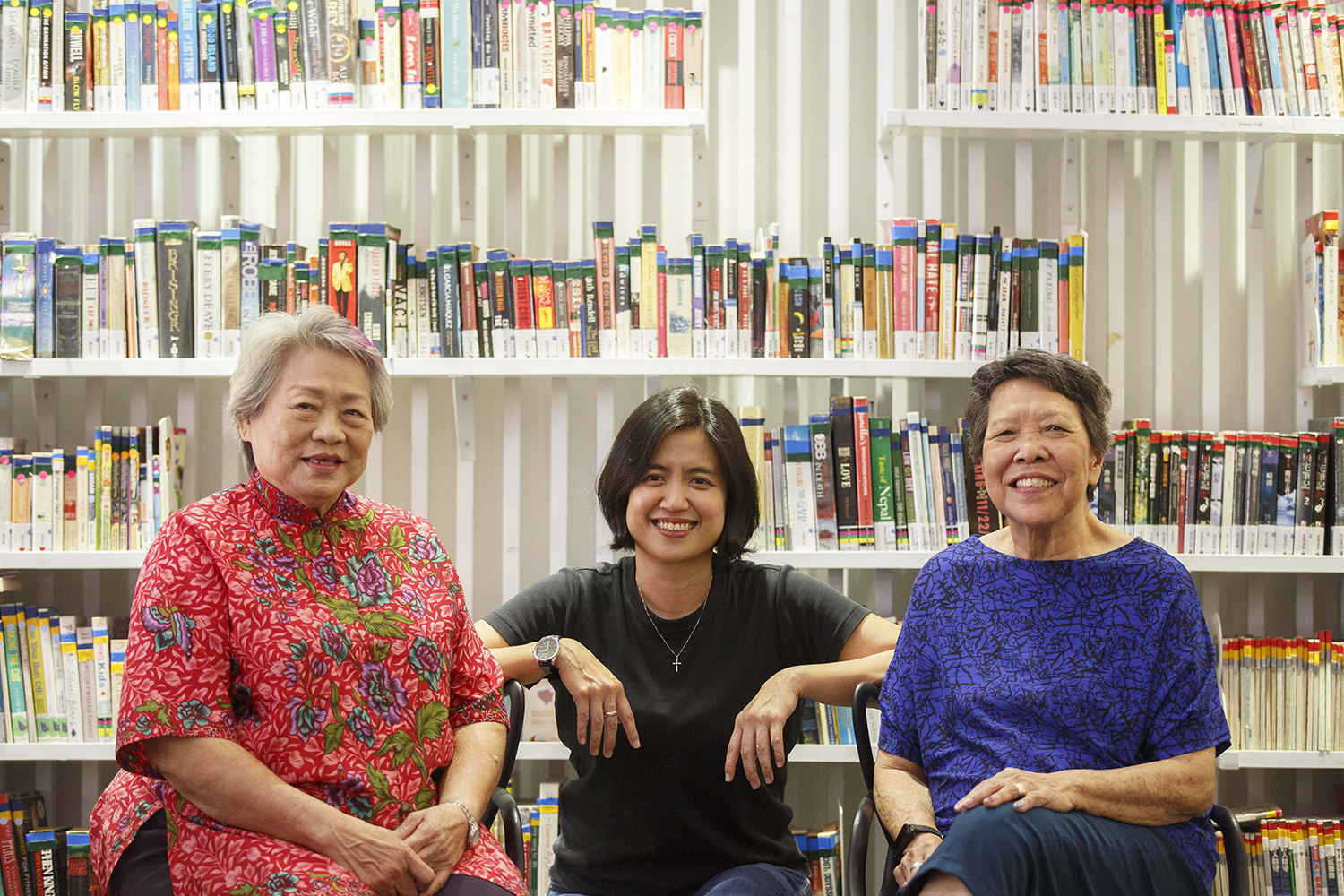 #2: Keep calm and start talking
Seventy-one-year-old Aunty L, who buys carrot cake from Whampoa market for me whenever she drops by the cafe, taught me to be brave.
The cafe is her refuge, and I am her listening ear. Over coffee and carrot cake, she would lament about how her late husband's will created serious rivalry between her sons.
Unable to resolve the estate battle between the siblings, her despair drove her to harm herself.
Alarmed, I accompanied her to see my colleague, a counsellor. Despite the initial discomfort, Aunty L overcame the taboo and braved the ordeal.
Today, she continues to see her counsellor regularly and is an active ager in Whampoa, where she attends cooking and digital classes, among others.
Meeting Aunty L made me think deeply about coping strategies. As a sportswoman, I naturally run, swim, or hit balls to let off steam.
However, one day when sports cease to be an outlet for my negative feelings, counselling is an option and like Aunty L, I will welcome it bravely.
#3: Back pain is youth leaving the body… but hustle on for that muscle
Madam See, 77, walks with a slight limp but that doesn't stop her from getting out of the house to support our cafe events and programmes.
Recently, I got to spend two days filming her and another senior volunteer in a video to increase awareness on dementia and caregiving.
Mdm See taught me about the importance of maintaining and maximising our physical strength for the long ageing journey ahead.
At 36, I'm experiencing backaches and creaking knees right after my football games, squash friendlies and tennis sessions.
With life expectancy of women hovering around 84 years, which other body parts will fail me over the next few decades? Physical decline is real and frightening.
Watching Mdm See trail behind others in the group during the video shoot was painful. Seeing her hold on to the wall to navigate the curb was discomforting.
How does Mdm See smile through her mobility issues?
"You go ahead, don't wait for me, I will get there," she said as we walked around the Whampoa Community Club premises during the video shoot.
Mdm See may have lost some of her ability to function physically in the ageing process, but she continues to build strength.
She does seated yoga regularly to improve the flexibility in the legs, back and pelvis.
Inspired by her, I have restarted my squash game by joining a club — every Thursday I put my body through punishing drills on the court that leave me in pain for the next few days.
But I am stronger every day, even as my body doesn't play ball.  
These three wonderful women have taught me that mental, physical and social resilience is what will see me through every life stage from here on.
I wish I had met them earlier in my life so I could have tackled certain episodes differently, but as they have shown me, it's never too late to start being a brave and happy woman.
ABOUT THE AUTHOR:
Koh Kar Yan is a former national squash player. She now manages Cafe Kawan, an initiative of Tsao Foundation that helps improve the quality of life of seniors.