Gen Y Speaks: I like tall men and I cannot lie
I always thought that I was a feminist. But a recent survey by matchmaking agency Lunch Actually of 345 Singaporean women forced me to douse the flames on my burning bra after its results suggested that I was perhaps, not so woke after all.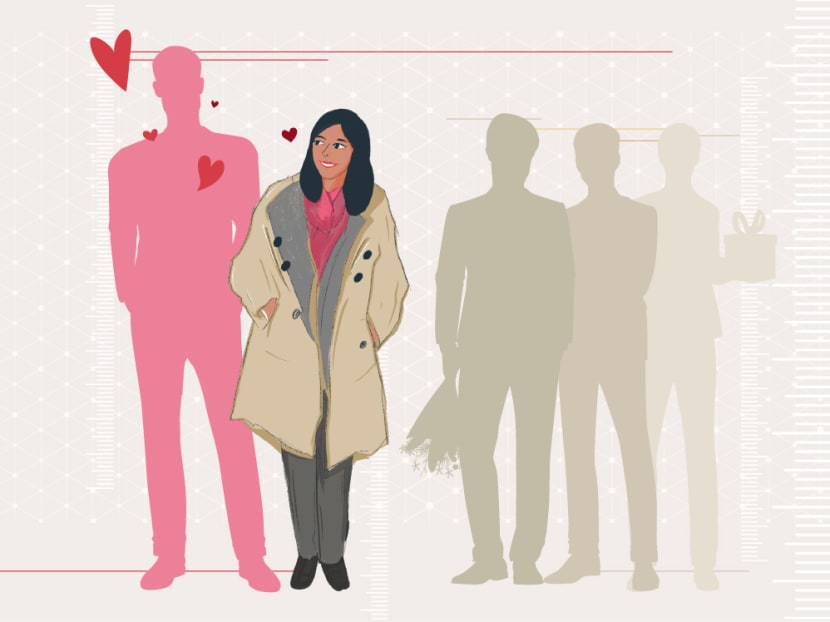 I always thought that I was a feminist. I believe that women should get equal pay as men. I believe that women should not have to choose between family and career. I even believe that women should serve National Service.
But a recent survey by matchmaking agency Lunch Actually of 345 Singaporean women forced me to douse the flames on my burning bra after its results suggested that I was perhaps not so woke after all.
The survey found that only 20 per cent of the respondents were willing to date someone shorter than them, reflecting my personal dating preferences.
Additionally, only 39 per cent of Singaporean women said that they would date a man who earns less than them.
Of course, the survey results did not go down well with some Singaporeans.
Men, in particular, cried foul about how Singaporean women were hypocritical in holding on to traditional gendered stereotypes in the dating scene even as they demanded for gender equality in other aspects of life.
There were also some women who personally told me that they disagreed with the survey results, as these were not their own considerations when dating at all.
To them, height and income did not, and should not, matter to the modern Singapore woman.
As a single Singaporean woman who finds taller men attractive, the results and ensuing outcry from this group of men and women left me feeling very, very guilty.
Was I, the flag-bearer for the modern, independent woman, a (gasp!) selective feminist?
Was I perpetuating gender stereotypes by only ever dating taller men?
As I reflected further, I realised I had no reasonable justification to prefer taller guys other than they are simply more attractive to me.
Of course, it is natural for people to have preferences in the aesthetics of their partner.
Some girls like buff guys, others like them with chiseled jaws. I am sure it is the same with men, who may prefer women with fuller breasts, fairer skin or longer hair.
But what if these preferences are rooted in outdated gender norms?
As Lunch Actually's co-founder Violet Lim put it, women are "hard-wired" to want taller men as they provide women with a sense of security.
This feeling of security harkens back to the caveman days where men with longer legs had a higher success rate at hunting, and were thus seen as someone who can better provide for the family, said Ms Lim, when I asked her to explain the survey findings.
But the last I checked, I could get my own food and so could men with shorter legs.
As if it was not enough to be exposed for the selective feminist that I am, my guilt was compounded by the experiences shared by female friends about how they were able to look beyond physical attributes like height because they prioritised intangibles like character.
But despite the guilt, I still don't think I could date a shorter man because my aesthetic preferences have become ingrained.
Looks matter when choosing a partner and I fear it may be too late for me to "un-wire" my preferences.
The only positive thing to have come out of this exercise of self-reflection is that perhaps I will be more cautious and mindful about not placing too much emphasis on a man's physical appearance when choosing a future partner.
While attributes like height may matter to me, these are not the sole reasons for me to decide on a partner.
Like other Singaporeans, I make these decisions on a basket of other attributes like personality and character. Not all of these preferences are rooted in gender norms.
Some reflect the desire among male and female Singaporeans to break away from these traditions.
For example, both male and female friends have flagged that being able to communicate and make joint decisions is something that they feel is important in their partners.
The fact that both men and women feel that it is important for their partners' voices to be heard and respected in a relationship shows that Singaporeans have made some progress in equalising the roles of both genders when it comes to dating.
So while gender norms may still guide dating practices, I do believe that Singaporean men and women do go beyond these when seeking a partner.
Understanding the basis for my preferences in a partner will help me to prioritise the characteristics — both physical and non-physical — that I want in them.
But for now, I will have to accept that choosing my partner based on ingrained gender norms may close my doors to potentially good suitors. (It probably already has.)
Well, at least I have the freedom to choose my partner.
And as a modern Singaporean women, I will simply have to live with the consequences of my choices, whatever their basis.
Luckily for me, 153cm is not a hard mark to beat.
ABOUT THE AUTHOR:
Navene Elangovan is a senior journalist at TODAY covering the education and environment beats.