Gen Y Speaks: I was glued to my computer all day, until gardening helped me escape the digital world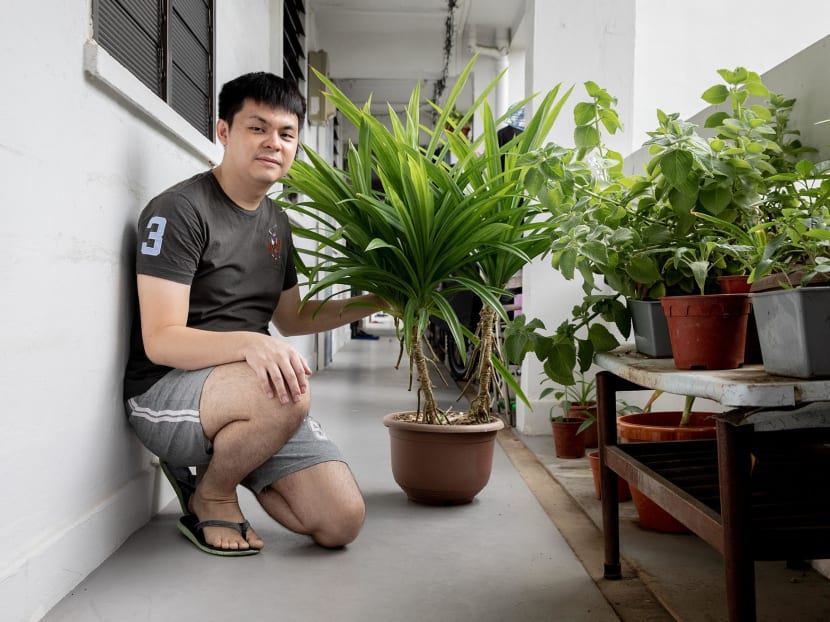 Do you believe our elders when they said we'd wind up as farmers if we didn't study hard enough?
I enrolled in the Institute of Technical Education (ITE) after receiving poor grades in my N-Level examinations.
Now, I'm not saying that ITE is a bad place; I enjoyed my time there, but I had to take a longer route to get into the workforce.
I studied Security System Integration in ITE, which subsequently led me to take my diploma in Information Technology because it seemed like the logical next step. 
Three years after graduating from polytechnic, I landed a job as a software engineer, which is just a fancy way of saying that I am a coder.
As a software engineer, I spend most of my time in front of my computer. Except for short bathroom breaks, I can go an entire day (about 14 hours) glued to my computer for work and entertainment.
Over time, I noticed that my health was deteriorating because of the long hours of sitting without much movement.
My back hurt due to prolonged sitting. I also had pain in my thighs and forearms due to poor blood circulation.
I began to look for hobbies that would get myself moving again. I considered taking up basketball (which was once my favourite sport), badminton, snooker, hiking, or even something as simple as jogging.
Regrettably, these activities are usually better done in groups or, at the very least, two people.
One day, out of curiosity, I decided to plant some orange seeds with soil that my sister bought.
Over the next few weeks, I watered, fertilised and took great care of it.
However, it did not grow and turn out as I had expected.
This piqued my interest in gardening. I kept thinking, how difficult could it be to grow something? 
I could not accept the fact that planting is not just about putting seed into the soil and watering it daily.
This posted a challenge to me, and I wanted to prove that I could grow something that at least sprouts.
After about two months, the orange plant just gave up on me. 
It's quite depressing because I had envisioned what the plant would look like.
Disappointed, I left the dead plant outside my flat. I went back to my unhealthy activity of being glued to my computer screen.
PICKING UP GARDENING TIPS
My mother gradually noticed that I was spending less time outside watering the plants or tidying the area. 
She advised me to try planting lemon balm, a type of plant that is easy to grow. She even solicited some seeds from her friends.
Following her advice and not wanting to waste her efforts, I decided to give it another shot. However, I didn't put in much effort in nurturing it as I assumed it would not survive.
Surprisingly, the plant grew so well that its branches grew beyond the parapet. I was reluctant to trim it as I was happy with how the plant was doing.
Every time we open the door, we can smell the lemon balm scent!
After much pestering from my mother, I eventually agreed to prune the plant. While pruning, I could see how much work was needed to keep the plant healthy.
I also had to re-pot it to ensure that it was standing erect, getting enough sunshine, and its roots were deep enough.
I went on to try different varieties of plants after my successful cultivation of the lemon balm.
I hunted for free plants and chanced upon sellers on Carousell offering free mother of thousands. One of them was kind enough to share tips on how to care for the plant and how I shouldn't combine it with food plants since it is poisonous.
Following that, I began growing various species of plants such as chilli, aloe vera and pandan; whatever seeds that my mother brought home.
Pandan is my favourite plant and it has provided me with many wonderful recollections. 
I got four buds from a neighbour's home garden, but due to my inexperience, I nearly destroyed all of them.
Fortunately, my mother happened to see someone posting on TikTok how to grow a pandan. 
I diligently learned from him, and the plant has grown brilliantly since then. 
The important lesson that I learnt from him was that pandan requires plenty of water and that before planting it into the soil, I must peel off the bottom leaves so that the pandan's root can grow.
I am also proud my mother occasionally uses my pandan leaves to make desserts.
TOWARDS A SUSTAINABLE FUTURE
One of the challenges of home gardening is space constraint. 
As I am living in a Housing and Development Board (HDB) flat, the last thing I want is for my plants to block the corridors during an emergency.
I resolved it by using smaller pots and aligning them in one straight row.
I am currently attempting to create my own compost by gathering egg yolk from a buddy who goes to the gym. 
I also ground leftover raw veggies and bury them in the soil. I keep a pot of dried soil nearby, so that it does not produce a terrible odour.
Then I enrolled in the Singapore University of Social Sciences' Agri-preneur Incubation Programme.
One thing I learnt was that as a home gardener, we do not actually need a large amount of money to start. We just have to be creative, such as by using recycled bottles as pots.
I also learnt about cultivating microgreens and the importance of food security in Singapore. 
The programme gave me an insight into the difficulties that commercial farmers face to produce enough food for everyone in Singapore.
It made me realise that launching an agriculture business in Singapore is incredibly difficult, and this allowed me to comprehend why Singapore is having trouble expanding the industry.
I am hopeful that I can do my part to do more to help the agriculture industry so that we can build a more sustainable future.
For me personally, gardening has helped me escape from the digital world. It cultivates my patience because results usually take time.
Coincidentally, I found out that one of my friends shares the same interest. Since then, we have had fun discussing and exchanging ideas on different gardening methods.
Gardening has also reduced my trips to the market. By growing our own food, we not only can harvest what we need, but we can harvest anytime, too.
I hope to raise awareness among Singaporeans about the need of working toward a sustainable future. 
I also hope that by reading my story, TODAY readers will be motivated to establish their own tiny HDB farm.
ABOUT THE AUTHOR: 
Lai Kai Ying, 31, is currently pursuing a part-time degree in Information and Communication Technology at the Singapore University of Social Sciences.