Gen Y Speaks: I work in marketing and pursue my passion for music part-time. This is what I hope to achieve
After graduating with a biomedical engineering degree from the National University of Singapore in 2013, I started my career in the pharmaceutical industry in Singapore. I'm also a part-time performing musician. Pre-Covid, I was busking regularly and playing for weddings and events.
This article was written in partnership with Singtel. 
After graduating with a biomedical engineering degree from the National University of Singapore in 2013, I started my career in the pharmaceutical industry in Singapore.
I've been with the same pharmaceutical company for eight years now, working across sales and marketing.
I'm also a part-time performing musician. Pre-Covid, I was busking regularly and playing for weddings and events.
At times, it feels like I'm juggling two full-time jobs, yet I've somehow managed to find a good balance.
Looking back, I have many people to thank.
I've never really discussed my second life with my employer. I probably should, but I just never felt the need to.
My company's culture has always been very open and inclusive, and my colleagues have also warmly embraced the fact that I am a working musician outside of my 9-to-5 job.
In fact, I think I might even be a better employee because of my endeavours in music.
In order to succeed as a musician, I find myself taking more initiative to learn about content creation and social media marketing, which improves my proficiency as a marketer.
Playing music has also made me a much calmer and introspective person. 
I vividly remember going back to work on Monday mornings feeling super recharged, although I had just been busking for three hours the night before.
Still, for this to work, it requires an enlightened and supportive employer.
I don't think I ever said this to my employer, but I am truly grateful.
FROM TEACHING GUITAR TO PERFORMING
Growing up, I was a hyperactive kid and loved playing sports, which meant there was no chance you could get me to sit down quietly to learn an instrument.
Even though I wanted to learn to play drums when I was younger, it would only be at the age of 21 that I started playing the guitar.
As I gradually became a decent guitarist, I wanted to help others pick up music like I did, so I started giving private guitar lessons in 2012 when I was 24.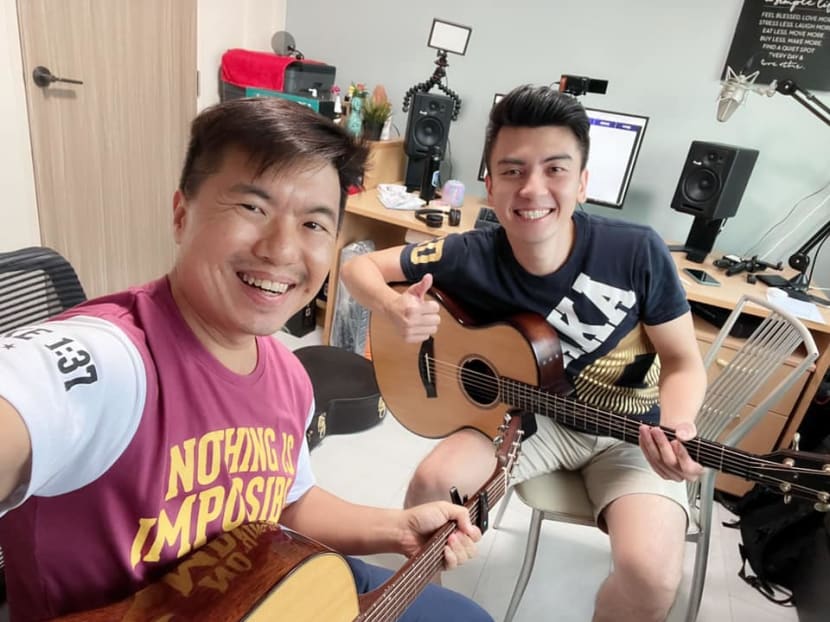 However, after four years of teaching, I couldn't help but feel that something was missing. I loved to sing, but lacked the confidence and courage to perform in front of a crowd.
In order to grow, I pushed myself way beyond my comfort zone. I applied for a busking licence at the National Arts Council in 2016, and succeeded.
For the next few years, I busked regularly in Singapore, as well as played at weddings and events.
One major pivotal moment of my performing life was when my army mate Wei Liang and his bride Margareth took a leap of faith to have me perform at their wedding, when I had not performed at a wedding before.
Words cannot explain what that meant to me.
After that wedding, it gave me an immense sense of confidence that I could do this. I wouldn't be where I am today if not for them.
A REALITY CHECK — MONEY
I come from a humble family, and my dad was the sole breadwinner for our family of five. My mum is a full-time housewife.
Today, they have both retired but we have minimal savings because they've given everything they could to raise my siblings and me.
That's one of the reasons why although I truly enjoy playing music, I'm not ready to be a self-employed musician and risk having an unstable income.
Besides, I'm really enjoying my full-time work, and doing music in tandem has proved to be surprisingly synergistic.
I'm fully aware that striking such a balance is very rare, and I feel very lucky to be in this situation.
This is especially the case given the elephant in the room — Covid-19.
IMPACT OF COVID-19 ON LIVE MUSIC SCENE
The Covid-19 pandemic has rocked the live music scene in Singapore.
The scene mostly depends on bar and restaurant gigs, live weddings and events for income — all of which are not permitted under current regulations. Some live music restaurants such as Starker have even shut their doors for good.
That means that if you were a full-time performing musician or busker, you would have lost most, if not all, of your income.
Many musicians have tried turning to live streaming but are struggling to find a viable model.
Audiences are used to consuming digital performances for free, thus without sponsors, there's simply no way for independent live streams to be commercially viable for now.
TECHNOLOGY SUCH AS 5G CAN PAVE A WAY FORWARD
I think technology can play a role in salvaging the live music industry in Singapore.
One exciting development is the recent adoption of 5G in Singapore.
The unprecedented network speeds and ultra-low latency should prove invaluable in remote collaborations, such as playing live with other musicians in real-time.
There are many excellent budding musicians in Singapore.
What if, as part of a tourism initiative, Singaporean musicians could be in a single video jamming together in real-time, while being physically located at different major landmarks of Singapore?
That would be such an innovative way to showcase this beautiful island and our hidden yet vibrant music scene.
Independent live streams currently struggle to become ticketed events, but a unique virtual concert experience might have a shot.
If audiences could engage with musicians in real-time virtually in some way, it would be like getting much-coveted front row seats, transforming the entire live music experience.
This might motivate them to pay for such events, potentially unlocking a way for live music in Singapore to thrive amidst the pandemic and beyond.
Of course, there are no simple answers to this complex situation.
My suggestions above require investments and a strong passion for our performing arts scene. We need multiple stakeholders to come together to make it work.
However, if we do, we just might not lose a vibrant music scene that is truly ours, and maybe even spark the growth of more amazing yet undiscovered local musicians along the way.
WHAT I'M DOING RIGHT NOW
As for me, I've started several things, including live music sessions online, making videos on YouTube, and creating my own online guitar course that is available for free online.
I hope to give back to my audience this way.
More importantly, I'm also utilising this downtime to sharpen the axe — working on my proficiency on the guitar and learning songwriting.
Even after playing for more than 10 years, I still have so much more to learn and grow to be a decent musician.
I'm also discovering great joy in collaborations with other musicians in Singapore, and even wrote a few original songs with friends, posted on my YouTube channel.
Covid-19 or not, I will not stop working hard on my craft.
I am eagerly waiting for the day I can be back performing again.
It will be a beautiful one.
ABOUT THE AUTHOR:
Soo Sheng Li is a marketing executive in the pharmaceutical sector and a part-time performing musician and guitar teacher whose website is https://guitarstreet.sg/.