Gen Y Speaks: I'm the only woman among my company's 500 seafarers. I love sailing around the world as a marine engineer
On my first voyage as a seafaring cadet engineer at the age of 19, I had a distressing experience. Our ship was buffeted in rolling seas caused by inclement weather and I feared I wouldn't make it back home. I have since gone back to the sea and I have no regrets.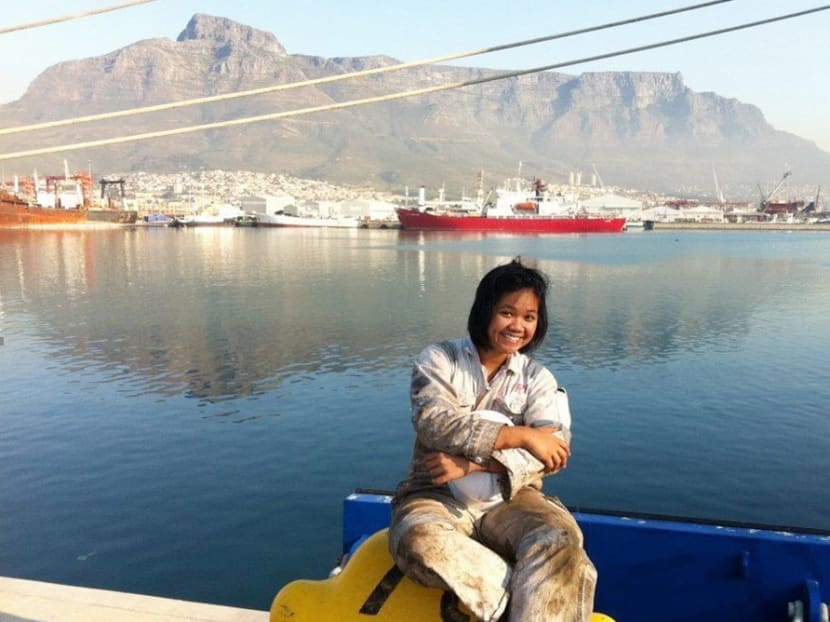 On my first voyage as a seafaring cadet engineer at the age of 19, I had a distressing experience.  
Our ship was buffeted in rolling seas caused by inclement weather and I feared I wouldn't make it back home. 
Shaken up, I decided to take a break from sailing to pursue a degree in mechanical engineering specialising in robotics and mechatronics at Nanyang Technological University (NTU) so that I could become a better seafaring engineer. 
I have a passion for both maritime work and robotics but seafaring is my calling.
I have since gone back to the sea and I have no regrets.
HOW IT STARTED
During my O-Levels, my classmates asked me about what I planned to do next. Without hesitation, I replied: Marine engineering. 
I thought it sounded cool. Even though I wasn't sure what a marine engineer does, I thought it was a chance for me to venture into the unknown. 
It was only when I shared my plans with my parents that I found out that a number of my relatives work in a shipyard doing ship surveying.
After enrolling into the Singapore Maritime Academy at Singapore Polytechnic in 2009, I enjoyed the stories that my lecturers who had sailed previously shared about their voyages.
That inspired me to become a seafaring engineer and take to the seas. 
My parents were initially worried about my safety out at sea as a young woman, but they also know that I have always been an adventurous and curious kid. 
After convincing them that I will always prioritise safety when out at sea, they gave me their full blessings.
Upon graduating with a diploma in marine engineering in 2012, I joined a shipping company and started sailing as a cadet engineer on a container ship.
As a cadet, I had to familiarise myself with the ship's machinery and engine room and assist the engineers with overhauling and repairs.
At just 19, I had an amazing time sailing to and meeting people from different parts of the world.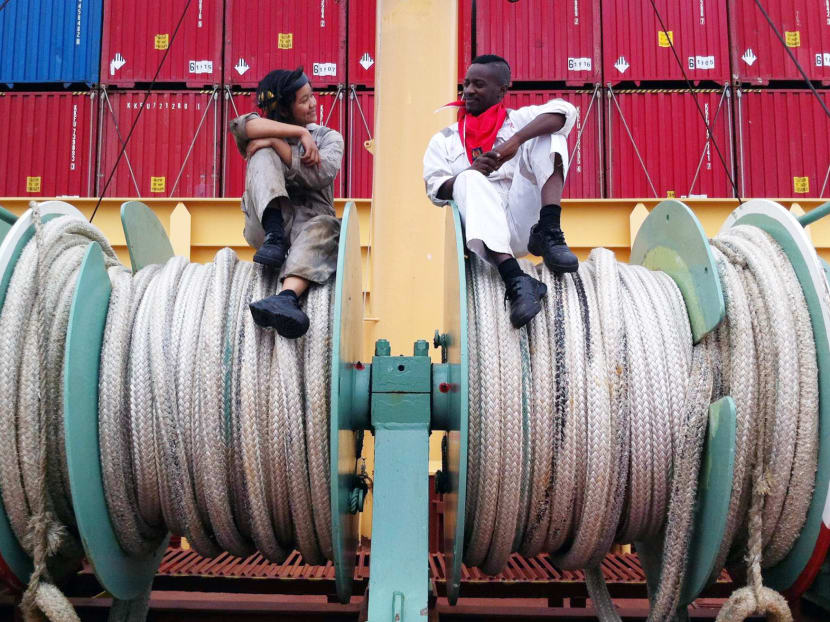 A year later, after passing the marine engineering officer competency examinations conducted by the Maritime and Port Authority of Singapore, I qualified as a junior marine engineer (or what is known as a fourth engineer). 
I was then posted to a very challenging ship that plied the waters between Singapore and India, passing through the Andaman Sea. 
It was a difficult phase for me as I was inexperienced and there were lots of machinery under my care that required overhauling and troubleshooting. 
We often had blackouts in the middle of our voyage.
On Aug 18, 2014, during the monsoon season, the ship experienced heavy rolling and heaving. 
We almost lost control of our ship's propulsion because the lubricating oil pressure was low as the filters were dirty. 
This could cause the ship's main engine propulsion to go into automatic shutdown, which would heighten the risk of a sinking. 
It was a very distressing experience for me as all of us on board were anxious about whether we would make it to port safely. 
But we pulled through together, taking turns to back-flush the filters for three days before managing to reach Kolkata port in India. 
I was sailing with an excellent chief engineer from China. 
He told me not to be disheartened and advised me to keep working hard and to upskill myself to be a better seafaring engineer. 
He added that this sort of distressing incident was rare, especially for a new seafarer.
I took his advice and applied to NTU to pursue the degree in mechanical engineering specialising in robotics and mechatronics.
I was interested in these topics as I had first-hand experience of automation problems when sailing. 
REACHING A HIGH POINT
At NTU, I enjoyed learning about robotics and had a great opportunity to work with Associate Professor Domenico Campolo in a laboratory on medical robotics for stroke patients. 
When I graduated in 2018, he offered me a position as a project officer in the lab handling biomedical robotics for neuro-rehabilitation.
But I decided to go back to the sea. I wanted to see the world and feed my curiosity. 
Moreover, the skills that I had applied in the robotics lab such as machining, fabrications and welding were those that I have gained from the maritime industry.
So I joined an international shipping firm as a fourth engineer.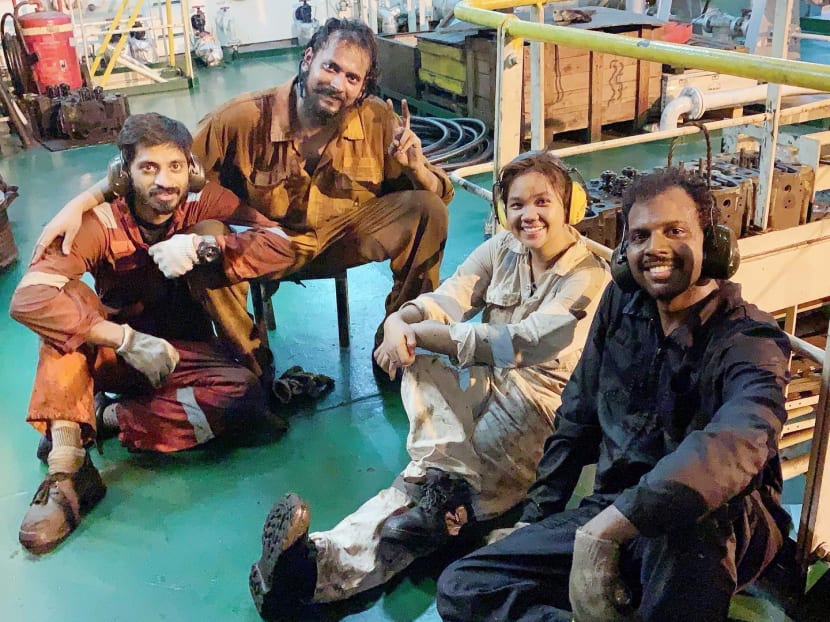 I am the only woman among over 500 seafarers in the company and I work mainly on oil tankers.
My colleagues, mainly older men from countries such as Myanmar, the Philippines, Croatia and India, were curious when they heard news of my joining the company. 
I felt it was important that I perform well to prove that a young woman can be competent in this job. 
I had to quickly familiarise myself with the ship and be adaptable. 
But just a few months into the job, in November 2018, I made a big mistake of not checking the work entrusted to a greaser for the opening of a valve that can lead to a machinery fault.
My chief engineer wanted to file a report on my incompetency. 
I asked him to give me a chance to work on correcting my mistake. He agreed and I kept working hard. 
One day, I was told by the chief engineer to prepare the ship for inspection as the second engineer was ill and the third engineer was a newcomer. 
I was under a lot of pressure as I had to work overtime to make sure that the engine room was clean and check that the machinery was all working normally and meeting maritime regulations.
However, I told myself that this was my responsibility as an engineer and that on the ship, we are a family and I cannot let my family down.
After the inspection, my chief engineer tapped me on my head and said: "Well done, fourth." 
I was confused for a moment, before realising that we had handled the inspection very well. 
The company even gave me a monetary reward. 
This was indeed the highest point of my seafaring career as I proved to my chief engineer that I am not incompetent. 
As a seafarer, I can be on a ship for months at one stretch. 
We get rotated to go on different ships with different crew, with each ship typically having 20-odd crew members.
That has taught me how to work closely with my colleagues and bond with them, even though most of us come from different countries. 
Basically, we treat each other like "brothers" and I believe that friendships forged on a ship will last a lifetime. 
Many of my colleagues have stood by me and become my pillar of strength whenever I miss home. 
I have also found a new hobby in fishing. I would normally fish after work hours when the ship is in anchorage. It is also a good way to bond with other crew members.  
The biggest fish that I've caught is called the "mahi-mahi" fish, also known as dorado.
It measured 80cm, or half my height.
I wouldn't know its name if it weren't for my Filipino captain and chief cook. Both of them are fishing enthusiasts and have taught me a lot about fishing.
After three years as a seafaring engineer, I have visited 28 countries, including Kenya, South Africa, Belgium, Britain, Fiji, New Zealand, Iraq, Saudi Arabia, Egypt, Kuwait, Oman, Yemen and Bahrain.
I look forward to sailing to even more countries.
I would definitely love to see more Singaporeans, especially women, joining the maritime industry as it offers lots of life lessons and a chance to live and work with, and to understand, people from multiple nationalities. 
It's a challenging industry but there's no fun when there's no challenge, is there? 
ABOUT THE AUTHOR:
Nur'iffah Sohaimi, 29, has been a marine engineering officer since 2018. This piece is written in partnership with the Maritime and Port Authority of Singapore as part of the Make Maritime Your Port of Call campaign.