Gen Y Speaks: After doing beach clean-ups for 10 years, I now also pick up street litter. Here's why
When I was 16, my family went to Tioman for a scuba diving trip. It was my first ever, and the beauty of underwater life left me awestruck.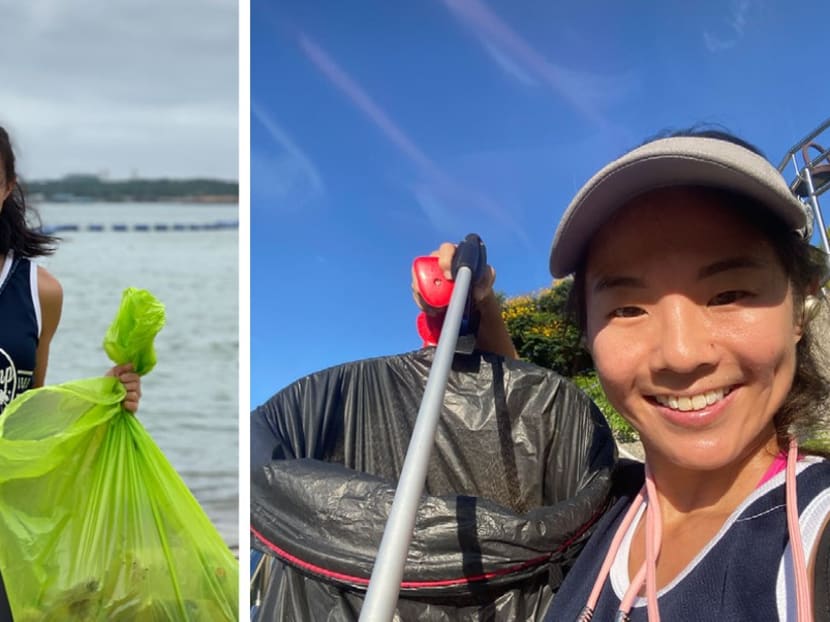 When I was 16, my family went to Tioman for a scuba diving trip. It was my first ever, and the beauty of underwater life left me awestruck. 
That experience sparked my love for diving and marine life.
I have since obtained a professional scuba diving licence as a divemaster, clocking more than 1,000 dives across Southeast Asia over the last 10 years. 
Through my journey, I pretty much saw plastic litter everywhere I went — on the beaches and in the oceans. 
I don't know how it started. But every time I see litter, I would pick it up, whether it's on the beach or in the ocean.
I've seen the impact of litter on communities, be it unsanitary living conditions or the threat posed to marine creatures (I guess we all know about the video of the sea turtle with the plastic straw). 
On my scuba diving trips, I feel compelled to spend a quick five to 10 minutes doing a simple clean-up, notwithstanding the groans of my boyfriend who begrudgingly follows in my footsteps or the weird looks we often get from passers-by.  
Many times, I have questioned why I even bother to pick up litter, because it doesn't stop the issue of plastic pollution.
I mean, picking up litter is unlikely to bring about systemic change through influencing corporate behaviour or government policies, right? 
But with an unbridled youthful optimism that I might make a difference, I continue to pick up litter and rally communities to do so. 
In 2018 on a trip to Siargao island in the Philippines, I spent my evenings walking along beaches and picking up litter. 
A couple of fellow tourists came up to me and asked if they could join. The next evening, we went as a group of five to clean the beaches. 
Through that experience, I made new friends, and was inspired by how fellow strangers could bond over a simple clean-up. 
Through my work with social enterprise Seastainable in the past four years, I have had the opportunity to go on numerous community visits for various marine conservation projects in Malaysia, the Philippines and Indonesia.
I would do a clean-up whenever I had the chance abroad, and joined organised group clean-ups in Singapore once in awhile. 
The author (right) with a friend at a beach clean-up at East Coast Park in July 2020.  Photo courtesy of Samantha Thian
Often, I felt discouraged after these, as I would always find litter in the seas or on beaches. 
It felt like an unsolvable problem that affected almost everyone I knew. It was even more frustrating when the pandemic hit, and I was unable to visit and support our existing partners in the region. 
As Singapore went into lockdown, everything came to a standstill. 
Frustrated with being stuck at home and unable to travel, I ramped up my visits to the beach for recreational exercise. 
I've always known that Singapore is relatively clean, but with the reduced manpower of cleaners, I saw areas around me becoming dirtier than ever.
The beaches were increasingly littered with masks, packaging waste and plastic trash that washed up on shore.  
Finding a like-minded community in Singapore all began one day in July 2020, while I was doing my own clean-up at East Coast Park. 
I was overwhelmed by the sheer amount of trash that had washed up and I posted a picture on Instagram to highlight the situation of trash on our shores.
Many friends commented and indicated interest in joining future clean-ups. However, we also had to bear in mind the social gathering limit of five back then (to curb the spread of Covid-19). 
So I created a Telegram chat group to keep people informed of beach clean-up efforts. This helped groups to get organised.
With that, the East Coast Beach Plan was born.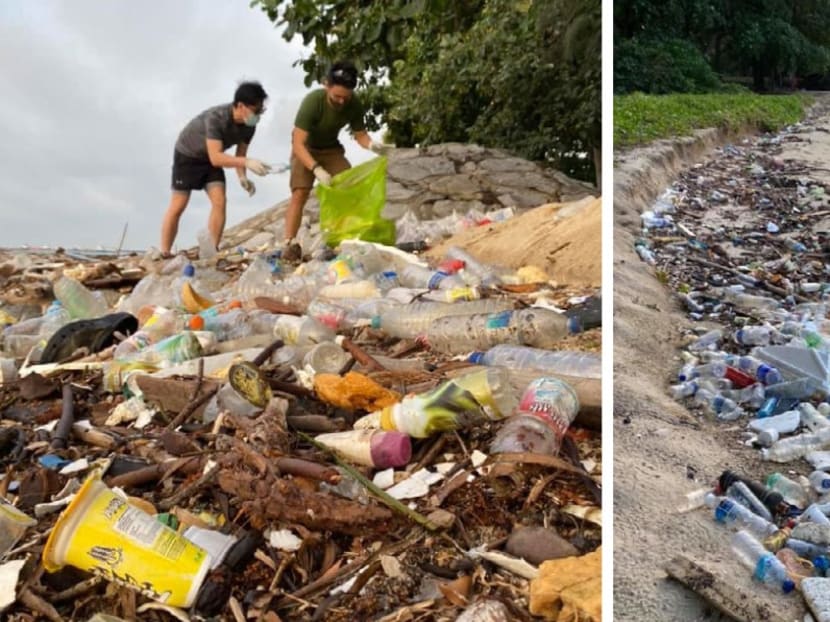 In the months that followed, the community rallied and organised their own clean-ups. 
We managed to track and log more than 300 clean-ups, involving almost 1,300 people to help keep East Coast Park clean.
We even had a volunteer create a Telegram bot for individuals to find different groups doing various clean-ups, so people could join whenever they can. 
Members could indicate if they were organising their own clean-up sections, and invite other members to join them through this chat bot. 
Organisers could then update the chat bot on how much litter they had picked up, which went to an open data source, allowing us to see the total impact of the initiative. 
It was great to see strangers come together to clean the beach and make a difference. Not only that, you'd be surprised to see what you can find. 
Once I picked up a pristine S$10 note buried under the sand — finders keepers! 
We now have almost 3,000 members in our chat group.
It is heartening to see people wanting to make a difference and be a part of something bigger. It is also a great way to meet like-minded people. 
Not only that, it's great to see my friends around me willing to join my clean-ups. Even my boyfriend grumbles a little less now!
This has inspired me to be a little braver.
I often just clean the beaches — no questions asked.
In February, on my way to the beach, I saw that the roads and pathways were also littered with lots of trash, masks, plastic bottles and so on. 
I decided to add an additional element to my usual walks around the estate, to start picking litter on the streets around my home. 
More often than not, as I go around Singapore on my daily chores, I take that habit with me to try and pick up as much trash as I can. 
I have noticed that often our cleaners work extremely long hours to keep our estate clean, and I think it's important to help whenever we can. 
I often attract stares from strangers, probably wondering what this young woman did wrong to end up doing community service. 
At the same time, I've encountered kind passers-by, who waved hello, asked me questions out of curiosity, or shouted a simple "thanks".
Over time, I've learned to ignore those stares and pick up litter wherever I am. It's even more meaningful when I invite a friend along to clean up places together.
Saturday (June 5) was World Environment Day. 
I don't pretend that I'm saving the world. 
But I'm writing this because I've been inspired by the community of citizens I've met through the East Coast Beach Plan and I would like to encourage anyone who's reading this to be a part of our community. 
I hope to expand the work that I do in Singapore. I hope to make clean-ups fun, easy and accessible. 
In the spirit of this, I am currently working on building Stridy, a non-profit app that allows individuals to track how much litter they've picked up on their walks. 
If you're at the beach, the park or in your neighbourhood, why not pick up litter that you see?
It may not be yours, but you'd be making a difference for the next person, while also keeping Singapore clean.  
ABOUT THE AUTHOR:
Samantha Thian, 27, is the founder of Seastainable, a social business that supports marine conservation. She is also a sustainability manager at HAVI Global Solutions, which provides supply chain management services.