Gen Y Speaks: My mum's struggle with tech inspired me to start a digital literacy campaign for seniors
My housewife mum is 63 years old and comes from a time when physical interactions and a landline were the only things she needed to communicate.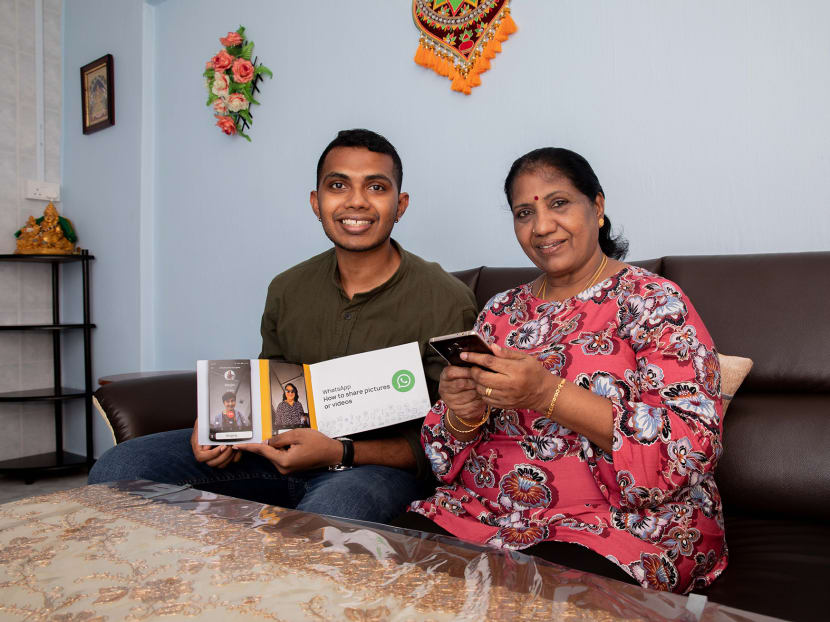 My housewife mum is 63 years old and comes from a time when physical interactions and a landline were the only things she needed to communicate. 
There were times when my mum attempted to embrace the digital world. I remember her asking how to use the voice message function on WhatsApp. 
It seemed easy to a digital native like me, but it was a mountainous task to her. Eventually my mum would give up on learning new technology altogether. 
Then Covid-19 happened. Digital communication became a necessity in lockdown. 
I saw my mum struggle to keep in touch with the rest of my family. She didn't know how to stay connected virtually with my older siblings who don't live nearby. 
There were days when I would come home to see my mum eagerly awaiting my arrival.
"Rishii, Can you video call your Akka (sister) I miss her and your nephew," she would say, as she desperately pushed her barely-used smartphone in my hands.
I was always happy to oblige but it got me thinking: What if I wasn't around at home anymore?
How would my parents cope with the digital world today?
I felt guilty that I hadn't been patient enough to aid them in their digital journey. 
As a Singaporean son, I often think that my duties are to take care of my parents as they age. 
But it never occurred to me that it was also my duty to hold my parents' hands and guide them through this digital world.
I started to wonder if there were other seniors who felt lost and left behind in this digital world.
Something had to be done to help my parents and other seniors who struggle to learn digital skills.
With a team of like-minded classmates from Nanyang Technological University's Wee Kim Wee School of Communication and Information, I conducted a survey of 118 senior citizens across the nation. 
We found that there were significant differences in digital literacy between low-income seniors and those from middle to high-income groups.
Low-income seniors scored lower in basic digital communication skills such as video calling and sharing content on digital platforms. 
In our conversations with these seniors, we also found out that many of them were illiterate too. 
This has been a stumbling block for them to participate in many of the existing digital literacy initiatives.
"I can't read, how am I supposed to understand any of the instructions? Aiyah, I don't want to be a burden to anyone," was a common reply we got from our interviewees.
It then occurred to me that perhaps these were some of the reasons my mum was struggling to keep up with the existing digital initiatives. 
When my mum first started her own family, she devoted most of her time and energy into taking care of my siblings and me.
However, we were struggling to make ends meet, so she had to juggle a few odd jobs such as being a factory worker, a parking ticket officer and even a short stint as a nurse.
Basic necessities of our family were often prioritised over technological luxuries.
As such, my mum did not have the time or the energy to keep up with emerging technology.
Many of the lower-income seniors we surveyed faced the same issue.
My team and I decided that it was our duty to help these seniors. 
So we started #CanOneLah!, a campaign to improve digital literacy in communication tools among low-income and illiterate seniors.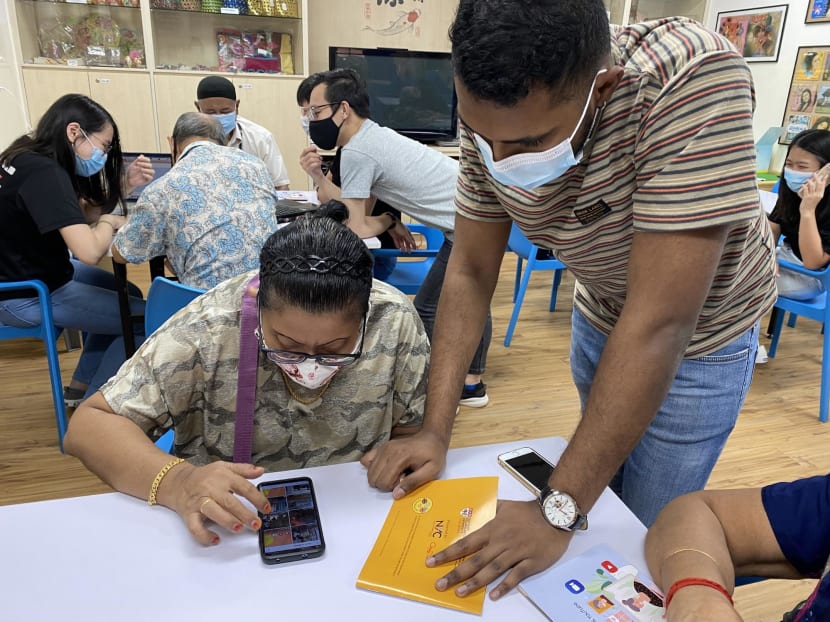 Our campaign focused on communication tools such as WhatsApp video calls, voice messaging and Zoom, which have proven to be essential tools during the pandemic. 
We ensured that every campaign collateral is designed with audio-visual aids to reduce the barriers to communication. 
During our concept testing stages, I would often show my mum the various collaterals. 
I knew that if I kept her in the heart of everything I do for this campaign, it'd resonate well with the rest of the seniors.
For example, we created the How Ah? Guidebook, which breaks down the various communication functions on WhatsApp, Zoom and YouTube in three to four simple steps using visual representations. 
When I showed the guidebook to my mum, she was excited. 
She was able to follow every step, and I could never forget her big smile when she video called my siblings for the first time –– all by herself.
I still had one more surprise for her.
As she flipped through the How Ah? Guidebook, she recognised a familiar face in it.
"Oh my God, Rishii that's me!" she exclaimed.
She was slightly embarrassed, yet her eyes were beaming with pride. 
It was the least I could do for the woman who inspired me to walk this path in helping other low-income seniors with digital literacy.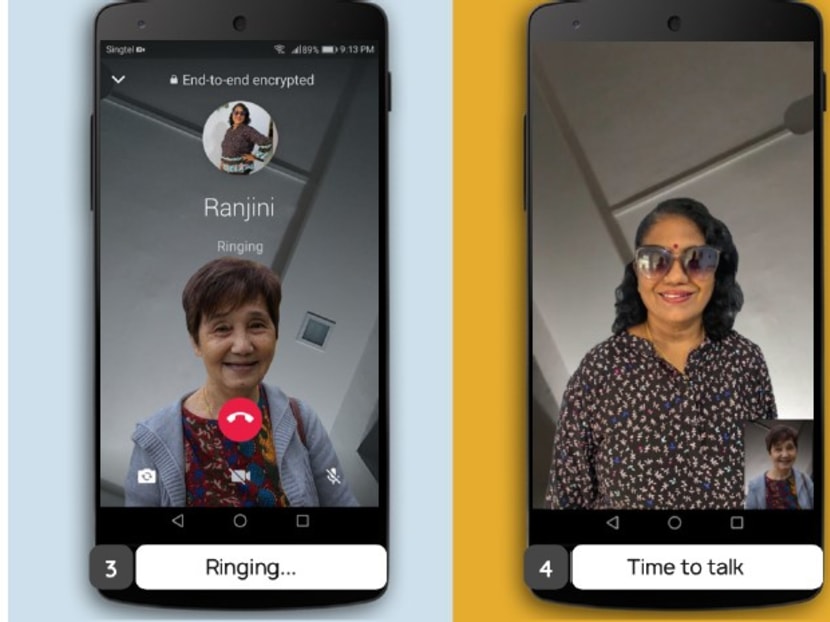 At times, I would video call her from my room as she watched her soap dramas in the living room to help her practise. 
Within a week, she was almost an expert in WhatsApp video calls. 
I realised then that we had to create a supportive community to give seniors like my mum a positive digital journey.
In that spirit, my classmates and I rolled out our CanLearnLah! workshops, which is a series of group lessons in digital communication tools where seniors can learn with their friends. 
We partnered senior activity centres such as those run by AWWA, Xin Yuan Community Care, Care Corner and Lions Befrienders to host lessons for seniors under their charge. 
This allowed the seniors to learn together, make mistakes together and take their first steps towards digital literacy together.
It has been three months since our campaign started. We've touched the lives of more than 100 seniors who were struggling to take the first step towards digitalisation. 
We've even helped some of them connect with their loved ones who are stuck overseas due to the pandemic.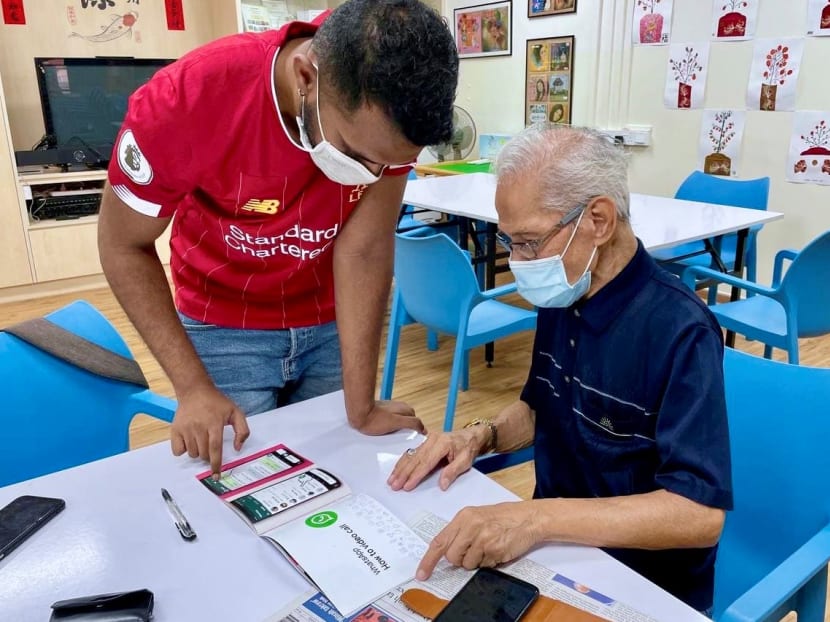 Uncle Kassim, 81, was one of those seniors. He never knew how to video call his daughter who was studying in Malaysia. 
He often had to wait for his daughter to reach out to him instead.
But after going for our workshops, Uncle Kassim can now video call her on his own at any time he pleases. 
Similarly, I no longer come home to an anxious mother waiting on me to help to video call her loved ones. 
Instead, I come home to the sounds of my mum's laughter as she jokes around with my three-year-old nephew over a WhatsApp video call.
It has been an enriching and emotional journey for my mum and the many seniors I have encountered in my campaign. 
It has given hope to these folks that they will not be left behind in this rapidly advancing digital world.
And we'll not stop here.
We're doing our best to ensure that the #CanOneLah! initiative continues to thrive and grow with the help of the senior activity centres and volunteer organisations, even after we graduate.
I, for one, am glad that my mum does not feel isolated anymore. My mum was never a digital native, but she's definitely on her way to becoming one. 
I sincerely hope that we'll be able to have the same kind of impact on other seniors too and help them embark on their digital journey.
ABOUT THE AUTHOR:
Rishiikanthan Vijayahkumar, 25, is a final-year student at the Wee Kim Wee School of Communication and Information, Nanyang Technological University.