Gen Y Speaks: My tech start-up helps the container logistics industry be less old school. It has been quite a ride
Eight years ago, not long after graduating from university, I started my own business to move containers to and from ports. As an ambitious 25-year-old, I grew the business from one to 15 trucks in three years. Then I met the man who would become the co-founder of our new business.
This article is written in partnership with the Maritime and Port Authority of Singapore as part of the Make Maritime Your Port of Call campaign.
 
Nine years ago, after graduating from university, I decided to join my dad's logistics company.
I was familiar with the business, having spent part of my growing up years helping him out.
As the eldest of three sons in the family, I felt that it was only right that I returned to the family business to prepare myself as a second-generation leader, which some may know as "towkay kia" (Hokkein for "little boss") or COO (Child Of Owner).
We were a humble and traditional logistics business that handled many of the Hello Panda biscuits and Mama Lemon handwash that you see in supermarkets.
One year into it and wanting to be slightly different, I started my own business to move containers to and from ports using a fleet of trucks I started building up.  
My dad used to outsource this work and never knew much about it, but it gave me an opportunity to carve out something of my own.
As an ambitious 25-year-old, I grew the business from one to 15 trucks in three years. But as I kept scaling up, I was trapped in a vicious circle of operational firefighting and was limited by the number of trucks that I owned.
Container trucking can be complicated as it involves many moving parts such as availability of empty containers (to load goods) and trailers (to transport the containers) that require close coordination to meet tight schedules.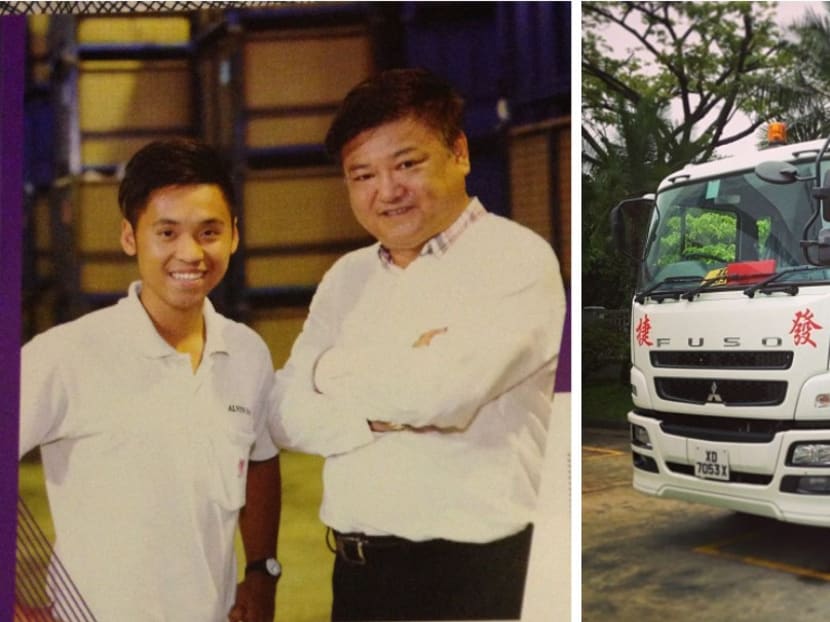 In 2017, I met Sebastian — the man who would become the co-founder of my future company — via a mutual friend.
He put forward the idea of transforming container trucking using artificial intelligence (AI) and the internet of things (IoT), transforming processes which are highly manual and dependent on paper documentation.
Sebastian painted a future where this industry could be automated, and container trucking can be as easy as booking a Grab ride today.
Initially, I told him that based on my experience, his idea will not work. But after the meeting, I couldn't sleep all weekend and kept thinking: "What if this could actually work?"
Within two months of meeting Sebastian, we co-founded Haulio.
PSA unboXed (the corporate venture capital arm of Singapore port operator PSA International) was the first backer of our vision and took Haulio into its business incubation programme.
We introduced the first on-demand inter terminal trucking jobs within PSA's ports, which allowed PSA to tap an available supply of spare container trucks in the market without having to go through the traditional, slower process of tender.
This means that instead of having to tender to truck within PSA, hauliers (trucking companies who hire a fleet of drivers) could now do so once they are registered on the Haulio platform. 
We ended our six-month incubation programme by successfully registering 30 trucking companies and facilitating the movement of 20,000 containers.
The early days were mad as time flew by quickly, with me seeing Sebastian more than my wife.
We had many doubts but our vision has always been to uplift the lives of truckers in Southeast Asia and connect them to the world.
In 2018, as we secured our first round of seed funding, I decided to leave my family business and took on the role of chief executive officer of Haulio.
Our team grew very quickly from four to 20 with an average age of only 28, catching the industry and media's attention as a group of 21st century "kids" injecting new hope in a traditional business where operators and drivers average 50 years of age.
I spent so much time having coffee with the towkays at coffee shops to get them to come onboard our digital journey that I slowly changed my drinking preference from "kopi-si" to "kopi-o", and eventually "kopi-o kosong" (their beverage of choice which I too love now).
A common sentiment I heard was this: "Uncle had thought of this idea 10 years ago. Don't try ah boy, cannot one lah."
The resistance to change was strong but over time, the industry gradually became less fearful about Haulio — regarded by some as the "Grab of container trucking".
It took time to earn the trust of industry veterans and prove that we're here as their technology partner, not competitor.
Our network of hauliers grew from 30 to 200 in the next few years, giving us more than 95 per cent market access with more than 50 per cent active hauliers taking jobs on our platform on a month-on-month basis.
We were fortunate to have the Maritime and Port Authority of Singapore fund part of our IoT project to digitise and transform physical container trailers into "smart trailers".
In container trucking, there are three components —– the prime mover (the truck), the trailer, and the container.
The container is placed on a trailer, which is then trucked to a destination by the driver in the prime mover.
Today, these assets are usually offline, meaning that hauliers have to keep track of each asset manually.
Haulio's app allows hauliers to keep track of their drivers and prime movers.
With smart trailers, hauliers can not only keep track of their trailers, but can also tap a pool of available trailers.
Through such asset-sharing, we also hope to reduce the number of unused trailers and allow hauliers to truck more efficiently.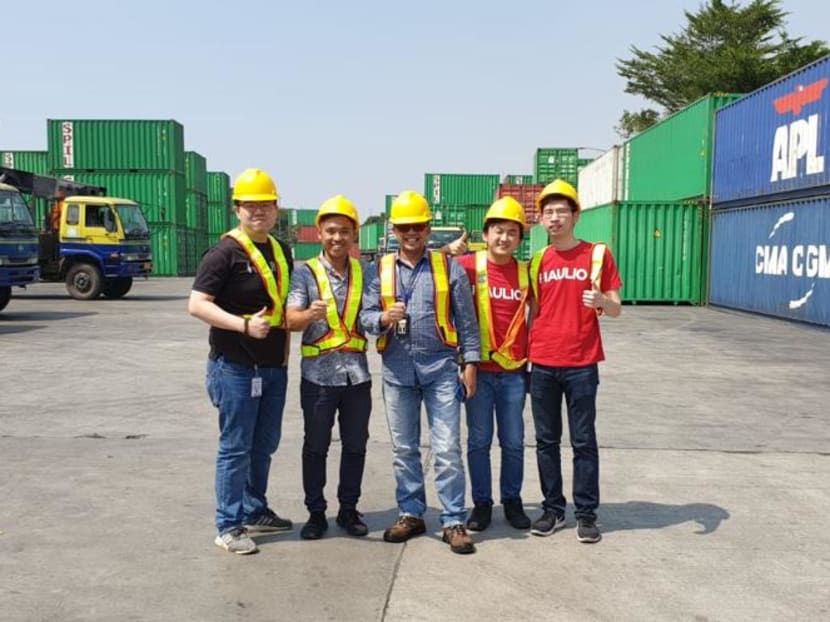 From day one, Sebastian and I knew our game plan was never just for Singapore.
In 2018 and 2019, I spent months travelling to the rest of Southeast Asia, living out of my backpack with cheap flights and budget hotels, as we sought to expand overseas.
By late 2019, we had hired our first staff in Thailand.
Our momentum was strong but just as we were preparing to launch in Indonesia, Covid-19 hit.
It was a turning point in my career. I had to make very difficult decisions to restructure my entire team and let go of some staff members.
All our plans for overseas expansion had to be put off and I felt helpless.
No one could advise me on what to do and I had my entire team looking up to me for direction.
Morale was low for six months, but business started to grow after the circuit breaker period.
Digitalisation was accelerated, and I was thankful to have my core team sticking with us and keeping the company going.
It is during the darkest times that you know who your true backers are and that kept me believing.
With the blessings of our investors, customers and colleagues, our team has returned to its pre-Covid size of 50, buoyed by a doubling of revenue year-on-year, while crossing our one-millionth container transaction on the platform.
Overseas, Haulio secured our first million-dollar contract in Thailand in our first year of operations there.
What have I learnt throughout this journey?
You must really hold true to your own beliefs if you choose the path less travelled. There will always be naysayers and non-believers in whatever you do in life.
The logistics industry can still be quite old school, but I see this as an opportunity to rewrite the rules.
Container logistics was once all uncles using pen, paper and fax machines, but I can confidently say that the future will be data engineers deploying robotic process automation, artificial intelligence and machine learning to optimise routes for autonomous trucks.
If not for my father, I would have never wanted to join the logistics industry.
It might be unsexy and innovate slower than other industries. However, it has its value and importance, and that is why it's even more important for young, smart and enthusiastic individuals to join us and make a difference.
Go down the path where others don't — true opportunities are there waiting for you to discover.
ABOUT THE AUTHOR:
Alvin Ea, 33, is the chief executive and co-founder of Haulio, a container haulage platform for companies and drivers.