Gen Y Speaks: I paid thousands to move my home-based startup to an office, only to realise my bedroom was better
After starting a digital marketing agency business in my bedroom in 2019, I spent my days like many others desperate to get their business off the ground, making close to a hundred cold calls a day to find clients.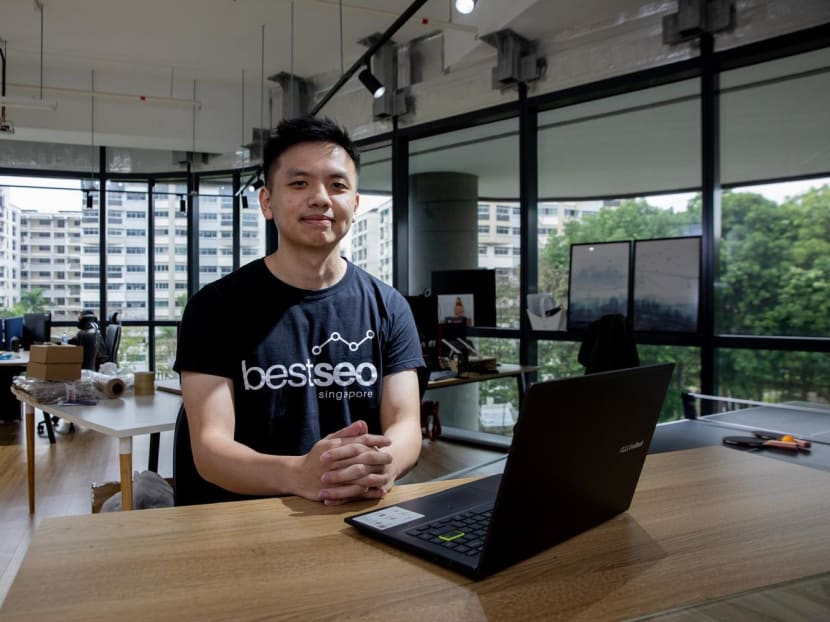 After starting a digital marketing agency business in my bedroom in 2019, I spent my days like many others desperate to get their business off the ground, making close to a hundred cold calls a day to find clients.
The dream I had was simple. At some point, I wanted to expand, and that meant renting a physical office space to have a collaborative work environment, as well as a team to help run the business.
So, I set a vision for my business, with a plan to take it out of the bedroom and into a bona fide office.
Ten months later, the business that I had started from my bedroom was making at least S$15,000 monthly in revenue.
I had been waiting for this moment, because I could finally invest some of the company's profits to rent a physical office space.
Some context: This was in the height of the pandemic in November 2020, when remote work was already the norm. At this point, my company only had one employee, who had been dutifully working from home for the past two months.
With only one worker and one boss — me, did I really need an office space? I weighed my options.
I told myself an office space would make this small business seem more credible and trustworthy. And ultimately, I would be able to attract more clients.
I also looked at this as an investment in my team. After all, my company was not going to stay as a two-man crew for long. I was going to expand.
The next thing I knew, I found myself signing a tenancy lease agreement for a Woodlands office to house my company for the next two years.
HEFTY EXPENSES
But the story of achieving my "dream" did not end there. Soon came the renovation fees, the utility bills, commuting costs, and all other dollars and cents that I never saw coming. 
Fast forward to a few weeks later. I sat in a renovated office, which I had begrudgingly spent S$40,000 in renovations for, while incurring a S$3,120 a month rental expense.
More than 60 per cent of the company's cash reserves were invested into the office space.
Truth be told, it wasn't the financial burden that made me rethink my decision.
It was always about the people after all. I had envisioned that this office space would be the pivotal point of the business by building a working environment the team would love, so that we could all work harder for the business.
Instead, I realised that having an office was actually counter-productive. Two new hires left within three and six months after they joined.
One of them quit because he lived in Pasir Ris, whereas the office is located in Woodlands. To him, the three-hour commute was too much to bear.
Not to mention, people's expectations of work have been shaped by the pandemic, and flexible work arrangements are all the rage now.
The pandemic has also shown us that it is possible for remote working arrangements across most service-based businesses, especially if there isn't a need for physical interaction.
As for team meetings and cadence meetings, most interactions can be done easily through Zoom and Google Meet sessions. In fact, these meetings can potentially be more productive and valuable as these meetings can be digitally recorded for referencing in the future.
Face-to-face interactions are still required every now and then, of course, so that we can interact with one another as human beings rather than pixels on a screen.
WORKING FROM OFFICE TWICE A MONTH
Today, I have a team of nine members, and we only use the office space twice a month.
The reason?
I value my team's feedback and they genuinely love working from home, embracing the autonomy and comfort that they very much deserve.
A team member of mine once said, and I quote: "The office is nothing more than just a hassle for me to travel from home to the office, when that time could be put to better use for replying to clients."
That was when it struck me.
The pandemic had taught me that a physical office is redundant for a digital business like mine, since I do not hold any inventory.
Being a service-based business, we can work remotely and effectively from any location that we desire — something that I wished I realised earlier before I signed the tenancy agreement.
Would I care if my team members were working on a beach? No. As long as their tasks are complete, deadlines are met, it is enough for me.
So, instead of pursuing my vainglorious dream of bossing around in an office, I decided to listen to my team.
After the office lease expires at the end of this year, I am likely discontinuing the lease and would rather rent a coworking space instead. Why should my company pay S$1,560 per office use, when I can get it at S$100 per day, right?
Yes, I have sunk money, time and effort in order to obtain something I didn't need. But in the process, I've learnt three invaluable lessons as an entrepreneur.
Lesson 1: Don't rent an office just to seem credible. Most business deals can be done through a Zoom meeting these days, and a physical office is not the topmost priority.
Lesson 2: Office renovation is really expensive, so factor that in. I rented a "bare unit", which meant that I had to pay for a lot of miscellaneous certifications to renovate, setting me back by around S$10,000.
Lesson 3: Trust the team and evaluate them based on how well they complete their tasks. Performance should not be based on office attendance or how late they stay back in the office.
ABOUT THE WRITER:
Jim Ng, 27, is the founder of digital marketing agency Best SEO Marketing.