Gen Z Speaks: I'm a youth with autism. I once worried about finding work but skills training has given me hope
After my N-Level examinations, I was uncertain whether I could find a job.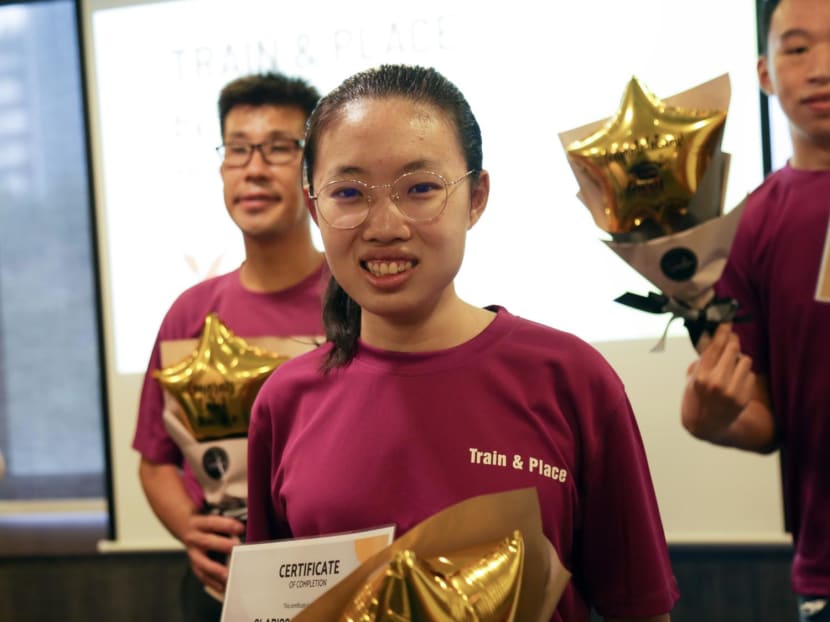 After my N-Level examinations, I was uncertain whether I could find a job.
I had pursued a course in nutrition and food science and always dreamed of joining the food and beverage industry upon my graduation.
But for a long time, I had many questions about my future and what I could do when I entered the working world.
Will any organisation hire someone on the autism spectrum like myself? 
Does my handicap exclude me from the workforce? Is there a place in this world for someone like me? 
When I was around 18 to 19 years old, I attended some training courses to prepare myself for the F&B industry, but was not able to find suitable job placements.
My mum, who is always very supportive of me and my aspirations, helped to look around for suitable training courses that I could learn from and increase my chances of employability.
THE RIGHT FIT
It was a blessing that my mum got to know about the YMCA-Inclus Train and Place Series, a new vocational programme launched this year funded by the Citi Foundation.
Taking place over several weeks, the programme equips youth with special needs, like myself, with vocational skills related to the F&B and hospitality industries.
Additionally, we are provided with enrichment activities aimed at improving our physical, mental and emotional well-being.
Upon completion, the programme supports us through guided interviews and access to a network of partners, to enhance our opportunities for long-term employment.
I recall my mum telling me about this programme at a time when I felt lost and uncertain, with a tendency to refuse new experiences.
But her belief in me and her conviction that this programme was a real opportunity made me really interested and I wanted to give it a shot.
Yet, not everything went as smoothly as I hoped it would.
It is a fact that most people with autism have problems with motor skills, which can range from bad handwriting to difficulties with walking.
In the initial stages of the programme, I struggled with activities that focused on fine motor skills, problem solving, stress management and teamwork.
More often than not, I got frustrated that I was not able to complete the tasks given.
Another challenge I faced was learning new things and picking up new skills in general. I usually get very anxious when faced with a new task before me.
Instead of calling it quits, I decided to persevere and try my best to overcome these challenging moments during the programme. The daily encouragement of my parents kept me going.
I am also grateful that the trainers at YMCA are really nice and patient to me, helping me ease into the programme. 
Over time, my confidence grew with their support.
Throughout the course of the programme, I also got to pick up new skills in the F&B industry, such as attending to customers, food hygiene and cutlery cleaning.
Another exciting part of the programme is that I got to participate in arts and sports enrichment sessions to improve my well-being.
I participated in dance sessions every Friday, where I really enjoyed the high energy music. I never knew that dancing could be so much fun!
After many weeks of learning and fun moments, I was so elated when graduation day finally came. I was part of the first batch of youth who graduated from the programme on April 14 last year.
FINDING A JOB
With support from the trainers and my family, I was able to find stable employment in an F&B-related job at a local hotel. 
During the programme, I went through role-playing sessions and job interviews to prepare me to enter the working world. 
The interviews were guided, which meant that staff members from Inclus sat in during my arranged job interviews with potential employers. Inclus is a social enterprise that empowers persons with special needs through gainful employment and independence.
They guided me on how to better express myself and also explained what the contract terms meant so that I could better understand the job I was applying for. 
Without them, it would be an uphill task as I do not think I can easily pass a job interview on my own.
At my new job, my main tasks include polishing cutlery, setting up and cleaning the seating area. I really enjoy my work!
I met managers and colleagues who are really patient with me, as I settle into my new routines and tasks.
Aside from putting the hard skills I learnt into work, I also learnt how to better communicate with my colleagues.
When I need some advice on how to perform better at work, I am thankful that I can still approach my job coach from Inclus.
Over the past few months of working, I learnt that F&B services in general can be very dynamic, and there are a lot of changes to adapt to.
One thing I am still working on is to be more flexible and be able to adapt to changes in my work schedule, as well as being more attentive and careful.
Looking back, I think what made a difference was the fact that there are many opportunities for persons with special needs to learn and grow.
In the past, I would usually say no to new things.
But now, I will at least try, and I encourage others to do the same. There is a place for people with special needs in our society, it just takes some work to get there.
I can see that my parents were happy for me when I secured a job, and I am so blessed and thankful for their love and support for me for the past 19 years.
Now, I want to become more independent, so that I can take better care of myself and give my parents more assurance for my future.
ABOUT THE AUTHOR
Clarissa Ng, 19, works in the F&B industry, after graduating from the YMCA-Inclus Train and Place Series, a vocational programme launched in 2022 to train youth with special needs.