Consumer car brands could bring in self-driving cars as early as 2020
TOKYO — As far as global auto events go, the 2017 Tokyo Motor Show has proved to be a turning point in terms of the implementation of Artificial Intelligence (AI), which includes the ability for cars to drive themselves as well as assist the human drivers.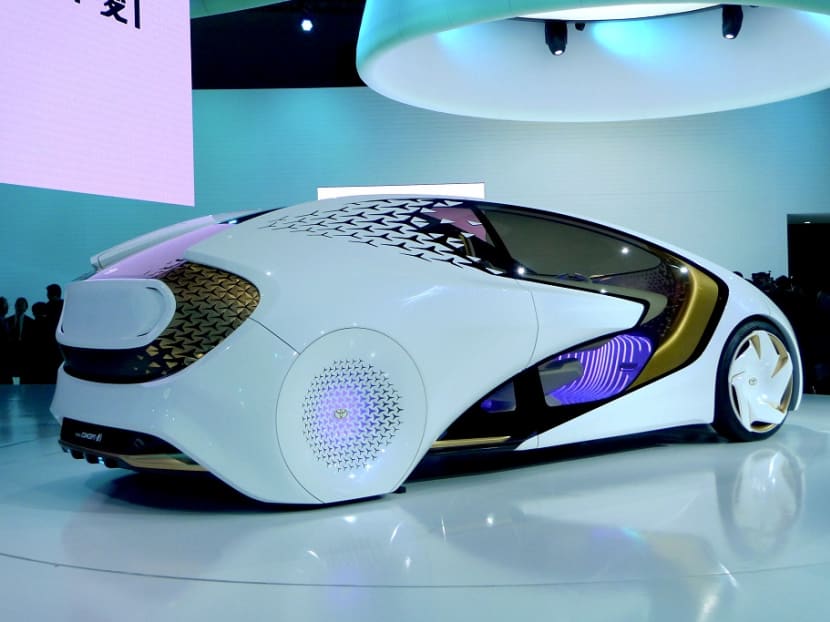 TOKYO — As far as global auto events go, the 2017 Tokyo Motor Show has proved to be a turning point in terms of the implementation of Artificial Intelligence (AI), which includes the ability for cars to drive themselves as well as assist the human drivers.
Pretty much every Japanese brand at the show made, at the very least, a semi-autonomous concept vehicle the star of their line-up.
The future of driving is all about safety. For example, a very determined Toyota wants to one day bring down the number of global road traffic accidents to zero thanks to the application of AI, coupled with smart road systems.
While the word 'concept' in the automotive world has until now been judged as a far-fledged ideal that is used by car companies to simply show off their design prowess, this time, everything at the Tokyo Show was very real and will be heading your way much sooner than you think.
The near future of automotive AI, which will enable drivers the read their smart device – or perhaps even a good old fashioned book – with their hands completely off the steering wheel, was what the show was all about.
The way that manufacturers power the next generation of cars was also high on the agenda, with a clear message from brands like Toyota and Lexus that hybrid petrol/electric, fully electric (EV) and Fuel Cell Vehicles (FCV) are going to be a driving force for a cleaner environment and more cost-effective motoring.
Toyota Concept-i
Photo: Simon Hulber
Unequivocally leading the way with space-aged design at Tokyo was the head-turning Concept-i from Toyota; an electrically powered car that looks like it is set for the 23rd century.
Yet Toyota expects this and many of its other models to follow this design path by 2030 with an AI 'friend' running the show for you – in this case a virtual assistant dubbed 'Yui'.
A bit like the Siri function on Apple's iPhone, Yui will run automated tasks for the driver – including taking full control of the car while all the occupants can relax. Yet this virtual assistant is more than a pre-programed instructional manual; Yui uses advanced software to learn alongside the driver and build relationships with the human behind the wheel. Yes, there maybe the inevitable jokes about the TV series Knightrider and having a car as your best friend to talk to but Toyota has demonstrated how such a system provides a huge leap forward in terms of safety as well as convenience. As with many of the brand's upcoming models, the Concept-i has automated crash-avoidance systems installed in both autonomous and semi-autonomous mode.
Yui is an extremely fluid assistant; starting as a pulsing circle of light on the outside of the electrically-operated gullwing doors and then blinking to life in the starship-style wrap-around centre console as you step inside. It appears almost like a living entity by zipping across the interior and exterior parts of the car, including panels built into the doors and message boards on the front and back of the vehicle, allowing it to communicate not only with the occupants but to other cars and pedestrians.
Full EV vehicles like this are still relatively slow to be adopted due the phenomenon of 'range anxiety', where drivers are concerned about running out of electric charge. However, for a city like Singapore where a daily commute is on average no more than 40-50 kilometres, current battery technology is already advanced enough to make full electric vehicles a viable proposition for daily use.
By the time the Concept-i comes to fruition, Toyota expects a new generation of solid-state batteries to extended driving distances considerably.
Lexus LS+ Concept and LS 500h
LS+ concept saloon. Photo: Simon Hulber
Toyota's luxury division, Lexus, has followed the same technology path as the Concept-I, albeit with a more recognisable 21st century design with the autonomous LS+ concept saloon.
This elegant 4 door beauty adopts AI technology dubbed 'Urban Teammate' that allows fully automated, hands-free driving on regular roads as well as 'Highway Teammate' for automated driving on fast expressways. Both of these technologies are due to come online for selected Toyota and Lexus models by 2020 and will provide automated steering along with automatic lane merging, lane changing and diverging as well as constantly keeping a safe distance to the car in front.
Like the Toyota Concept-i, the LS+ Concept both learns and 'grows' with its driver's habits and styles over time.
As with all future Toyota and Lexus models, this car will also update its software wirelessly from a data centre as new smart functions are added to the car's electronic brain.
While the powerplant has yet to be defined, either a petrol-electric or a zero-emissions hydrogen-powered fuel cell unit are likely.
LS 500h. Photo: Simon Hulber
In the meantime, the semi-autonomous petrol-electric hybrid Lexus LS 500h was revealed at the show and is expected for launch in Singapore next year with a 3.5-litre V6 petrol engine mated with two electric motors to deliver a total output of 354hp. 
Its Safety System Plus technology is a semi-autonomous driving system that is designed to prevent front and rear-end collisions, as well as accidents caused by lane departures, plus at intersections. A series of sensors around the car, as well as stereo cameras monitor all situations, and automatically apply the brakes or steer the car out of harm's way if a pedestrian is detected in front of the car.
Nissan IMx
Photo: Simon Hulber
Nissan's take on its EV vehicle of the future features its own fully autonomous driving system called ProPILOT, which is already a feature of the electric Nissan Leaf city car, but the IMx takes it to the next level with a fully automatic driving and collision avoidance system that requires no human intervention.
The spacious interior features four outwardly opening doors for easy ingress, while a glass roof gives a feeling of additional light and space on the inside.
Nissan believes that all autonomous cars should provide the same perception of space and comfort as a home and Satoru Tai, executive design director at Nissan, sums this up saying: "In traditional Japanese architecture, a building is lined by thin shoji, a paper screen that gives the people inside an idea of what's outside through the movement of light and shadows, as well as sound. When I thought about the special design that connects the inside and outside of the IMx, I realised a connection to the aesthetic values of traditions or harmony."
Honda Sports EV Concept and Urban EV Concept
Honda Sports EV Concept. Photo: Simon Hulber
For a company that wowed the western world with its two seater S600 back in 1964 (the modern day S660 was also at the Tokyo Show), Honda has not forgotten how to inject sports style into a full EV model – even if it can now be fully operated by an intelligent brain when the driver is too tired to drive it themself.
But the option remains to be fully engaged with the Sports EV Concept in manual mode, while being safe in the knowledge that the Honda Automated Network Assistant that uses Honda's own AI technology will take control if something unseen takes place.
A low centre of gravity is designed to offer the kind of responsive handling a traditional sports saloon does and is blended with a friendly front fascia with virtual headlights that project from beneath the bodywork.
Honda's Urban EV Concept. Photo: Simon Hulber
Meanwhile, Honda's Urban EV Concept offers up a vision of an electric-powered compact three-door city car that features a surround video screen in place of a traditional dashboard, which is also connected to the Honda Automated Network Assistant to make suggestions to the driver and intervene with evasive action if an imminent accident is predicted. Keeping with the car's easy-going city theme, hidden display panels on the front and rear of the car can broadcast messages as well as greetings to onlookers.