Five things you didn't know about your car's warranty
SINGAPORE — Forget about a fancy Bluetooth sound system or powerful turbo engine.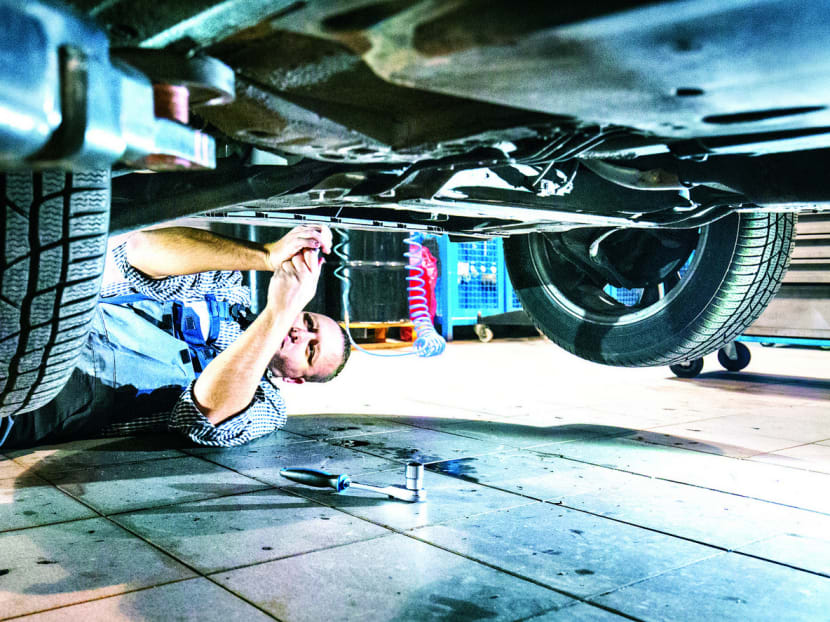 SINGAPORE — Forget about a fancy Bluetooth sound system or powerful turbo engine.
The one thing any car should offer its owner above all is peace of mind.
This is where a warranty can help. Although a warranty can't actually prevent a mechanical failure on your car, it can at least make sure that any fault can be repaired at the manufacturer or car dealer's cost.
Yet, not all warranties are the same, and they all come with terms and conditions that car owners have to understand and adhere to so they are not invalidated.
But how much do you really know about your car's warranty?
These five facts cover the basics.
1 Not every warranty is the same
Cars come with a manufacturer's warranty that covers manufacturing or quality flaws for a certain period, and up to a certain mileage. Beyond that, local dealers sometimes provide additional coverage.
For instance, Kias have a five-year guarantee from the factory with no mileage cap.
But local distributor Cycle & Carriage adds five years to that with an extended warranty for the engine. That is good for up to 200,000km. So it you exceed that mileage before 10 years, you become liable for any engine defect.
Parts come with their own warranty as well, so if you replace something and it fails prematurely, you might be able to get it rectified for free even though the rest of your car is out of warranty.
If you want to avoid a bill that comes as a nasty surprise or if you wish to refrain from paying unnecessarily for a repair, you really do need to keep track of what areas of your car are covered by a specific warranty.
2THERE IS NO GLOBAL FACTORY WARRANTY
Some drivers assume that any new car sold in Singapore comes with at least a year's warranty from the factory.
The truth is, warranty service is undertaken by a car brand's authorised dealer.
If you buy a car from a parallel importer, the authorised dealer is not always obliged by the factory to work on your car.
They may offer help if requested to by the factory, or if the customer pays an adoption fee to have his car officially recognised by the authorised dealer.
Otherwise, do not count on a blanket worldwide warranty as if your car were a laptop or camera. It simply does not exist.
3NOT EVERYTHING IS COVERED BY THE WARRANTY
Warranties do not actually cover parts specifically. Instead, they are a guarantee against manufacturing defects.
That does mean that parts that fail are replaced, but many items on a car are actually meant to wear out with use, like windscreen wipers or spark plugs.
Such items are called "consumables" and need to be replaced regularly.
For example, if a wiper needs to be changed, it has merely reached the end of its service life. This does not mean that it was defective.
Some cars in Singapore are sold with a maintenance package, which is different from a warranty because it covers consumables.
A new Porsche comes with five years of maintenance, for example, and in that case, the owner does not pay extra for any upkeep at all.
4YOU CAN'T ABUSE YOUR CAR
It is tempting to imagine that you can neglect or abuse your car and have the consequences sorted under warranty, but this is not how a warranty works.
A warranty is basically a contract between you and your car's authorised distributor, and every warranty has its own terms and conditions.
Usually, the driver just has to ensure that the car is serviced on time and by the authorised dealer, and that the car is not modified from its standard condition.
That makes perfect sense: If you skip every scheduled oil change and your engine seizes, why would a dealer or factory pay for your obvious negligence?
5YOU Will N0T AUTOMATICALLY GET EVERY REPAIR YOU WANT
A warranty claim requires approval before any work can be authorised, and unfortunately, there is no automatic approval.
This means the cause of the failure has to be diagnosed by the authorised dealer's technicians.
For example, did the engine fail because someone put an additive into the oil?
On the flipside, a warranty claim cannot go through if there is a fault that cannot be traced.
If you complain about a funny noise but there is no obvious cause, then a warranty will not cover it.
Essentially, a car's warranty is like a health insurance policy, where a doctor's input counts for a lot. If a diagnosis cannot be made, a claim cannot be processed.