I have two boys at home and a girl in heaven
"How many kids do you have?" It is a simple enough question. But every time someone asks me that question, I stumble.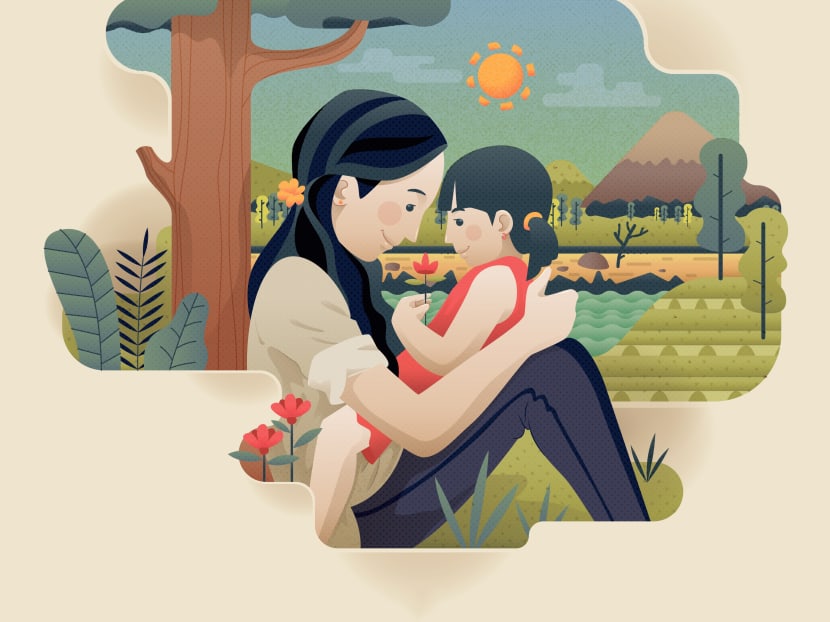 SINGAPORE — "How many kids do you have?" It is a simple enough question. But every time someone asks me that question, I stumble.
You see, for someone who has lost a child, the answer to that question 
is complicated.
If I say I have two children, I feel like I'm not honouring the memory of my baby girl, my firstborn. It would be like she never existed, never moved in me and I never spent 36 hours 
in labour before delivering her.
If I say I have three children, however, and the other party further probes about their ages and what they are up to, then the conversation inevitably becomes awkward and painful.
I don't want to make people feel uncomfortable, yet at the same time, I cannot betray the memory of my baby girl or the place she holds in my heart.
To be honest, I still have not found the perfect answer to that question. It really depends on how I'm feeling that day, who the person is, and the place we are in.
These days, I usually say "I have two boys at home", then add in my head, and "a girl in heaven".
If the other party suggests I should have a girl to round up the family, then I'll tell them that I did have a daughter, but she was born at 23 weeks after complications in the pregnancy forced us to induce labour and terminate the pregnancy.
I have no shame including Annabelle in my count; she's as much my daughter as Lucas and Jesse are 
my sons.
But the reality is, most people are not ready for the truth.
Do they really want to hear of the multiple complications during the pregnancy, the one-month stay in hospital, the relentless bleeding, the infection that followed, the blood transfusions, the haunting words of the doctor telling me she would likely be either mentally or physically disabled if born?
Do they really want to hear how I had to make the awful choice between my life or hers, or how I had to deliver my dead daughter in a normal ward with another patient in the next bed and then leave the hospital the next day empty handed?
Do they really want to hear about how she weighed all of 500g, as heavy as a packet of sugar, and how she was perfectly formed with long limbs like her father's?
The truth is shocking and uncomfortable. No one likes to talk about death, much less that of a baby's.
But the painful truth is that babies die.
According to KK Women's And Children's Hospital, about 15 per cent of all pregnancies miscarry. Most of the time, a cause cannot be found.
For stillbirths, about 2.6 million babies are stillborn per year globally, according to a study published by medical journal The Lancet earlier this year.
And although Singapore has one of the lowest stillbirth rates in the world — according to official statistics, 90 stillbirths were registered last year, up 4.7 per cent from registered in 2014 — it is not non-existent.
And for the bereaved parent, the loss of a child is a continuous existence they live with no matter how long ago it happened.
When I lost Annabelle, I went through a very dark patch for a very long time. For years, I could not even look at another pregnant person without crying. Each time I saw a little girl the age at which my daughter would have been, I would be reminded of my loss.
Well-meaning friends tried to comfort me. "Everything happens for a reason," they'd say. "It was the right choice, she probably wouldn't have survived anyway." "You're young, you can still have another child."
I wanted to scream at them: "I don't want another child. I want this one".
Today, almost 11 years after losing my daughter, the intense grief is no longer there. The emotional scars are still there, don't get me wrong, but I've come to accept that I will never know why things happened the way they did.
I do regret though that I did not have the courage then to take a photo of my daughter or her footprint. I have nothing to remember her by now, just my memories, which I am scared to death will fade with time.
So for anyone dealing with a similar situation now, I would advise you to keep some momentos of your baby; they will help in the grieving process. Also, take as long as you need to grieve and talk about your loss to either a friend or a professional. Don't feel like you have to move on or get over it. There is no time limit on grief.
If you are a friend of a relative of someone who is going through, or has experienced, a loss, be sensitive. Do not expect your friend to go back to normal; she probably won't ever be "normal". And most importantly, don't pretend her baby never existed.
Last Christmas, four days after my daughter's 10th birth/death anniversary, my good friend gave me something that I will cherish for the rest of my life: A charm necklace with the names of my children — all three of them.