Flower power
SINGAPORE — When style blogger Nicole Wong (@ncwong) got married at the Grand Hyatt two months ago, she opted for something a little different for her table settings.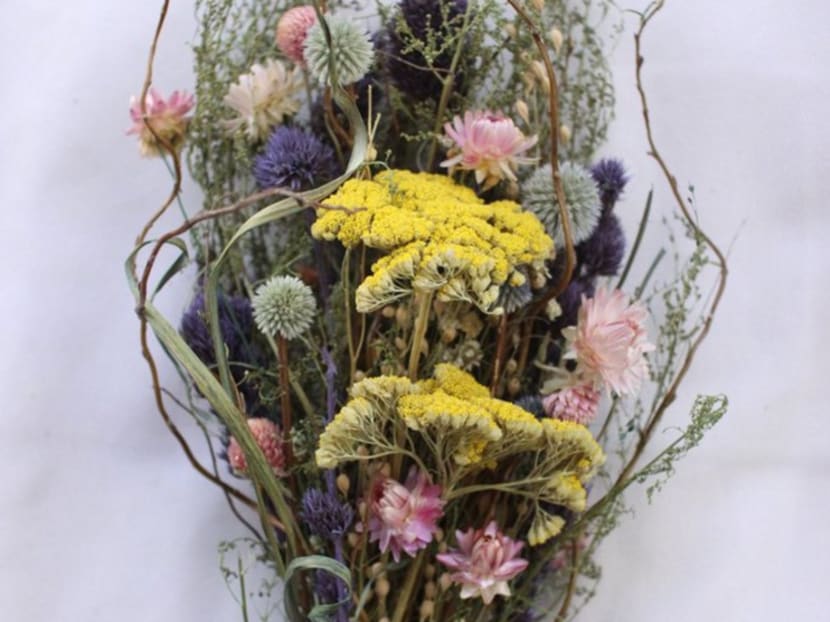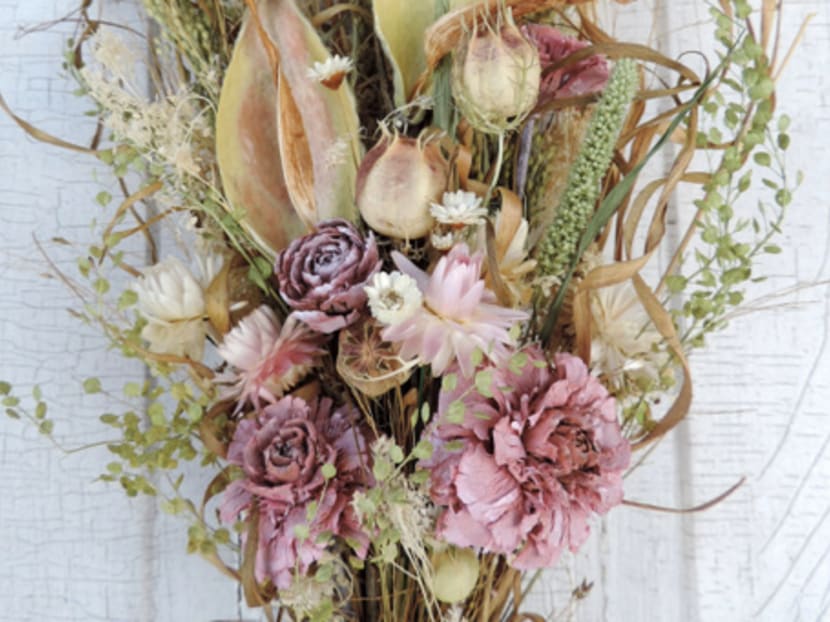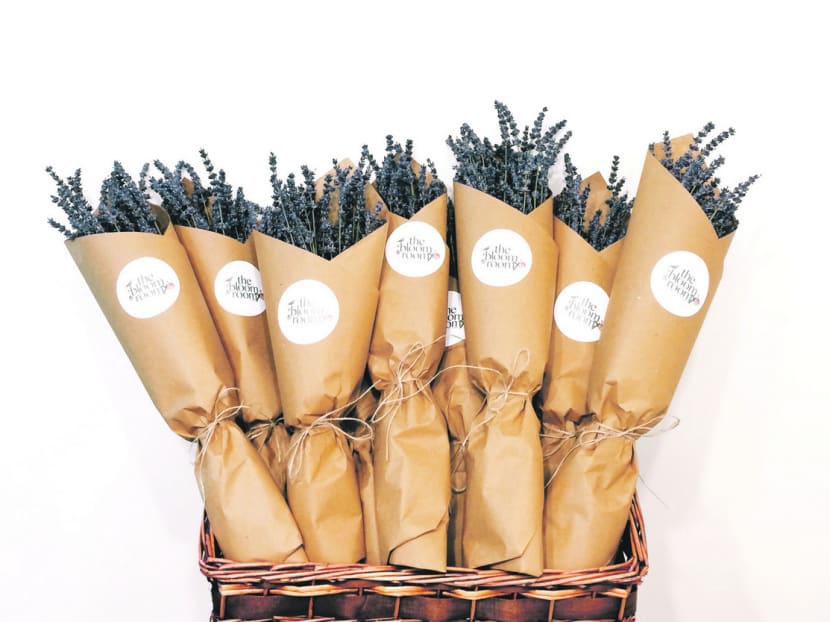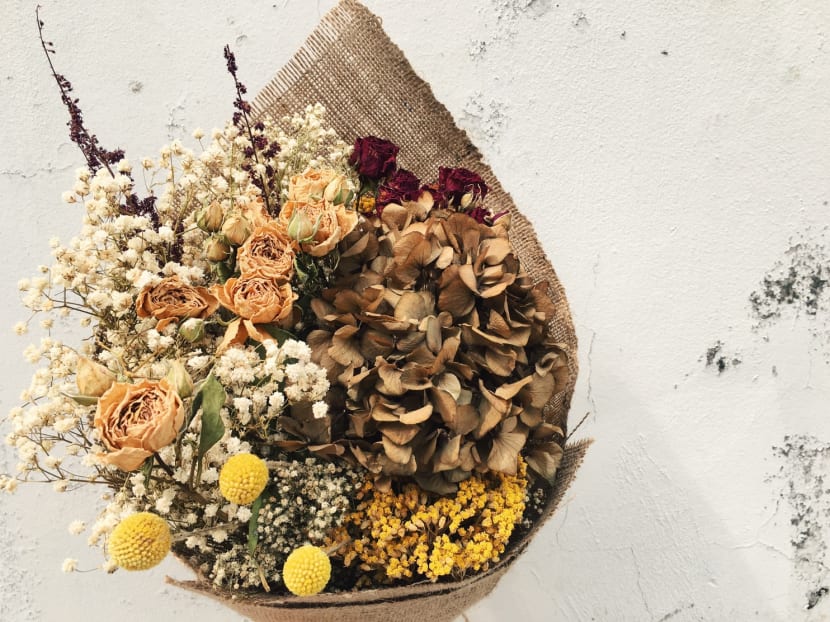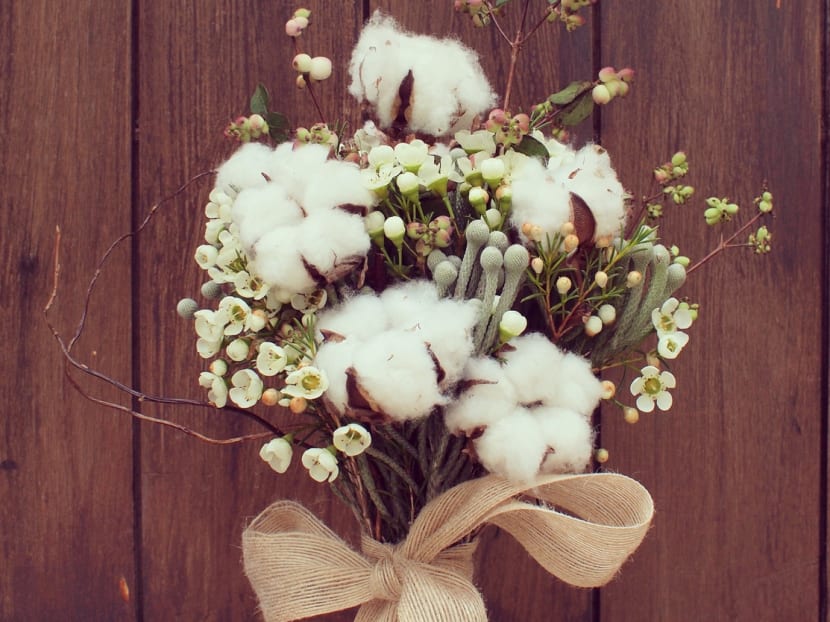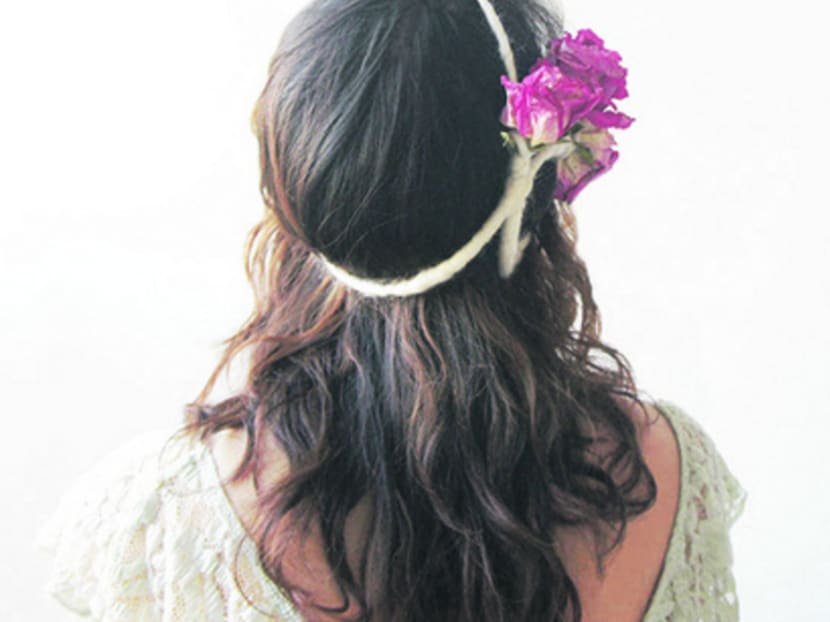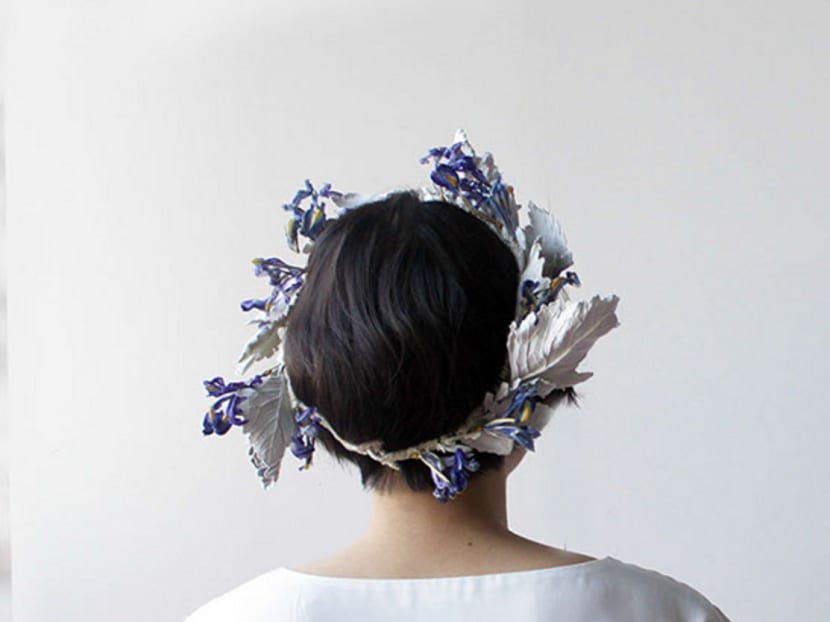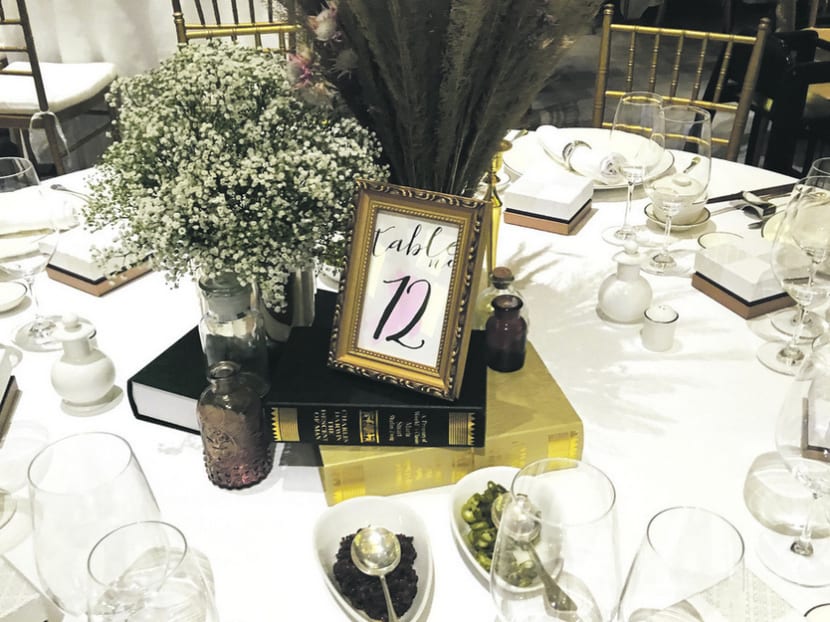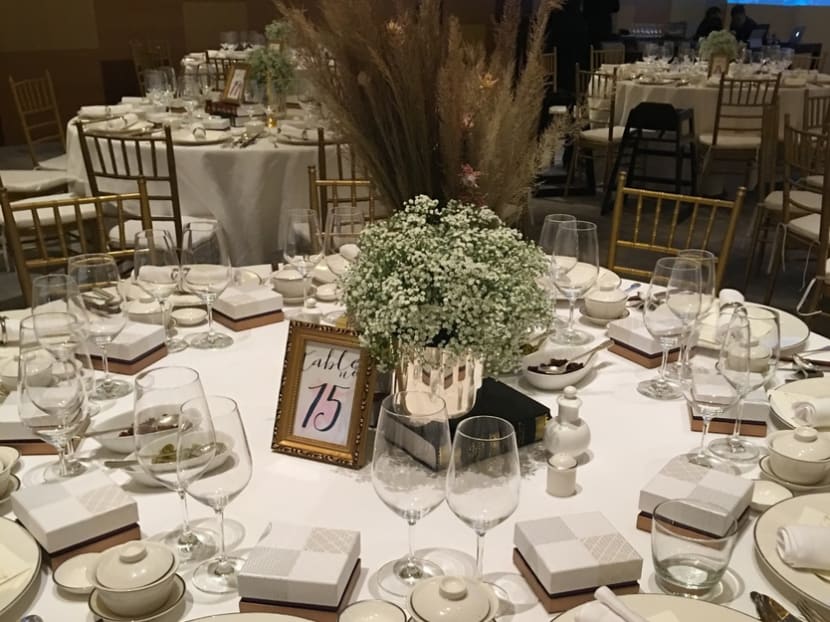 SINGAPORE — When style blogger Nicole Wong (@ncwong) got married at the Grand Hyatt two months ago, she opted for something a little different for her table settings.
Instead of using fresh flowers, she chose dried ones.
"Fresh flowers are such a waste at weddings," said the 27-year-old. "The wedding couple rarely take their flowers home, and neither do their guests. Too often, the flowers, which the couple usually spends thousands of dollars on, get thrown away."
Wong, who wanted something to set off the gold vintage look of her banquet tables, engaged dried flower company Floral Kokoro to create flower arrangements for her tables.
Its founder Fuiyi Chong, 27, designed pieces using a variety of flowers, from roses to Blushing Brides — a pale pink variety of proteas from South Africa that bloom only once every three months — and different grasses like millet.
Wong, who wore a sleeveless white dress on her wedding day and changed into a tailored tuxedo for her dinner outfit, loved the dreamy feel the table arrangements brought to her wedding, and was glad to employ the services of the up-and-coming company. Dried flowers cost less, too. Wong said she paid less than S$2,000 for her table pieces, while quotes from other companies for fresh flower arrangements cost more than S$5,000, she said.
Chong said: "For flowers for wedding banquet halls, prices are almost always at least 30 per cent to 50 per cent cheaper than what's quoted for fresh flowers, because you don't pay for the costs of keeping the flowers air-conditioned, for example."
Floral Kokoro is Singapore's first dried flower concept store that got its start online in February this year. Already, it is growing beyond offering bouquets and table pieces. Chong also offers candles using dried blooms, and is looking into creating more products like dried flower teas.
"I've always been interested in flowers," said Chong. As a child, she would make it a point to memorise names of flowers, and loved taking pictures of them.
While working in New York at a technology start-up, she found herself increasingly drawn to art. And a passion emerged that blended her love for flowers and art. She began visiting flower farms where she discovered that the farmers were also drying their blossoms.
"I was surprised at how fresh and alive they looked," she said. "The way they're dried retains the colour, which isn't quite as bright as when they're fresh but is more subtle. It gives them a certain subtle look. In comparison, fresh flowers can look a bit gaudy."
Asked why she began thinking about going into the dried flowers business, and she said that she simply "noticed that there was an opportunity in the market for this, and it grew rather organically" from a few orders to gradually more.
The online-only store is making quite the name for itself thanks to its vintage- and rustic-looking florals. Though it may be new on the scene, it has enjoyed magazine exposure. A pop-up Floral Kokoro store was also open for a month in Wisma Atria in June, which helped boost their profile further.
Chong's next move is to seek out a partnership where a physical space can happen for Floral Kokoro. She has also been experimenting with drying tropical blooms such as lilies, carnations and lotus pods.
Jaclyn Lim, owner of The Bloom Room in Joo Chiat Road, which has a section of dried flowers, sees a constant demand lately for dried flowers, especially for weddings. About 35 per cent of The Bloom Room's monthly sales comprises of dried florals.
"The rustic wedding trend is going strong, so we get bridal couples dropping by looking for bouquets and table arrangements of dried flowers that will match the rustic decor of their wedding," said Lim. "For the reception table, they usually choose dried lavender, dried baby's breath and dried forget-me-nots. Then, they can easily just drop these bunches into mason jars or have them lying around casually."
Special events such as Mother's Day and Valentine's Day are also when dried flowers, in place of fresh ones, are increasingly being picked up.
Established florist Simply Flowers too has observed a trend. It has seen an increase of 10 per cent month-on-month in the demand for dried flower products. When it opened its latest store in Parkway Parade in October last year, it added a dried flowers section to great success.
"On the recent Teachers' Day, dried flowers were a popular choice as teachers can enjoy bouquets from their students as keepsakes," says Letty Lim, floral stylist and assistant in sales and marketing in the nine-year-old business.
"Roses and wild flowers are commonly used in dried floral arrangements. Wild flowers are imported from Holland, Australia, Kenya and are seasonal," she added. "We dry them naturally, and they usually last up to three to four months."
Wheat, rose, lavender and hydrangea are other popular blooms.
Chong said that dried flowers from Floral Kokoro, sourced from small farms in the United States and in Britain, can last up to a few years, with care.
"Cotton stems keep longer as they're sturdier," she said. She enjoys using different flowers, and her arrangements feature everything from blue nettles to thistles and sweet blue echinops.
Because dried flowers last longer, there is a strong movement in using them for the home. Recent bride Wong, for instance, dries her own flowers and features them on an entire shelf in her apartment.
"There are home owners who prefer dried florals over a weekly supply of fresh flowers simply because they're low maintenance and value for money," said The Bloom Room's Lim.
"And many enjoy how dried florals look — they like brownish, maroon, earthy hues and these colours go so well with the popular Scandinavian and industrial interior design trends. (They look good) against white brick walls or cement floors."
For the home, she added, choose a corner in the house that's out of direct sunlight and not humid. Full sun exposure may cause the colours to fade and the arrangement may end up looking dull or drab, she explained.
But, she warned that they can get dusty over time. "Try dusting the arrangement with a feather duster gently every now and then," she suggested.
The environment is ripe for craft and handmade products, says Floral Kokoro's Chong, when asked about the boom in popularity for dried flowers.
"In an increasingly tech-centred world, there's a demand for more natural things — things that remind one of a more natural world," she said. "Flowers of any kind fit into that space."
She is looking to launch a new collection of flower crowns, made in partnership with Chicago floral designer, Hazel Baek. They are currently only made to order. The colour palette will be a perfect complement to bridal gowns in ivory or bright whites, she said.
Asked about the stigma of dried flowers being seen as unlucky as they are technically dead, Chong said that this does not really exist with the younger generation.
"And the way I see it, dried flowers have been used medicinally in Egyptian and Chinese cultures for centuries," she added. "Besides, it's all about how it feels to a person. If it feels good, they can be a symbol of good energy. How would that be bad for you?"