Choc-a-bloc: A passion for fine chocolates
How three chocolatiers have taken the unconventional path to focus on promoting the artisanal version of the treat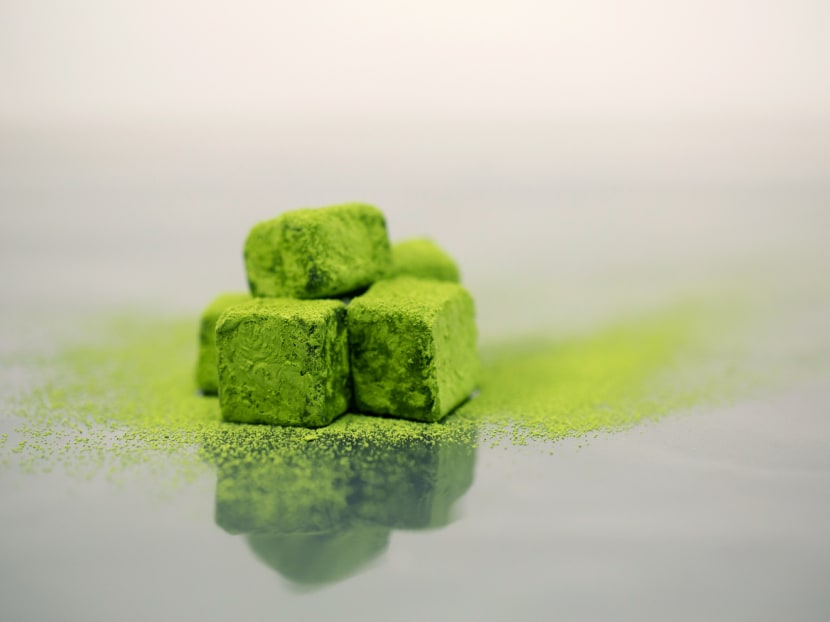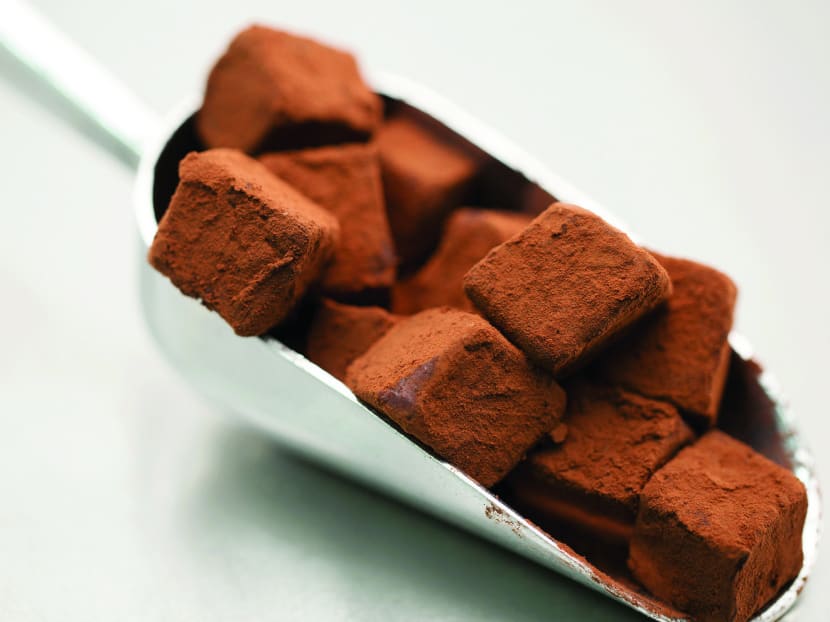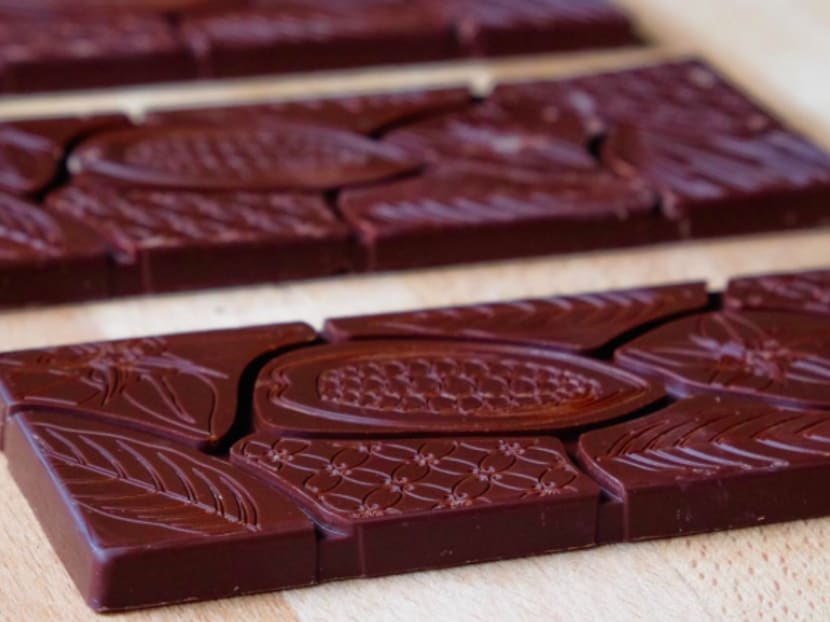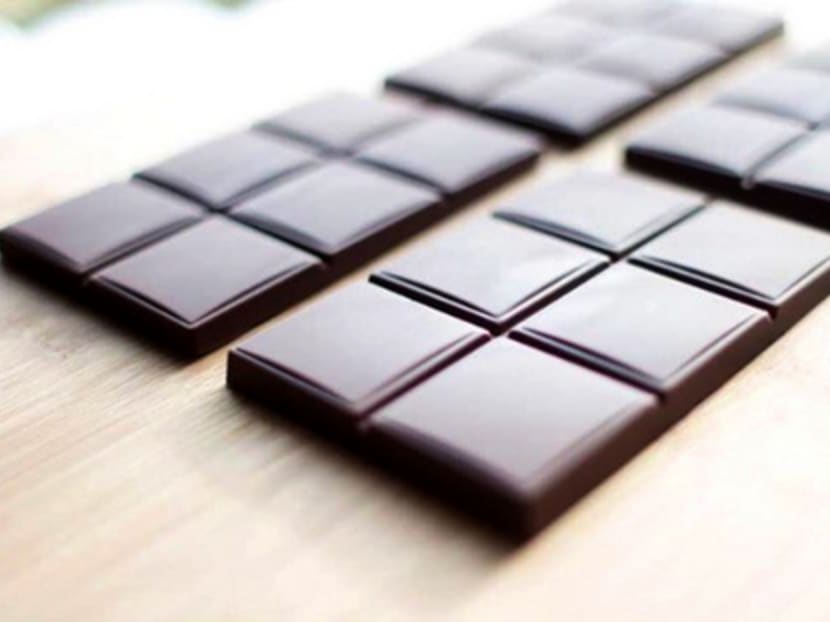 SINGAPORE — Chocolates are universally loved. But some people love them more than others.
In fact, there are a select few  who love it so much, they have forgone traditional occupations to plunge into their chocolate-y passions whole-heartedly to perfect this little creamy, bitter-sweet treat.
Take 26-year-old Lim Jialiang, who first started making chocolates five years ago when he was still a sociology undergraduate at Nanyang Technological University. "It was a side project I picked up while I was still studying," he explained, adding that he has always loved eating chocolates.
He eschewed convention and started Demochoco two years ago with a collaborator and friend (who declined to be named) while still working as a beer server at Smith Street Taps. "I can't earn enough from the chocolate business to make it a full-time thing, hence this is a way for me to supplement my income," he explained. "It's part of my commitment to making Demochoco as independent as possible," he added.
Lim was inspired to start his chocolate business while on a student exchange trip to Paris during his undergraduate days. "Paris is a capital full of chocolate shops, so I couldn't help but be drawn to them." The chocolatier even stayed in most of the time for homecooked meals so he could afford to buy the chocolates there, which was "astounding in their variety and quality".
"I wanted to do something like (those found in Paris) in Singapore, but drawing from the rich culinary traditions in Asia, and trying more novel flavour combinations," he added. Demochoco's chocolate truffles, packaged in a box of 12 to 15 pieces and are priced between S$18 to S$20, are produced in small batches without the use of artificial preservatives.
Lim hand-mixes his ganache and keeps his selection seasonal by importing his ingredients from abroad. As he is able to speak Japanese and is deeply inspired by its culinary practices, Lim also sources several of his ingredients from there. For instance, the Singapurr Story which he created last year to commemorate SG50, used Kyoto's Honda Miso in addition to familiar local ingredients such as gula melaka and coconut. "Kyoto Honda Miso lends a buttery, savoury element to the truffle but is also balanced by the sweetness of both gula melaka and coconut," he shared.
Lim is looking to introduce chocolate bars to Demochoco sometime next month. "I feel that my chocolates are high quality enough to be made into chocolate bars. It's easy to tell defects and off flavours in chocolate bars, which is why you have to be careful and use only the best."
NEW KID ON THE BLOCK
Another chocolatier who hopes to shed some light on artisanal chocolates is Sabrina Mustopo, the founder of three-year-old Indonesian chocolate brand Krakakoa, which will be launching here middle of this month.
Mustopo left her job as a consultant at McKinsey and Company where she had worked for six years. In fact, it was while on a project about the cocoa sector in Indonesia that the 31-year-old came to know about the poor conditions of cocoa farmers — they received low income, were unproductive and the beans they produced were also of low quality.
After she finished her six-month stint, she was itching to find a way to address the plight of the cocoa farmers and "get her hands dirty". She immediately tackled the issue of inferior bean quality by conducting training programmes for the farmers and paying them a higher price.
"We teach them good agriculture techniques so that they can produce healthy beans. We also teach them how to properly ferment and dry the beans to produce beans with great flavour," she said.
"Not only does this ensure that farmers are able to make a good livelihood from the hard work that they do, they are also able to produce some of the best cocoa possible, and use that in our chocolate," she added.
Her chocolate products are made from 100 per cent pure cocoa butter, and have been well-received here. "We have previewed our products in Singapore and the consumers here seem to really like what we have created — both in terms of the taste of the products and the story behind them," she said, adding that while it is a competitive market for artisanal chocolates in Singapore, she believes her product caters to a specific segment of the market who appreciates what the brand is trying to do.
Mustopo's craft chocolate products will be priced between S$7 to S$12 and she will be debuting a total of five flavoured bars such as Cinnamon and Creamy Coffee here. She will also be introducing single origin bars next month.
NON-BITTER DARK CHOCOLATES
The increased interest in craft chocolates has also seen Jay Chua, 28, from Wild Nibs take the plunge to go from a marketer to being a small-batch chocolatier. His chocolates, which were sold under the previous name, Fossa Chocolate, will not be available until March as Chua is trying to source for better quality cacao beans to produce better chocolate.
"Making good chocolate takes a lot of time and effort, from sourcing the cacao to finding ways of transporting them back to Singapore and getting a proper warehouse to store them," Chua explained. "That's a lot of things to do, and I don't want to compromise on the product quality so I'm only launching the products next year in March," he said.
Fossa Chocolate started last December and used to retail from S$7 to S$13 on its website. Chua declined to reveal why he is making the change but says that it is just a temporary one to improve on his chocolates with a different formula and methods. Wild Nibs will be renamed back to Fossa Chocolate when he relaunches.
"Wild Nibs is kind of the name I've adopted during this experimental period. 'Wild' referring to the crazy and unconventional experiments I'm running and 'nibs' referring to cacao nibs," he explained.
Chua's chocolates are made from scratch without the use of automation. And the process in making chocolate goes like this: Chua first finds speciality-grade cacao beans from farms in Indonesia and Vietnam, to name a few. After they are shipped over, he would hand sort the beans and only roast the good ones. Using a process called winnowing where the roasted beans are cracked and their husks removed, he grounds the cacao nibs with sugar for three days before ageing them for a month.
The final step is to melt and mould them into chocolate bars. So far, Chua's chocolates have only been sampled by his close friends and family who were pleasantly surprised by how much they liked it, because the dark chocolates are not too bitter.
"My cacao exhibits a wide range of complex flavours besides bitterness," he said. "A lot of people were surprised to learn that chocolate can taste so different even at the same chocolate percentage. Some of my chocolates have very little bitterness and astringency even at high cocoa percentage because the fermentation of the cacao was done well, and it naturally has less bittering compounds."
At the end of the day, Chua not only hopes to offer chocolates that taste good, but also to get people to "understand the beauty of chocolates and eat more of it", he said.
Demochoco chocolates can be found at Keepers in National Design Centre or from their official website (www.demochoco.com), while Krakakoa chocolate products can be found from middle of the month onwards at Naiise and online supermarket site RedMart. Wild Nibs chocolates will be available only March next year and more details will be updated in on their website (https://www.wildnibs.com/).