Who is Joo Chiat?
SINGAPORE – The man behind one of Singapore's most popular heritage areas is little known to most Singaporeans.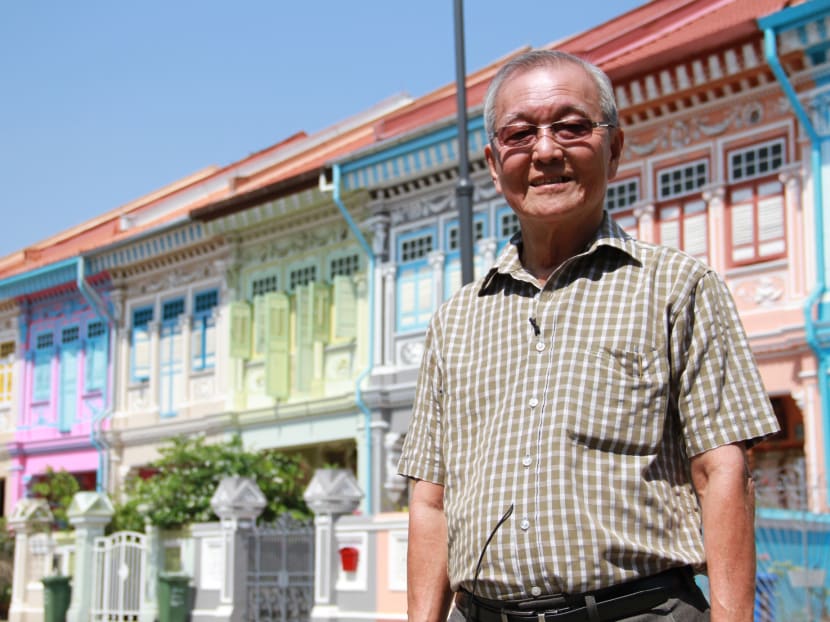 SINGAPORE – The man behind one of Singapore's most popular heritage areas is little known to most Singaporeans.
Now, his great grandson Philip Chew, 82, has documented his life and tells the story of how Joo Chiat estate got its name.
His great grandfather is Chew Joo Chiat.
Born in 1857 in Fujian Province, China, Chew Joo Chiat left his family at the age of 20 and sailed to Singapore as a young poor man who worked hard to become a successful businessman.
By the end of the 19th century, he had built shophouses and residential homes on Geylang Road, opposite Paya Lebar Road. He later moved eastwards towards Changi Road and bought a piece of forested land previously owned by the Alsagoff family to grow spices such as gambier, nutmeg and pepper.
He continued to purchase more land, including areas on Joo Chiat Place and Crane Road, to extend his spice plantations. When copra became a lucrative cash crop, he turned his land into coconut plantations.
Chew Joo Chiat had also owned and maintained a stretch of dirt track from Geylang Serai to Joo Chiat Terrace, and Confederate Estate Road (now known as Joo Chiat Road) all the way to the sea. Access to the popular beach bungalows on the East Coast was through this dirty track.
In 1916 the Municipality wanted to buy the dirt track for the construction of a motor roadway. Chew Joo Chiat realised that a road infrastructure going through his coconut plantations could transport his copra to town faster for export and increase the value of his land and properties. So, he bequeathed it to the Municipality without compensation.
In 1917 after the road had been paved, the Confederate Estate Road was renamed Joo Chiat Road after Chew Joo Chiat for his generosity.
As Phillip traced his ancestry, Philip also learned that his great grandfather preferred to "keep a low profile", and often chose to stay around Joo Chiat rather than socialize in Chinatown, as many Chinese businessmen of the time usually did.
As such, Chew Joo Chiat decided to build a wayang stage opposite the then-family residence at 65 Joo Chiat Road so that family members and friends could watch the Chinese opera performance with an unblocked view from the third level balcony.
"During festival periods, he will engage Chinese Wayang (troupe) to perform, everyone who lived in the area, even the nearby village, can come and see but he will view it from the comfort of his house," Philip said.
Today the family's former residence is an empty field behind Joo Chiat Complex and the wayang stage site is now occupied by a row of shophouses near Geylang Road.
Philip was born in 1935, about 9 years after Chew Joo Chiat died. He still remembers fondly growing up in the area where he lived in one of the houses his great grandfather built, and revealed that there once was a railway line that ran through Joo Chiat.
"(In) 1932, the British government wanted to build an airport called aerodrome at Kallang Basin, which in those days was a swamp," he said.
In order to fill the swamp and build what is now known as Kallang airport, Philip added, the British "built a railway line from there (kallang aerodrome) all the way to Eunos, because (in those days) there were hills in Eunos, and they used the the earth from there and fill up (the swamp) to build an airport."
When construction of the airport completed in 1936, the railway line became abandoned. "When I was young I liked to play on the railway track and jump," he added with a laugh.
Chew Joo Chiat died in February, 1926. Philip and his family moved out of Joo Chiat in 1957. The rest of his relatives eventually also moved out, selling off parcels of land for residential and commercial use.
When asked about how he feels about the Joo Chiat neighbourhood of bars today, Philip said the area had a bad reputation even back in the early days. "The environment here was very bad," he said. "Gangsters already existed in Joo Chiat during pre-war days."
Recalling those days, Philip said: "Behind my house, (there was a) kampong, and inside (it was) all (an) opium den."
There was also a two-storey building – which later became the Joo Chiat Post Office – that housed a licensed opium shop where many migrant workers from China used to patronise.
Philip's memories and findings about his great grandfather are now published in a book, A Penniless Boy, documenting Chew Joo Chiat's Singapore story. Back in 2008, Philip said: "I found an inaccurate account of my great grandfather Chew Joo Chiat… That inspired me to write the correct story of my family history."
"To quote a chinese metaphor, when a tiger dies, it leaves its skin. When a man dies, he leaves his name as in the case of Chew Joo Chiat," Philip said.
A Penniless Boy, Chew Joo Chiat is available on www.ethosbooks.com.sg at $11.21.