Diana Ser on parenting: Family stories are a wonderful gift to bequeath our children
"Daddy said you are a witch, " my five-year-old told me with a straight face.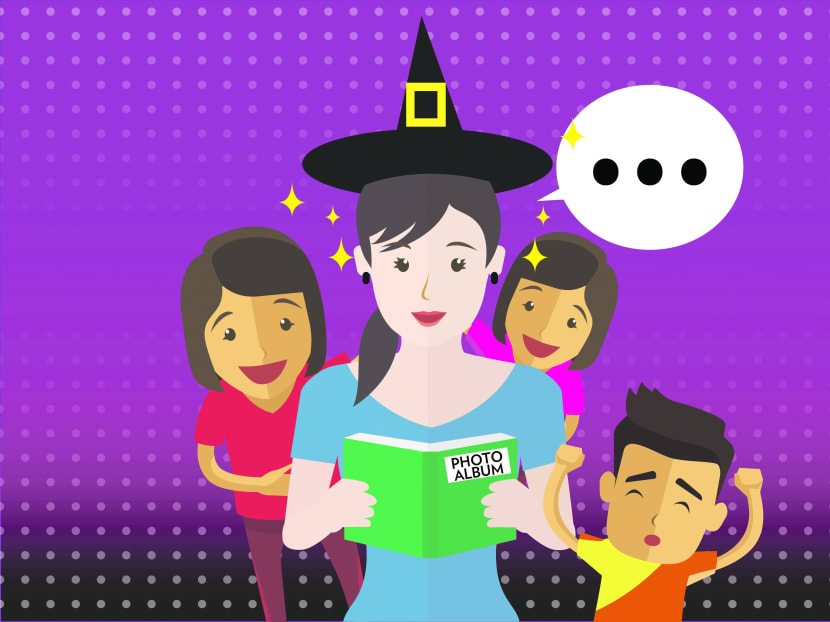 SINGAPORE — "Daddy said you are a witch, " my five-year-old told me with a straight face.
What!? "He said you cast a spell on him."
Ah. That was Daddy being glib.
Whether your reaction is a grin or a grimace, the point of my anecdote is this: The narrative of our romance is worth sharing with our three kids regularly.
Once, we drove past a restaurant in the city, and I shouted excitedly: "There, there! The restaurant where Daddy and I had our first date!"
What followed was the story of how that first date went. The kids lapped it all up — eyes gleaming, ears cocked and rapid-fire questions demanding details.
Family stories are a wonderful gift to bequeath our children. According to psychologists, these stories include recent shared experiences such as family vacations, as well as stories beyond the children's experiences. Such as mummy and daddy's courtship before they were born.
I had thought that sharing about our romance would give the kids a sense of history, the comfort in knowing that they are the product of our union. It may even influence their concept of love, marriage and family in the future.
It turns out there are even more benefits to telling our kids family stories.
STORY TIME
According to Robyn Fivush and her colleagues at Emory University in the United States, "by anchoring oneself in family history, one has a sense of place and security that may facilitate self-confidence and self competence".
They conducted a study of dinner table conversations to explore how family history could impact the development of preadolescents' emerging self-understanding.
What they found was that preadolescents who knew more of their family history had:
- better self control
- higher self-esteem
- lower levels of anxiety
- lower incidence of behavior problems
In most families, sitting together for a meal at the end of the day is tradition. Now, there are even more reasons to do it.
In another study, researchers trained mothers to tell more elaborate stories to their preschoolers. When these preschoolers were studied again a year or two later, researchers found that they told richer, more complete narratives to other adults compared to children whose parents did not have training. The children whose mothers were trained also demonstrated more empathy towards other people.
James Satchy, a Family Life educator from Built 2 Last Training, added: "Telling family stories creates bonds around memories. The listener comes into the world of the teller as the memory is shared, and they form an invisible bond. It's like sharing secrets."
WHAT STORIES TO TELL?
Hands up those of you who have told your kids your childhood deprivation story. Here is one story I shared recently: I scored above 250 for my PSLE, and only then did I tremulously ask my mum for a box of 2B pencils. (The kids are obsessed with buying new pens and ever more sophisticated mechanical pencils).
Mother of two, Miss Lim Li Li, is no different. "I do occasionally share what I did when I was a child. I shared that they are very blessed today compared to my time, and make them to be more grateful and appreciative," she said.
But family life educator Mr Satchy cautions against being too preachy. "If you tell a story with a moral at the end every time, it can be tiresome and the child will switch off after they detect your pattern," he said.
So go ahead and share your war stories and deprivation tales, but get off the pulpit occasionally, and just make them fun.
Secondly, don't just share the good stuff. The experts have found that sharing tales of adversity can have a positive impact on the child, but only if the suffering leads to eventual growth or expansion.
In another study by the same group of Emory University psychologists, families who explored their sadness, anger or grief, had kids with better academic skills, compared with families who sugarcoat the negativity.
I have found that sharing stories of personal failure or grief makes me more real in my kids' eyes. For example, I am angry with someone and still cannot find it in my heart to forgive after so many years. I tell the kids our religion teaches us to forgive, and truth is, I am still working on it.
"Children need to see authentic adults if we want our values to be rolled to them… This is where connection and engagement takes place," said Mr Satchy.
WHEN TO TELL FAMILY STORIES?
My simple answer to this is: When the opportunity presents itself. It could be a person or place or picture that triggers your memory — go with the flow if time and place permit. I have found that the kids have the most fun with spontaneous stories.
Bedtime is traditionally a good time for stories. You do not need a book — heck, you do not even need the lights. We turn off the lights and cuddle up, and just let our voices work the magic.
Another good moment could be when you're waiting for something, like say a doctor's appointment. Waiting times can be difficult for both parent and child, so try a story (or two) next time. While waiting for the doctor, share a story of how you overcame high fever and swallowed your first mouth of porridge (which you hate).
Lastly, the festive season is a wonderful time to share family stories. Did you try to stay up all night (shou sui) so your parents can have longevity? Then have a discussion with your little ones. Will they do the same? Do they think this actually works?
So this festive season, have fun with your family history. For this is the magic potion that can bring the family closer together.
I should know. After all, I am a witch.