Once dominant, Malaysia's BN records lowest-ever vote share of 36.4% in 2018 GE
KUALA LUMPUR— Malaysia's once-dominant Barisan Nasional (BN) garnered just over one-third of the votes in Wednesday's watershed general election - a record-low in the coalition's history - unofficial tallies show.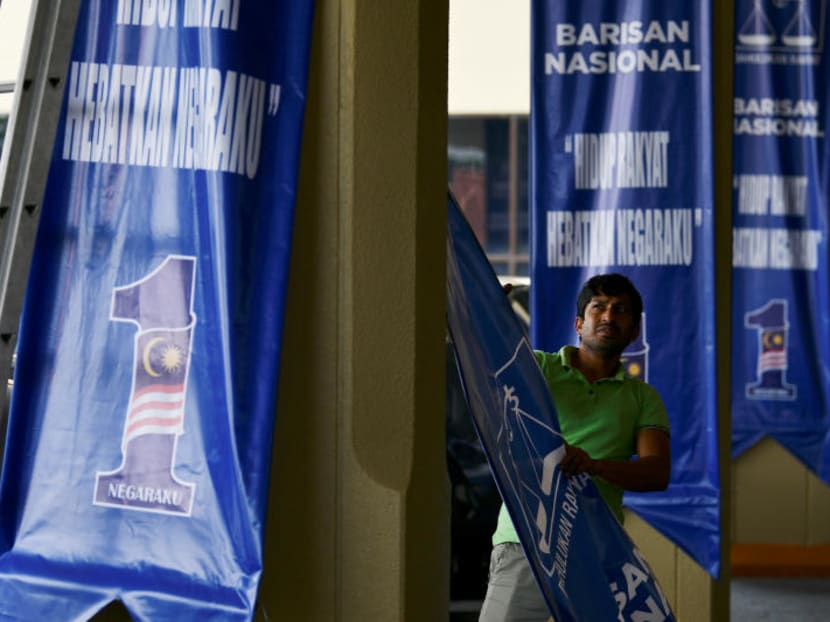 KUALA LUMPUR — Malaysia's once-dominant Barisan Nasional (BN) garnered just over one-third of the votes in Wednesday's (May 9) watershed general election — a record-low in the coalition's history, unofficial tallies show.
According to calculations of the election results by a Malay Mail team, BN's vote share of the 11,642,437 valid votes nationwide for parliamentary seats is only 36.42 per cent, or just over 4.24 million votes.
In contrast, the Pakatan Harapan (PH) alliance won over 5.51 million votes, or 47.33 per cent, of the 11.6 million votes cast in Malaysia's 14th General Election. Aside from beating BN in the popular vote contest, PH also broke the former's uninterrupted decades-long rule of the country.
As for Sabah-based Parti Warisan Sabah, which is aligned to PH, it won 257,091 votes or 2.21 per cent. Parti Islam SeMalaysia (PAS), Sabah's STAR and independent candidates won a combined 14.04 per cent, or over 1.63 million votes.
PH's vote share would almost hit the 50 per cent, if those from Warisan and independent candidate P. Prabakaran were added.
The popular share vote of Malaysia General Election. Graphics: Malay Mail 
Mr Oh Ei Sun, principal adviser to Pacific Research Centre, said the 11 percentage point difference between BN and PH's respective vote share of 36.42 per cent and 47.33 per cent was significant, comparing it to the previous elections in GE13 when the then ruling BN and federal opposition's gap was about three to four percentage points.
"Well they do indicate a popular tsunami against BN, with the difference between BN and PH being significant because it shows a marked shift of votes from BN to PH," he told Malay Mail when contacted, adding that the ratio of votes in the past was usually 60 per cent for BN against 40 per cent for the opposition.
"36 per cent probably lowest BN has received, testifying to popular distaste against it after more than half a century of increasingly corrupt rule," he said, noting that anti-BN sentiments definitely carried more weight for the popular vote share.
Based on Malay Mail's compilation of BN and the Alliance's past performances since the first general elections in 1959, the coalition's current share of votes at 36.42 per cent has never been this low before.
BN had won a precarious 51.38 per cent of the popular vote in 2008, before losing the popular vote in the 2013 election at 47.37 per cent — it's lowest ever then since the 1969 election.
In fact, the second lowest vote share by BN/ Alliance would be in the 1969 election when it won 44.96 per cent of the votes.
The voter turnout rate for Malaysia General Election and BN's vote share. Graphics: Malay Mail
Mr Hisommudin Bakar, CEO of research house Ilham Centre, said the popular vote share results reflected an internal protest within BN's Malay-based party Umno.
"Umno members protested by voting for the opposition," he told Malay Mail when contacted, noting that this was in part due to Umno president Datuk Seri Najib Razak openly attacking PH chairman and former Umno president Tun Dr Mahathir Mohamad openly on public television with references to an "old man" or "93-year-old old man".
"It's a big mistake, serious mistake because the Malays pantang (are against) insulting the elderly or insulting teachers. Tun Mahathir is like a mentor to Umno, however big his mistake, don't insult openly," he said, adding that the criticism caused Umno members to cast "sympathy votes" to Dr Mahathir.
With only 36.42 per cent of the vote share, BN's mainstay party Umno is at a "crucial moment" as it is no longer the party that kept the coalition in power like previously.
"It is difficult for Umno to rise again, and Najib Razak has to resign and take on full responsibility for the failure by Umno and all of BN's leadership needs to reevaluate for them to maintain relevance in the next five years as they have lost the government and became the opposition," he said.
Umno had won the bulk or 88 of the 133 parliamentary seats won by BN in the 2013 election. For this year's election, BN won only 79 seats against PH's 113 seats.
With eight seats from PH's ally Warisan and its endorsed independent candidate Prabakaran, that would bring PH and its partners' total tally to 122.
Official results of Malaysia General Election. Graphics: Malay Mail
Mr Hisommudin said the three-corner fights that were previously touted in the past in theory as splitting the then-federal opposition and benefiting BN had instead worked to the favour of PH.
The difference between the alleged contribution of three-corner fights for BN wins in the Sarawak state elections, Kuala Kangsar and Sungai Besar by-election was that Dr Mahathir had then yet to join the then-federal opposition, and such a strategy instead "broke Umno's dominance" after Dr Mahathir was appointed PH chairman and when PH used PKR's logo as its common symbol for elections, he said.
In this year's election, a majority of the 222 parliamentary seats, or 151 of them, had a three-corner fight. This is much higher than the race for the 222 seats in the 2013 election, which had 57 three-corner fights and 132 two-corner fights, and also higher than the 2008 election, which had 23 three-corner fights and 182 two-corner fights.
The massive spike in three-corner contests for this year's election also coincided with a reportedly highest-ever number of seats contested by PAS in general elections — 158 out of 222 seats.
"PAS's contesting in many seats indirectly helped Pakatan to achieve massive victory," he said, adding that PAS had a better performance than Umno as it retained Kelantan and added on the state of Terengganu, as well as ceding only three seats with its 18-seat haul in GE14 as compared to its 21-seat win in GE13.
On top of such factors, Malaysians' consistent complaints of economic issues such as living costs, the Goods and Services Tax, lack of job opportunities and a weakened ringgit coupled with stagnant salaries were cited by pollsters for the past few years as causing BN's popularity to drastically fall, he said.
The failure to effectively tackle these concerns cost BN its win, except in more rural seats where information may not reach voters as easily, he said.
He said Dr Mahathir's use of rallies and a "brilliant political marketing strategy" through social media also helped boost PH's vote share, noting that the "trending" of the former's mass ceramahs attended by crowds of 10,000 to 20,000 successfully convinced fence-sitters to vote for PH.
"With the rallies and social media, Facebook live (broadcasts), it became a phenomenon and finally the phenomenon translated into votes," he said.
But the anti-BN sentiment was a stronger factor than the pro-Pakatan push in leading to the long-ruling coalition's worst popular vote record, as PH relied more on Dr Mahathir's series of ceramahs during his tour instead of its own party machinery.
"But on the machinery, strategy and flag wars, they lose to BN and PAS," he said. MALAY MAIL