BN out, as opposition pulls off shock Malaysian GE win
KUALA LUMPUR — In a stunning upset, Malaysians dumped the ruling Barisan Nasional (BN) coalition out of power in Wednesday's (May 9) election, ending an unbroken 61-year run in charge of the country in a decisive repudiation of Prime Minister Najib Razak's policies, politics, and direction for the country.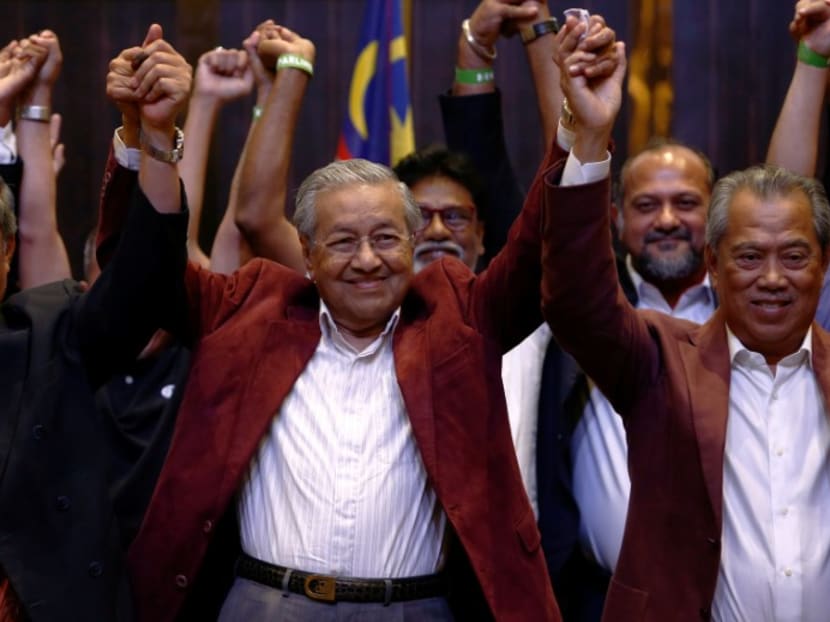 KUALA LUMPUR — In a stunning upset, Malaysians dumped the ruling Barisan Nasional (BN) coalition out of power in Wednesday's (May 9) election, ending an unbroken 61-year run in charge of the country in a decisive repudiation of Prime Minister Najib Razak's policies, politics, and direction for the country.
In a result that turned predictions on their head, Malaysia will now send a 92-year-old for a second shot as head of the country after former premier Mahathir Mohamad led Pakatan Harapan (PH) to victory.
The result will most certainly mark the end of the political career of current PM Datuk Seri Najib, 64, while for Dr Mahathir, this is the sixth time he has led a coalition to electoral success, coming 15 years after he stepped down.
Official results at 4.40 am showed that PH had won 113 of parliament's 222 seats, clinching the simple majority required to rule. BN had 79, with the others going to Parti Islam Se-Malaysia (PAS), Warisan Sabah and several independent candidates.
PH's victory was emphatic, overthrowing BN in states such as Negeri Sembilan, Johor, Kedah, Perak and Malacca, while retaining Penang and Selangor.
Johor, the birthplace of the United Malays National Organisation (Umno), BN's main component party, was widely seen as unassailable.
BN also lost Terengganu to PAS, which retained control of its stronghold in Kelantan.
In a further rebuke to BN, several of its ministers lost their parliamentary seats.
Speaking in a packed press conference at 3 am on Thursday, Dr Mahathir said the national palace has contacted him to organise the swearing in ceremony and PH's prime minister candidate will be sworn later in the day, without referring to himself as the candidate.
"The person will later appoint the deputy prime minister and other ministers," he said, adding that Parti Keadilan Rakyat president Wan Azizah Wan Ismail will be the deputy prime minister and that PH will work on securing a royal pardon for her husband and former deputy prime minister Anwar Ibrahim so that he can take over as prime minister.
"Once he is eligible, he will have to contest a general election before he can become the prime minister."
PH had earlier named Dr Mahathir as its prime ministerial candidate and said that if it won the election, he would seek a royal pardon for Anwar so that Anwar can stand in an election and should he win, take over from Dr Mahathir as premier.
Anwar, currently serving a five-year jail term for sodomy, is due to be released in June and faces a five-year ban from politics.
Datuk Seri Najib did not make any comments both in public or on social media, but outgoing Youth and Sports Minister Khairy Jamaluddin told reporters that the BN president will be issuing a statement.
"Whatever it is we need to respect the will of the people, we need to make sure the election result is respected and we move on," he said outside Datuk Seri Najib's house early Thursday morning.
At a press conference at around 11pm on Wednesday night, Dr Mahathir had already claimed a PH victory, saying: "It would seem that we have practically achieved that (majority) figure of 112 (seats). There's no way they can catch up...The whole of peninsula is won by PH."
Malaysia's currency weakened in offshore trading after PH claimed victory. The ringgit one-month non-deliverable forward fell 1.7 per cent to 4.0461 against the dollar.
The result will have a major impact on Singapore, too.
Datuk Seri Najib has long been viewed by the Singapore Government as someone it could work with, and under his leadership, the prickly ties between the two neighbours became a thing of the past, replaced by a cooperative relationship that emphasised progress on both sides.
He also enjoyed a close personal relationship with Prime Minister Lee Hsien Loong, and the chemistry between both men was evident in their annual leaders' retreat.
Dr Mahathir, however, is a different kettle of fish. He had a prickly relationship with Singapore during his 22-year tenure as Prime Minister, landing frequent jibes and even threats at the Republic, and presided over a period that has been described as an "era of confrontational diplomacy".
His PH coalition, too, has made relooking agreements such as the High Speed Rail link between Kuala Lumpur and Singapore a part of its election campaign, and ties between the two countries, on an even keel for an extended period, will now enter unchartered territory.
"I think Singapore will need to brace itself for a new political configuration in Malaysia and recalibrate our policies on Malaysia especially with regards to some of the bilateral agreements that have been signed," Dr Mohamed Nawab Mohamed Osman, Coordinator of Malaysia Programme at the S Rajaratnam School of International Studies, told TODAY.
"We know that Dr Mahathir has been against these agreements and it is likely that the new government would be more reluctant to implement some of them." 
For Malaysia, a period of uncertainty will replace the euphoria that was evident across the country overnight, when Malaysians took to the streets in celebrations, chanting, singing, waving PH flags and setting off fireworks as news of a PH victory unfolded.
PH's election manifesto promises to dump the wildly unpopular Goods and Services Tax caught the attention of voters, but it also promised a raft of changes, including introducing a minimum wage and investigating the 1MDB scandal.
The biggest effect of the election, however, will be a closer examination of the communal approach that has dominated Malaysian politics.
Resounding defeats suffered by the leaders of the Malaysian Chinese Association (MCA) and Malaysian Indian Congress (MIC), both component parties of BN, spell the end for the parties after years of steady decline in both influence and credibility.
PH's approach, to make the election a referendum on corruption and the rising cost of living, rather than Malay superiority, made it more palatable to voters, and dampened fears that a win for it would lead to a loss of Malay rights.
The Democratic Action Party (DAP), a key component of PH, is Chinese-dominated.
PH has traditionally relied on urban votes and support from the ethnic Chinese and Indian communities, while BN's core support base is among rural Malays.
But this time round, PH rightly betted that Dr Mahathir could draw in crucial Malay voters who have grown disillusioned by increased costs of living and are yearning for change.
Dr Mahathir also received backing from several of his former Cabinet ministers - namely Mr Daim Zainuddin, Ms Rafidah Aziz, Mr Rais Yatim and Mr Syed Hamid Albar.  Former Finance Minister Mr Daim and former International Trade and Industry Ms Rafidah even campaigned for PH in Malay heartlands.
Speaking to reporters at the Thistle Hotel in Johor Bahru, PH vice-president Salahuddin Ayub thanked voters who chose the opposition pact.
"We're going to serve the people with this mandate and the new government. We'll try our best to do the best for the people."
Datuk Seri Najib is the third protégé of Dr Mahathir to have been unceremoniously dispatched from high office – following Abdullah Badawi and Anwar, whom Dr Mahathir sacked as his deputy in 1998 before the pair reconciled recently as they sought to oust BN.
Of more immediate concern to Datuk Seri Najib will be whether he will be singled out by the new government for the 1MDB scandal, which the opposition has termed "one of the greatest cases of kleptocracy in history".
When asked about this during early Thursday morning's press conference, Dr Mahathir said: "We are not seeking revenge. What we want is to restore the rule of law. If anybody breaks the law they'll be brought before the court."   
He added: "So far I have no heard anything from him (Najib), as he has been silent." 
His son, Mukhriz Mahathir, a former BN deputy minister until the family fell out with the government, sounded a more omminous warning in a press conference in Kedah an hour or so later.
Asked what he has to say to BN leaders, he said: "I'd say the person who eats the chilli, the person will feel the heat. This is not about what they have to go through after this, but it's about what we have promised the people and to help the people after they've given us the mandate."
Mr Mukhriz, who is expected to take up a key role in the new government, added: "One of the things that we have promised is we will investigate the 1MDB case until we reach the end. Because we're sure that if we don't fulfil this, which was what we promised, the people will punish us. So, we have to fulfil what we've promised." ADDITIONAL REPORTING BY FARIS MOKHTAR IN KEDAH