Owning a home an 'impossible dream', say Hong Kong youth frustrated over city's housing crisis
HONG KONG — The apartment in Fanling is just about the size of two parking lots.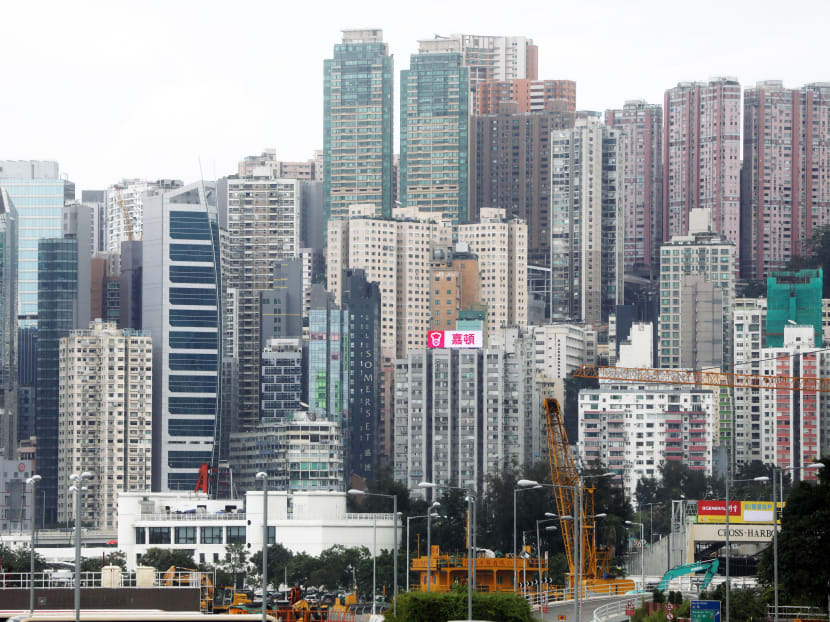 HONG KONG — The apartment in Fanling is just about the size of two parking lots. 
Ms Vanessa Yung, a 20-year-old university student, lives there with her parents and her 11-year-old brother, who has no room of his own and has to sleep on the sofa in the family's living room. 
Ms Yung has not even started working, but she hopes to move out with her boyfriend "as soon as possible" due to the tight squeeze in her parents' home, which has an area of between 200 and 300 sqf. (A typical parking lot in Hong Kong is about 135 sqf.)
Yet, her desire to move out is hampered by the city's high rents. While a 500 sqf apartment would be ideal, Ms Yung is resigned to the fact that 200 sqf is a more realistic target.
"The rent is very unaffordable. Everyone wants their house to be bigger. No one wants to squeeze into a small one. It's sad that Hongkongers cannot afford the high price," she said. 
Ms Yung's sentiments towards housing are echoed among the youth in Hong Kong, a city that frequently tops world rankings for property prices.
There seemed to be a sense of desperation and hopelessness expressed by the young Hongkongers who spoke with TODAY last month. 
Owning a home has become an unattainable goal for many of them, they said.  
'PRICES WILL KEEP RISING'
It was clear, through TODAY's interviews with several Hong Kong youth, that many aspired to own a home.
But there was a resounding lack of confidence that they would be able to afford one without some form of financial help from their parents, or even after they have worked for a number of years and accumulated some savings. 
While Ms Stephanie Ma hopes that she and her future husband would be able to buy their own home, she does not exclude the possibility that she might still have to live with her parents even after getting married. 
"It's pretty impossible to own a home," said the 21-year-old university student. 
The negative sentiment does not improve even for a young working adult like Ms Allison Chan, a digital marketing manager. 
"If I want to make my first housing deposit, I need my parents to help. I can't do it," said the 27-year-old, who has been working for about two years.
It's not just a challenge to buy a home — renting is also proving to be difficult. 
With a monthly income of between HK$21,000 (S$3,700) and HK$25,000 (S$4,400), Ms Chan said almost half of her salary would go into paying the rent for a 300 sqf apartment on Hong Kong island, where the city's central business district is located.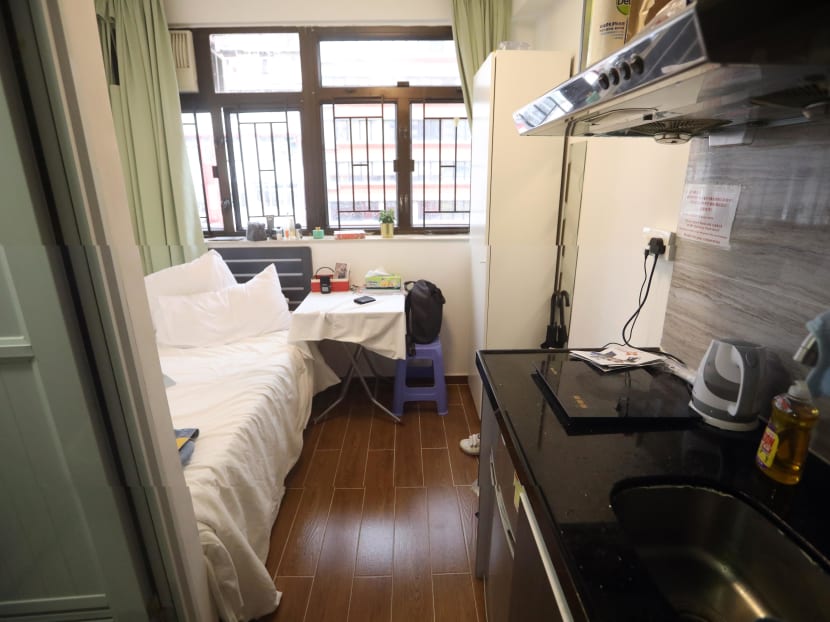 Ms Anna Kam, a young Hongkonger who already owns an apartment no larger than 400 sqf, is a rare exception. 
That's because the 22-year-old university student has been drawing a salary of about HK$40,000 (S$7,000) per month working for her father's trading company. 
She also had help from her father, who paid for half of the HK$800,000 (S$141,000) initial deposit.   
She now rents out her apartment for HK$16,000 a month, and lives in another rental unit with a flatmate for HK$10,000 a month. 
But even Ms Kam, who recognises that she is better off than other Hong Kong youth, believes her plans to get a bigger space in the future will be challenging due to the 50 per cent cash deposit she has to pay for properties above HK$10 million (S$1.76 million), under current mortgage rules.
"It will be hard, even for me, to pay a HK$5 million downpayment in one go. And housing prices keep rising. It's going to be harder and harder," said Ms Kam. 
'WAGES CAN'T KEEP UP'
At the crux of young people's despair is how the increase in home prices and rents have outpaced wage growth. 
According to Mr Denis Ma, head of research for property consultancy JLL in Hong Kong, housing prices have broadly doubled since 1997, the year the city went back to Chinese sovereignty after British colonial rule. 
Rental rates for mass residential properties have also increased by 57.6 per cent over the same time period, he said.
Wage growth has, however, lagged behind housing prices over the past decade, added Mr Ma. 
There may be some respite for home hunters, though, as Mr Ma expects housing prices to fall in the second half of 2019 and for the market to end the year flat or down slightly. 
Property prices increased 10.4 per cent during a five-month bull run from January to May, before dropping 0.8 per cent in June. 
Analysts have earlier said that the trade war between the United States and China and the political unrest, which erupted in early June over a now-suspended extradition bill, have weakened buying sentiment — and this trend is likely to continue. 
"Beyond 2019, we believe housing prices may fall by about 15 per cent through the next market downcycle," said Mr Ma.  
'THE GOVERNMENT IS RESPONSIBLE'
Despite the current dip in prices, the overwhelming belief among young Hongkongers in the long term is that their wages will not be enough for them to afford their city's sky-high property prices.
Some have blamed the government and property developers for their predicament, and for the high levels of social inequality in general.
"There are homeless people on the streets. People in subdivided flats want better living environments… The rich are getting richer, and the poor get poorer," said Ms Ma. 
Subdivided flats have become a common sight in Hong Kong, as its residents struggle with the staggering property prices. 
Some have resorted to living in "coffin" homes, which are compartments carved out from stacked wooden bunks or metal cages. 
Illegal homes haphazardly put together on the rooftops of buildings have also led to the establishment of rooftop slums.
'PUBLIC HOUSING NOT AN OPTION'
One alternative to get around the high prices is to apply for public housing.
However, young Hongkongers told TODAY that its not a viable option due to the long wait for a flat.
One reason for the long wait is the failure of the government to increase the supply of public housing, leading to a waiting time of at least a five-and-a-half-years for applicants to be allocated a home.
By the time they receive a place, most young graduates would be earning a wage higher than the income cap, which stipulates that only families with a maximum gross monthly income of HK$60,000 (S$10,570) — or one-person households earning half the monthly amount — are eligible for public housing. 
The affordability problem has led some youth to enrol in university courses or take up jobs they are not interested in, said Ms Christy Kung. 
"They work in a job they don't like (just) to earn money," said the 20-year old university student. She added that her degree programme in environmental science is a source of friction between her and her mother, who is worried that her future career path would make it challenging for her to afford a home. 
Several undergraduates said that frustration over their inability to afford housing is a great source of their anger towards the government. 
"The housing problem contributes to (why) people go out to protest," said Ms Phoebe Lai.
The 21-year-old university student believes that the government needs to speed up the process of allocating public housing units to applicants, by having more staff to determine which applicants are most in need of a roof over their heads. 
There is also the perception that Hong Kong's housing system is unfairly geared to favour mainland Chinese investors. 
"The developers, their intention is to build for mainlanders. Mainland Chinese come to Hong Kong to buy houses, that's why the cost of housing for us keeps rising. For them, in China, it's not safe for the rich to keep cash, so they turn it into real estate as an investment," said Ms Chan. 
"The government and developers are responsible for this situation… The developers just want to earn money, they don't care about Hong Kong people," said Ms Yung. 
Many young Hongkongers, feeling that their situation will not improve, told TODAY that they may one day leave the city.
"Everytime we talk about the future of Hong Kong, we always talk about moving out," said Ms Lai. 
Still, it is not an easy decision to make for Ms Lai and the many others TODAY spoke to, as Hong Kong is where their family and friends are and where they grew up in.
Ms Yung believes that universal suffrage would be the solution to the city's housing crisis and other social issues. 
"Only when the Chief Executive is elected by the Hong Kong people, would it force the government to come up with policies to improve the situation. There are a lot of social problems in Hong Kong and we can't protest over every problem," she said.