Parents issue mixed report card for latest changes to education scene
SINGAPORE — While some parents and students are cheering the latest move by the Education Ministry (MOE) to cut back on examinations, other parents are concerned that the changes will make it difficult to track their child's progress, and might even lead to complacency.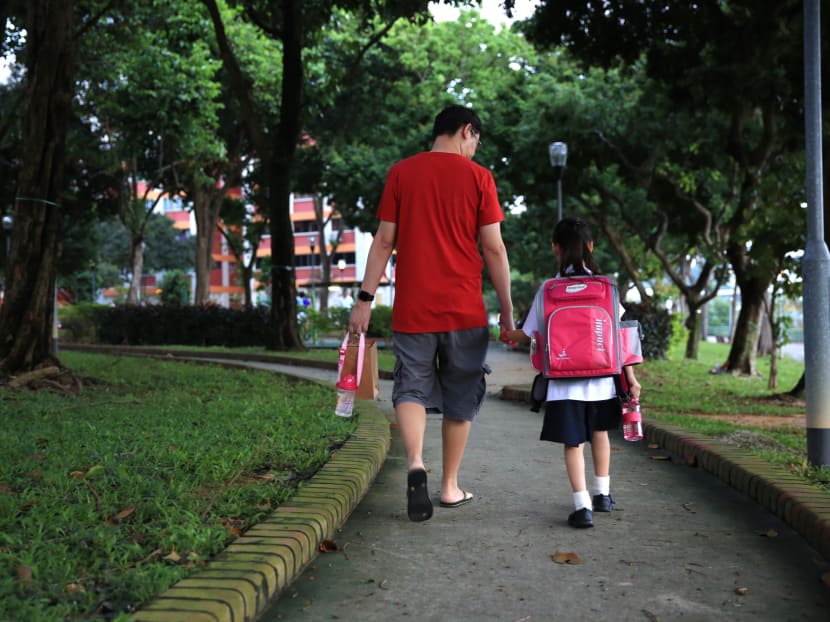 SINGAPORE — While some parents and students are cheering the latest move by the Education Ministry (MOE) to cut back on examinations, other parents are concerned that the changes will make it difficult to track their child's progress, and might even lead to complacency.
Another change that divided parents is the one where a student's position in class and at their cohort's level — determined by their academic performance — will no longer be reflected in their report books.
On Friday (Sept 28), the MOE announced a raft of changes aimed at reducing emphasis on grades, including the removal of mid-year examinations in phases from next year onwards for students in Primary 3, Pri 5, Secondary 1 and Sec 3. All students from Pri 3 to Sec 4 or Sec 5 will also not have more than one weighted assessment per subject per school term.
Report books of all students at all levels will not show their rankings, mean subject grades and overall total marks, among other academic indicators.
And from next year, Pri 1 and 2 pupils will no longer have examinations and graded assessments at all.
Parents who lauded the move said that having fewer exams will help reduce the stresses students face.
Madam Jasmine Tok, 38, a marketing manager who has two sons in primary school, told TODAY that students will "better absorb what is being taught to them, and not be rushed through the syllabus… just to take an examination".
However, parents such as homemaker Jessinta Foo, 39, is worried that it might be difficult to track a child's progress without mid-year examinations.
Senior sales manager Emilia Nathasha, 39, also said that if there were no examinations at all, students might "become complacent".
Ms Angela Koh, 44, who has two children in primary school, agreed: "When you tell the children that it is not graded (or that it does not count towards their final score), they will feel like it is not important, and will not put in any effort."
Ms Nathasha believes that some form of assessment should remain, but "(it) should be (used) to see if they understood what they have learnt," instead of being used to "track their grades".
PEER PRESSURE TO BE THE BEST
On the other hand, Ms Koh backed the move to not rank students by their positions in class, saying that students and their parents "will compare" rankings, and "there is a lot of peer pressure".
"Sometimes, the kids will take (their rankings) to heart, even when you tell them it doesn't matter what position they end up in," she added.
Homemaker Jamilah Sa'ad, 40, also said that without the rankings, it will be a relief for students such as her 13-year-old daughter, who will not have "the extra competitive pressure to outdo their classmates".
Ms Nathasha, though, believes that such rankings go some way in giving students a measure of their performance.
"How would the students then know how they fare against their peers? Normally (the rankings) would be the benchmark and motivation for them to push themselves to do better," she said.
Ms Janna Seow, 33, an educator, suggested that the ministry have a "banded" ranking for students, where students will be able to tell if they are among the "top 10 in class", for example, and that this "could be a form of healthy motivation" for them.
As far as students such as Muhammad Dani Mirza is concerned, not having rankings is definitely a boon, because it is a pervasive habit for people to compare results.
The 15-year-old Sec 1 student at Riverside Secondary School said that this will "reduce competition among students".
"Instead, you can 'compete' against yourself, on what you can improve on and do better."
Education Minister Ong Ye Kung said that the latest changes were "calibrated" such that they do not diminish academic rigour. In terms of "tuition load", he said that it can be extra studies that are "repetitive and unnecessary" for the sake of scoring well in examinations, so "there is room for parents to step back", though he is aware that weaker students need tuition to cope with their studies.
At the moment, parents such as 36-year-old Ivan Cheong said that tuition still "serves a purpose", especially when his 10-year-old daughter is weak in certain subjects such as Chinese language.
"I think (tuition) would at least help her understand concepts and theories better," the account manager added.
SCHOOLS TO REVIEW PLANS FOR STUDENTS
For educators, one main benefit is the amount of extra time afforded to them.
On Friday, Mr Ong said that removing mid-year examinations at selected levels will free up to about three weeks of curriculum time for each two-year block, for instance in Pri 1 and Pri 4 or Sec 1 and Sec 2.
One primary school teacher, who declined to be named because she is not authorised to speak to the media, said that teachers may use the time to customise "bite-sized assessments" for their students.
Such topical assessments are already done at her school, and teachers may tailor them according to their classes' academic strengths and weaknesses.
"It gives teachers — as well as students and their parents — on-time feedback on (students' weaker subjects), without having to wait till (the mid-year examinations)," the teacher said.
It will take lesser time to design these assessments, compared with a mid-year examination, which typically has to be set by the end of the first school term.
The extra time for teachers may also be used to plan more inquiry-based activities such as learning and field trips, which her school does. Students may have time to reflect on their learning, and teachers may take stock of the teaching process.
Henry Park Primary School's principal Martin Koh told TODAY that teachers are given "more autonomy" in making "(localised) decisions" with such topical assessments.
Information from these assessments may then be used to adjust lesson plans to "re-engage the children" in specific areas, so this is good for both the children and teachers, Mr Koh said.
At Woodlands Ring Secondary School, the school has already dropped mid-year examinations for Sec 1 to 3. Its principal Ng Siew Bee said that with the extra time, teachers can suggest, plan and implement "experiential and inquiry-based activities".
It is also mulling plans to not have some common tests for its Sec 1 students, Madam Ng said.
Sign up for TODAY's WhatsApp service. Click here: