Progress S'pore Party criticises fake-news law, says court — not ministers — should decide what's false
SINGAPORE — The Progress Singapore Party (PSP) has criticised the Republic's fake-news law as falling short of transparency and accountability standards.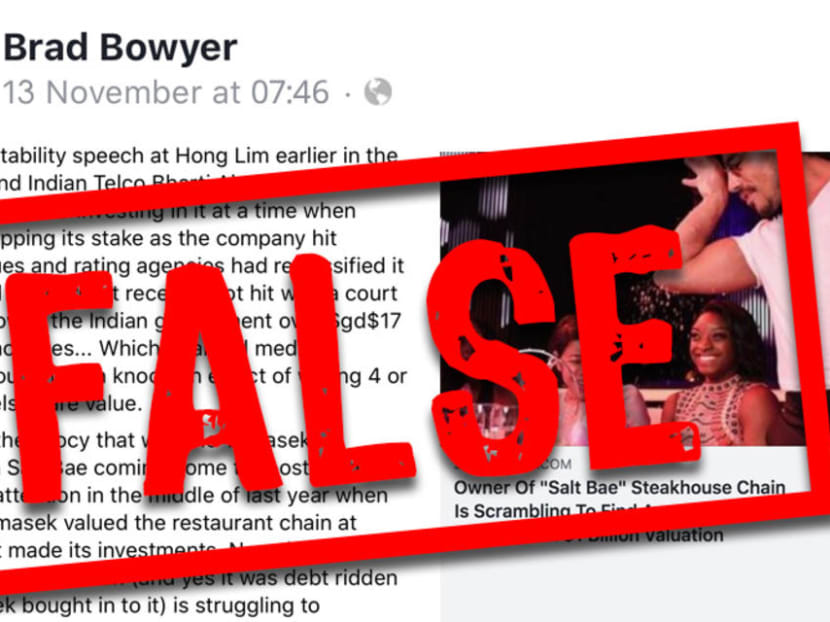 SINGAPORE — The Progress Singapore Party (PSP) has criticised the Republic's fake-news law as falling short of transparency and accountability standards.
The opposition party's statement on Tuesday (Dec 10) came a fortnight after its member Brad Bowyer was ordered to correct a Facebook post described by the Government as misleading and false.
It was the first time that the fake-news law, the Protection from Online Falsehoods and Manipulation Act (Pofma), which took effect on Oct 2, had been invoked.
PSP said that instead of empowering ministers to issue orders under Pofma, the courts should be given the powers to determine falsehoods to ensure independence.
"The courts would also have an established system and precedents of determining (a) falsehood from its handling of cases like fraud, thereby ensuring transparency and accountability," said the party, which is led by former presidential candidate and ex-Member of Parliament Tan Cheng Bock.
When contacted, the Ministry of Law pointed TODAY to Law Minister K Shanmugam's comments during the parliamentary debate on the then-draft laws in May.
Mr Shanmugam had said then in response to a proposal by the opposition Workers' Party that if the courts decided on falsehoods first, "you cannot be sure that you can act speedily".
"You will have to bring a person to court every single time, and that is even without considering other issues. I have said foreign agents. Who do you sue? How long will it take to find the originator?" he asked.
He added that there was "certainty of speed" in the Government's approach.
In April, Mr Shanmugam, dealing with concerns about ministers being given too much discretion under the law, had also said that the Government was not the "final decider" of what is true and false, and the courts had the final say.
Those accused of peddling falsehoods had the right to appeal to the courts to challenge the Government's orders, he had said. To challenge a minister's decision, individuals or organisations can appeal, first to the Government and then the courts.
On Nov 25, when Mr Bowyer became the first person to be served a notice under Pofma, the instruction came from Finance Minister Heng Swee Keat.
The Government said that Mr Bowyer's Facebook post on Nov 13 peddled misleading and false statements about state investor Temasek Holdings and sovereign wealth fund GIC. Mr Bowyer later amended it.
Parliament passed Pofma in May after a two-day marathon debate. The law gives government ministers broad powers to stop the spread of online falsehoods and act against those who disseminate them.
PSP said the law empowers a minister to declare a piece of news false "without requiring any justification, criteria or standards".
"This does not measure up to the standards of transparency and accountability. And where the news involves the Government, it also fails the standard of independence," it said.
PSP believes that online falsehoods could arise from three scenarios:
One, important facts, statistics and data are not made readily available to the public. Hence, people are made to guess based on limited information.

Two, purveyors of news are negligent or fail to exercise more care in checking the facts.

Three, people set out to mislead by perpetuating falsehoods.
The party said it agreed that the Government needed to be able to act quickly to curb the spread of fake news.
"For that, we support the need for ministers to be empowered to demand news purveyors to post a link to a site where the Government can provide the facts to swiftly stop the spread of misinformation," PSP said.
"However, to declare any news (a) falsehood and to impose any penalties thereof, PSP is of the view that it should be done by the courts of Singapore for independence."
In his Facebook post, Mr Bowyer had, among other things, implied that the Government controlled Temasek Holdings' and GIC's commercial decisions, and said erroneously that Temasek had invested in the debt-ridden parent company that owns restaurant chain Salt Bae.
Experts previously told TODAY that some may interpret Mr Bowyer's remarks as opinions — which the Act does not cover.
Associate Professor Alton Chua of the Nanyang Technological University had said that he saw Mr Bowyer's case as one of information asymmetry. "The inner workings of Temasek Holdings and GIC are not easily accessible to the man on the street," he had said.
BRAD BOWYER NOT APPEALING ORDER FOR NOW
Speaking to TODAY last week, Mr Bowyer said that he had no plans to appeal against the Government's order for now.
"There has been plenty of public debate, both points of view are out there and I think we have all got to move on with more important things for the country at the moment than take up both my time and resources, and obviously Heng Swee Keat and the Government's time and resources," he said.
While Mr Bowyer added that he had not ruled out the option, he said: "I don't think it would serve much purpose at the moment. As I said, I leave the option open, but probably this (not making an appeal) is the best course of action at the moment."