A close but difficult relationship
The Republic's often tumultuous relationship with its neighbour across the Causeway during Mr Lee Kuan Yew's tenure as Prime Minister was often attributed to his personal relationship with Malaysia's leaders.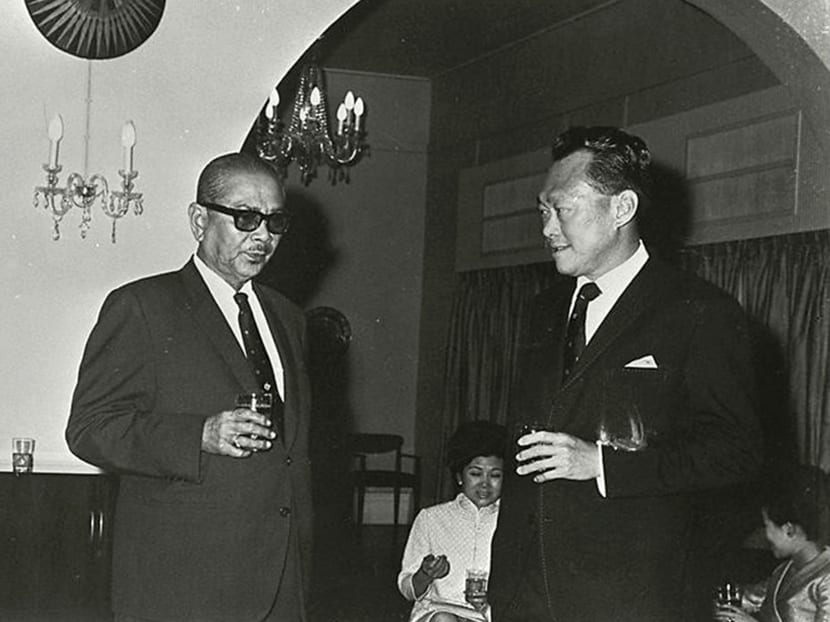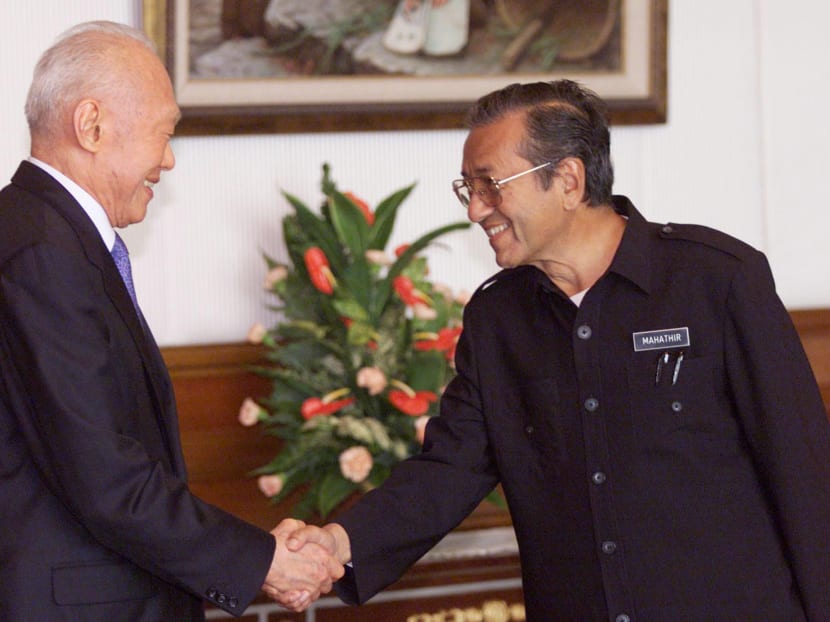 The Republic's often tumultuous relationship with its neighbour across the Causeway during Mr Lee Kuan Yew's tenure as Prime Minister was often attributed to his personal relationship with Malaysia's leaders.
But in Mr Lee's view, the root cause of the problems that arose when Singapore separated from Malaysia in 1965 lay in "our diametrically different approaches to the problems facing our two multiracial societies".
"A multiracial society of equal citizens was unacceptable to the UMNO leaders of Malaysia in 1965 and remained unacceptable in 1999," he said in his 2000 memoirs From Third World to First, referring to the United Malays National Organisation, the largest party in Malaysia's ruling coalition.
Malaysian politicians wanted independent Singapore "to be obliging and accommodating" in an abang-adik (big brother-little brother) relationship — "with little brother giving way graciously" to Malaysian interests, Mr Lee said.
Prime Minister Tunku Abdul Rahman tried to use three levers — the military, economy and water — to force Singapore to follow Malaysia's lead.
"We countered the military leverage by building up the SAF (Singapore Armed Forces). We overcame their economic hold by leapfrogging them and the region to link up with the industrial countries," Mr Lee said in 2000.
But Singapore had no choice but to continue to rely on Malaysia for water, which was to remain a major sticking point in bilateral relations for four decades.
Relations across the Causeway became "relatively trouble-free" for a few years after Mr Abdul Razak Hussein became Malaysia's Prime Minister in September 1970.
To mark improving bilateral relations since Singapore's independence, Mr Lee made his first official visit to Malaysia in March 1972. Mr Razak returned the visit in 1973. During the Razak years, relations between the two countries were "equable", with few serious disagreements, said Mr Lee.
Mr Lee had a good working relationship with Malaysia's third Prime Minister, Hussein Onn, whom he described as "open and direct" in their dealings, "coming straight to the point, unlike Razak".
Despite the amicable relations between Mr Lee and Mr Hussein, bilateral ties remained impeded by UMNO leaders who were suspicious of Singapore.
As Singapore grew, the Malaysian attitude towards economic cooperation was one of, in Mr Lee's words, "envy and disdain". Malaysia subsequently took a series of measures to reduce the import and export of goods through Singapore. For example, from 1973, all goods shipped from one part of Malaysia to another had to be consigned from their own ports, in order to qualify for import tax exemption.
Timber exports to Singapore were also banned, badly affecting the island's plywood factories and sawmills.
Johor leaders had also convinced Mr Hussein that Singapore was out to harm the Malaysian state and prevent its economic progress, noted Mr Lee.
Malaysia continued to take a series of actions that would slow down the Singapore economy.
For example, the Johor state government banned the export of sand and turf, while the federal government ruled that from 1977, all exports from Johor to East Malaysia had to be shipped through the Pasir Gudang port, instead of Singapore.
Despite such developments on the economic front, Mr Lee still had a good start with Malaysia's fourth Prime Minister, reaching out to Dr Mahathir Mohamad while he was still Deputy Prime Minister by inviting him to visit Singapore in 1978.
Expecting Dr Mahathir to succeed Mr Hussein, Mr Lee had wanted to put their old antagonism behind them.
Back in May 1965, during a session of the Malaysian Parliament in Kuala Lumpur, Dr Mahathir had denounced Singapore's People's Action Party, led by Mr Lee, as "pro-Chinese, communist-oriented and positively anti-Malay".
Dr Mahathir subsequently made several visits to Singapore, during which they had "long and frank exchanges of several hours each to clear the air surrounding our suspicions of each other", Mr Lee said.
Mr Lee told Dr Mahathir about Singapore's fears that Malaysia would cut off the water supply to the Republic — something that Malaysia publicly threatened to do whenever their bilateral differences cropped up — though the guarantee of water supply was part of the 1965 Separation Agreement.
Dr Mahathir said he accepted an independent Singapore and would not undermine it.
"I believed I had satisfied him that I was not interested in out-manoeuvring him, that I wanted a business-like relationship," Mr Lee said.
Despite the differences between the two that would emerge in later years, Mr Lee said he had made more progress solving bilateral issues with Dr Mahathir from 1981 to 1990 than in the previous 12 years with the latter's two predecessors.
Dr Mahathir's visit to Singapore in December 1981 — a few months after he took office — saw the two countries resolve many of their bilateral issues.
Dr Mahathir ordered the lifting of the ban on the export of construction materials to Singapore.
Malaysia agreed to return its unoccupied military camp in Singapore, and for the Republic to acquire a portion of Malayan Railway land at Tanjong Pagar station for an expressway extension. Both parties also agreed to sort out Malaysia's claim to Pedra Branca island.
In 1982, Mr Lee visited Dr Mahathir in Kuala Lumpur, where the two leaders moved from solving bilateral problems to negotiating new areas of cooperation under the Five-Power Defence Agreement, to counterbalance the Soviet Union's bases in Vietnam.
During the visit, Malaysia also affirmed it would honour the 1962 Water Agreement, to provide 250 million gallons of water per day to Singapore.
But it was not long before relations soured. In January 1984, an RM100 levy was imposed on all goods vehicles leaving Malaysia for Singapore, while October that year saw Malaysia reduce its import duty on a variety of foodstuff, mostly from China, provided that they were imported directly from the country of origin into Malaysia.
When Malaysia was told that the move violated rules of the General Agreement on Tariffs and Trade (the precursor of the World Trade Organization), the policy was amended to exempt duty on goods imported via sea and airport, but not via a land route such as the Causeway.
Relations were also strained when Israeli President Chaim Herzog made a state visit to Singapore in November 1986.
Before stepping down as Prime Minister in 1990, Mr Lee tried to resolve outstanding issues with Malaysia. These included the relocation of Singapore's customs and immigration facilities from Tanjong Pagar to Woodlands, to stop drug traffickers from tossing drugs out of train windows.
After several months of negotiations, a Points of Agreement was signed on Nov 27, 1990 — the day before Mr Lee stepped down.
The two countries agreed on joint development of three main parcels of land at Tanjong Pagar, Kranji and Woodlands, with Malaysia having a 60 per cent share and Singapore 40 per cent. Three years later, however, Malaysia said the agreement was unfair as it did not include a piece of railway land at Bukit Timah for joint development.
And despite Dr Mahathir confirming that Malaysia would move its Customs, Immigration and Quarantine (CIQ) post to Woodlands in April 1992, Malaysia decided in June 1997 to retain its CIQ at Tanjong Pagar.
Even after stepping down as Prime Minister, Mr Lee's views continued to draw strong reactions from across the Causeway. In September 1998, for example, excerpts from Mr Lee's memoirs of the events leading to separation from Malaysia in his memoirs — carried by Singapore's newspapers before the book's launch — angered Malaysian leaders.
Despite such diplomatic hiccups, Mr Lee continued to follow up on unresolved bilateral issues. However, it was only in 2010 that Singapore's Prime Minister Lee Hsien Loong and his Malaysian counterpart, Mr Najib Razak, finally managed to settle outstanding issues relating to the 1990 Points of Agreement (POA), including moving the Malaysian Railway station from Tanjong Pagar to the Woodlands Checkpoint in July 2011.
Summing up Singapore's ties with Malaysia, Mr Lee Kuan Yew said in his 2000 memoirs: "At the end of the day, however deep-seated differences between the two, both sides know that if they lash out at each other without restraint, there is a risk of unscrambling the interracial harmony that holds each country's multiracial society together."