From mudflat to metropolis
The singular motif in Mr Lee Kuan Yew's blueprint for this unlikely city-state's success was an unrelenting drive to be outstanding — and the visionary knew the most dramatic display of this, following independence, would be by swiftly metamorphosing Singapore's look and feel to his exacting standards.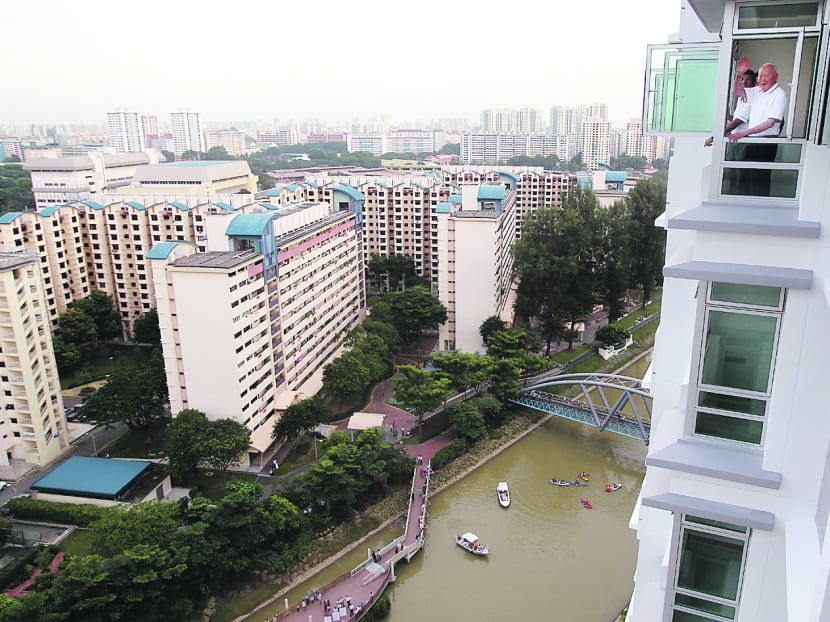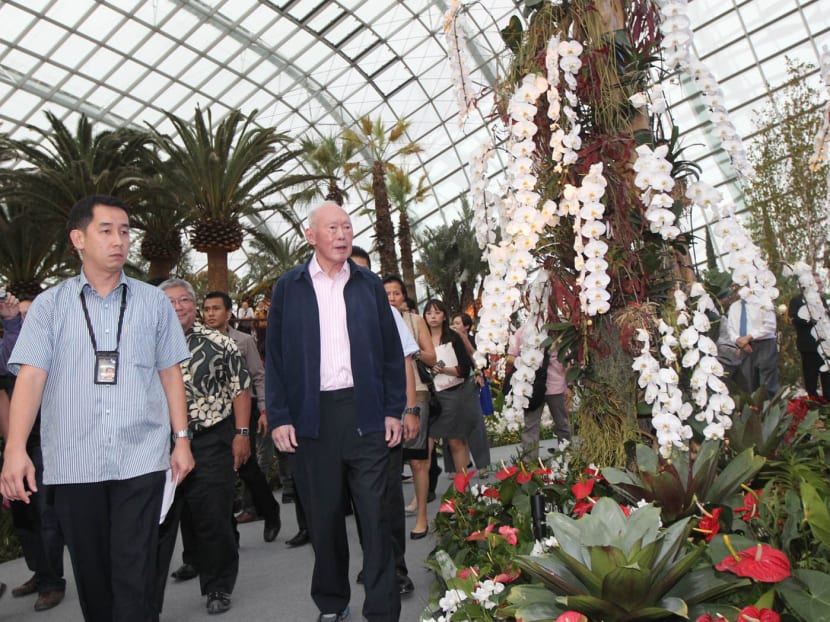 The singular motif in Mr Lee Kuan Yew's blueprint for this unlikely city-state's success was an unrelenting drive to be outstanding — and the visionary knew the most dramatic display of this, following independence, would be by swiftly metamorphosing Singapore's look and feel to his exacting standards.
This strategy of viscerally distinguishing the Republic to potential investors derived from Mr Lee's astute conclusion that sound, far-sighted planning of its landscape was central to its lasting success, be it in fostering social cohesion, spurring economic viability or overcoming its vulnerabilities.
This is why he personally had a hand in many of its physical developments. His ideas and thinking continue to influence new projects, such as Punggol Eco-Town and Marina Barrage.
GREENING A COUNTRY
Mr Lee's first project of this strategy, creating a "clean and green" Singapore, was the most "cost-effective" and yet most far-reaching — a single-handed crafting of the Republic's reputation as a fastidious Garden City.
He planted a mempat tree in Farrer Circus on June 16, 1963, to symbolise the birth of his annual Plant-A-Tree campaign — and marked its half-century in 2013 by planting a rain tree in Holland Village Park.
He sought to eradicate the "rough and ready ways" of people through anti-spitting and anti-littering campaigns and legislation — placing the Anti-Pollution Unit, set up in 1970, under the Prime Minister's Office to signal his personal interest in the cause. He also resettled street hawkers into properly-designed food centres and markets.
This objective of creating a "First World oasis" to leapfrog the rest of South-east Asia, as the Israelis had done in their own region, was so that businessmen and tourists would pick Singapore as a base.
Describing the impact of showing off a neat and spruced-up city lined with shrubs and trees to visiting chief executives who were considering investing millions here, Mr Lee wrote in his memoirs: "Without a word being said, they would know that Singaporeans were competent, disciplined and reliable, a people who would learn the skills they required soon enough."
This belief sprung from his own reactions in his travels: "What impressed me was not the size of the buildings, but the standard of their maintenance. I knew when a country and its administrators were demoralised from the way the buildings had been neglected — washbasins cracked, taps leaking, water-closets not functioning properly, a general dilapidation and inevitably, unkempt gardens."
In 1973, a Garden City Action Committee was set up to report regularly to Mr Lee on national greening efforts. Ex-Prime Minister Goh Chok Tong once remarked that Singapore was possibly the only country where gardening reports were read in Cabinet.
But Mr Lee pursued greening for more than the economic or aesthetic benefits. Ensuring the island was clean and green, and not only within privileged neighbourhoods, served the purpose of creating "a sense of equal-ness in this society" — critical for a fledgling nation made up of immigrants without a common historical experience.
"Greening raised the morale of the people and gave them pride in their surroundings ... We did not differentiate between middle-class and working-class areas," he said. "No society like that will thrive. We were going to have National Service. No family will want its young men to die for all the people with the big homes and those owning the tall towers."
Over the decades, Mr Lee continued to act as Singapore's chief gardener. Numerous tales are told of how he would send back notes of trees and plants he came across overseas that he thought would do well in Singapore.
Former civil service mandarin Peter Ho recalls how Mr Lee once sent the Ministry of Defence a memo — he had driven past Khatib Camp and noticed that it was sparsely planted. He suggested trees and plants he thought would be suitable. "Apart from this awe-inspiring familiarity with all these botanical details, it struck me then how serious he was about the greening of Singapore," said Mr Ho.
An iconic tribute to his legacy today is the S$1 billion Gardens by the Bay project aimed, naturally, at boosting Singapore's economic and tourism appeal, and for which its CEO Tan Wee Kiat has credited Mr Lee's support.
HOUSING
With a housing crisis on its hands in 1959, the People's Action Party (PAP) had to set about tackling the challenge of re-housing Sing­aporeans from slum settlements into public housing blocks. The Housing and Development Board (HDB) estimated the Government had to build an average of 14,000 housing units per year from 1959 to 1969, but the private sector then had the capability to provide only 2,500 a year.
It was also a politically sensitive venture, having to break up the racial enclaves that were a colonial legacy and assuage Muslim fears that the demolition of many dilapidated small mosques was not "anti-Islam" (a programme to build new and bigger mosques with the community's help was pioneered).
Redevelopment required phasing out 8,000 farms rearing 900,000 pigs and many food-fish ponds. These farmers knew no other livelihood and, used to living in "shanty huts with a hole in the ground or a bucket in an outhouse", they suffered "culture shock" and could not break their habits when moved into high-rise flats.
Many refused to use the lifts and some even brought their pigs, ducks and chickens to live with them.
"We had a resettlement unit to deal with the haggling and bargaining involved in every resettlement, whether of hawkers, farmers or cottage industrialists. They were never happy to be moved or to change their business," Mr Lee recounted. "This was a hazardous political task which, unless carefully and sympathetically handled, would lose us votes in the next election."
But the result of this massive exercise was a home-owning society — more than 90 per cent of the 85 per cent of Singaporeans living in HDB flats today own their homes. This, Mr Lee and then Minister for Finance Goh Keng Swee facilitated by expanding the Central Provident Fund (CPF) in 1968 so workers could tap their savings to buy a home.
Said Mr Lee: "If you ask people to defend all the big houses where the bosses live … I don't think that's tenable. So, we decided from the very beginning, everybody must have a home, every family will have something to defend ... and that home we developed over the years into their most valuable asset."
For example, Mr Lee mooted upgrading programmes in 1989 to "prevent older estates from looking like slums", substantially raising their worth.
He also asked the HDB in 1974 to improve the quality and vary the flat designs and landscaping of new towns to add distinctiveness and character by "exploiting unique site features such as undulating terrain and ponds", a visionary idea encapsulated in the new Punggol Eco-Town's concept.
WATER
Mr Lee realised water resource management had to be central to a state's development plans decades before the world became aware of the importance of doing so — and made this a national priority he took a direct hand in.
Small wonder, since Singapore depended on its neighbour Malaysia for the bulk of its water supply. In 1971, Mr Lee set up the Water Planning Unit in the Prime Minister's Office and asserted that "every other policy has to bend (at) the knees (for) our water survival".
"There has never been a Prime Minister anywhere else who has had so much interest in the environment in general, and water in particular," said Professor Asit Biswas and Dr Cecilia Tortajada, authors of The Singapore Water Story, who were instrumental to the Public Utilities Board winning the Stockholm Water Industry Award in 2007.
There are few episodes more telling of Mr Lee's foresight and political courage to make tough decisions for the long-term good than his plan to dam up all streams and rivers. The "most ambitious" part of this was the clean-up of the filthy Singapore River and Kallang Basin — a daunting exercise that, because the river drew hordes of squatters, hawkers and backyard industries, reluctant bureaucrats sidestepped until Mr Lee delivered an ultimatum in 1977.
It was an unpopular move that entailed moving out more than 40,000 squatters and 600 pig farmers, as well as relocating 5,000 street hawkers who were accustomed to doing business rent-free into proper buildings where they had to pay rent and utilities charges. Disgruntled, many of them voted against the PAP for years after.
But this "massive engineering job" of laying underground sewers for the whole island, so streams and rivers were free of sewage and aquatic life would 
return, was undertaken with the determination to inch Singapore towards water self-sufficiency, addressing one of its greatest security vulnerabilities.
The project paved the way for waterways to become essential water catchment areas. The 15th of these was the Marina Barrage, which sprang from Mr Lee's idea in the 1980s to dam the mouth of the Marina Channel to create a freshwater reservoir in the heart of the city.
And though the 10-year river clean-up cost a hefty US$240 million (S$325 million) and had a political price, Mr Lee's vision was vindicated when land values along the riverbanks soared, as did tourism and business.
If not for Mr Lee's political will and extraordinary insight, this mudflat would never have physically transformed into the metropolis it is today.
Without this futurist, hosting pinnacle events on urban solutions and sustainable development such as the World Cities Summit and Singapore International Water Week would have been beyond the city-state's reach.
More in our Special Edition this afternoon (March 23).