When the gloves came off
When journalist Dennis Bloodworth in 1989 described Mr Lee Kuan Yew as "bloody-minded and ruthless with his adversaries. He stomps them into the ground", he was using metaphors no less graphic and remorseless than ones Mr Lee was wont to use about himself.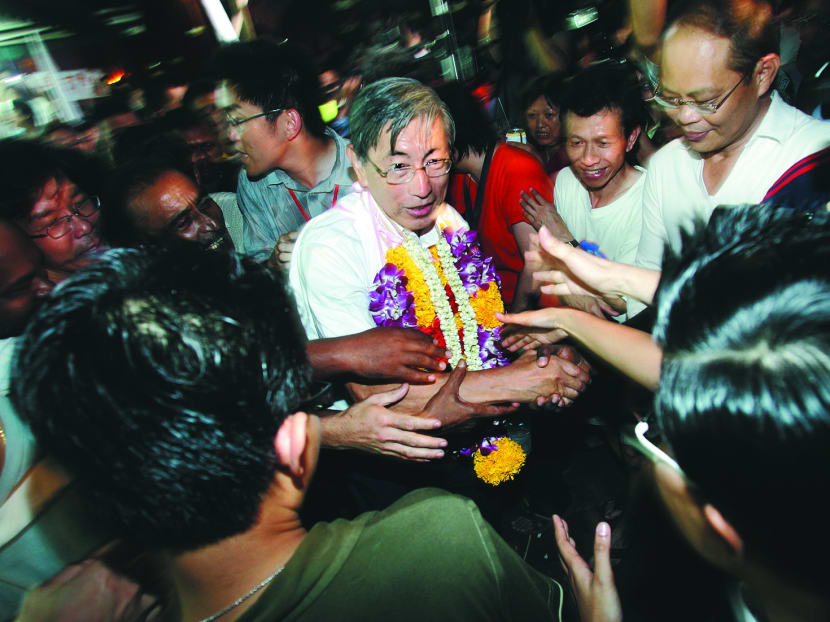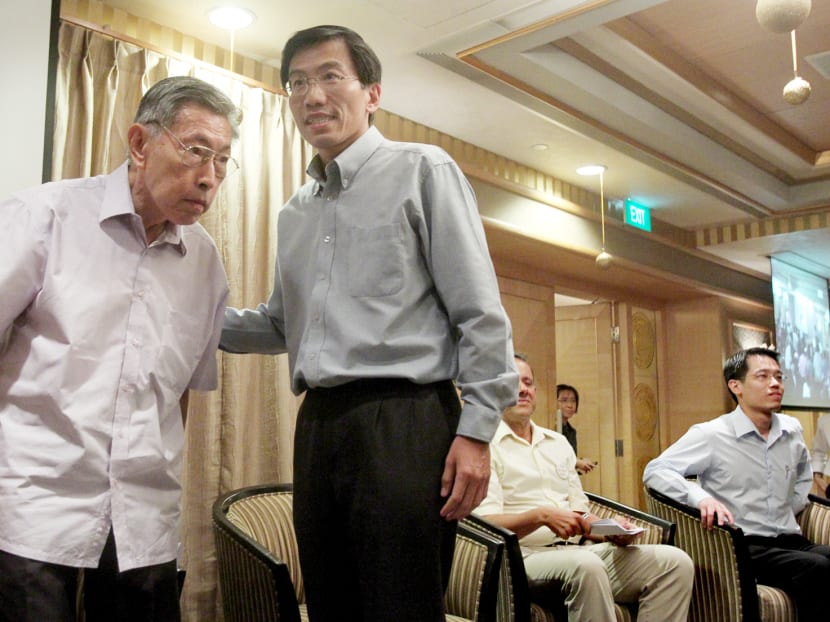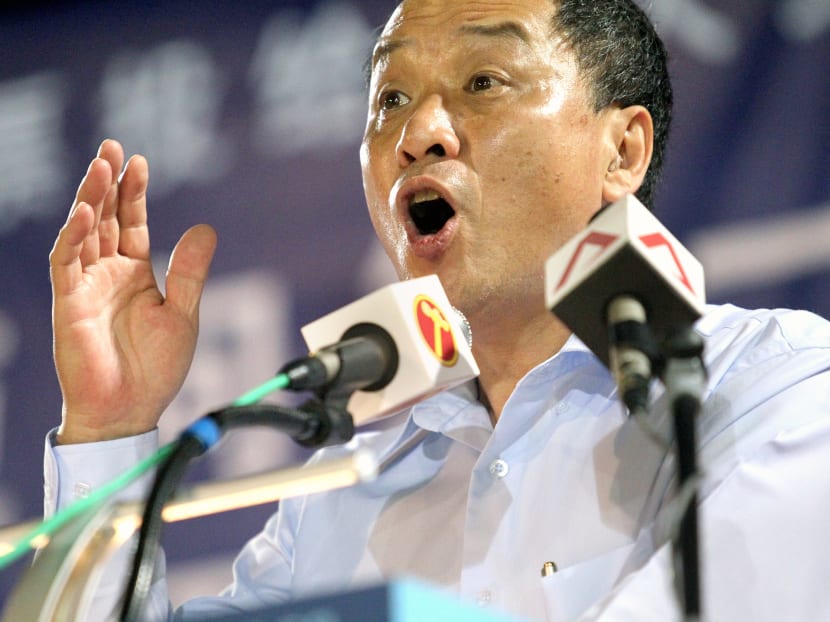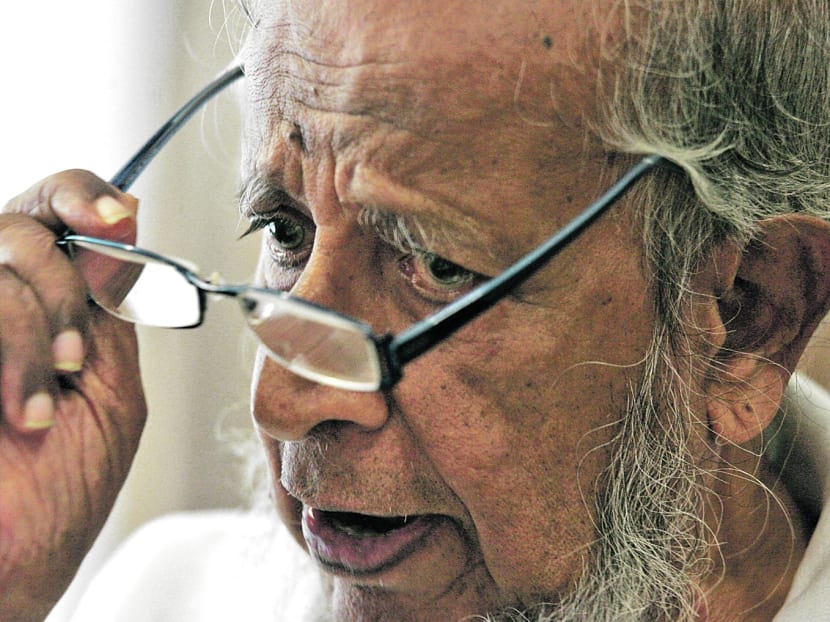 When journalist Dennis Bloodworth in 1989 described Mr Lee Kuan Yew as "bloody-minded and ruthless with his adversaries. He stomps them into the ground", he was using metaphors no less graphic and remorseless than ones Mr Lee was wont to use about himself.
As he famously said in a book interview: "Everybody knows that in my bag I have a hatchet, and a very sharp one. You take me on, I take my hatchet, we meet in the cul-de-sac. That's the way I had to survive in the past. That's the way the communists tackled me."
It was in the rough-and-dirty politicking of pre-Independence Singapore that this Cambridge-trained lawyer learnt to be a tough street-fighter, taking on the British, the communalists in Malaysia and the pro-communists, people who were "utterly ruthless", in his words. And that was the style with which he took on his later adversaries, or potential adversaries — be they unionists, the media or political opponents.
"Anyone who takes me on needs to put on knuckle-dusters," he once said.
Indeed, in many instances, he saw his own foes as foes also of the long-term good of Singapore – and he was determined that nothing should undermine all that had been achieved.
As he thundered at a 1980 General Election rally: "You unscramble this – the confidence, the organisation upon which Singapore thrives – and you've had it. And let there be no mistakes about this – whoever governs Singapore must have that iron in him or give it up!
"This is not a game of cards – this is your life and mine! I've spent a whole lifetime building this and as long as I am in charge — nobody is going to knock it down!"
THE LABOUR UNIONS
One of the earliest challenges for Mr Lee's team was the labour unions. A landmark confrontation took place two years after Independence.
The president of the Public Daily Rated Employees' Union, K Suppiah, refused to negotiate over grievances and launched an illegal strike – involving 2,400 workers and threatening to embroil another 14,000. The strike's leaders were arrested and labour laws were changed to ban all strikes in certain essential services.
This was a turning point in the nation's industrial history – from the "happy, riotous 1950s" when union power was on the rise, to a "highly vulnerable" state where "the government could not allow any union to jeopardise Singapore's survival", according to Mr Lee. He persuaded union leaders that to win investors' confidence and create jobs, industrial peace was necessary.
And to enforce this peace – particularly in a key entity such as in the national airline, Singapore Airlines – he was ready to "break heads".
Singapore Airlines at its birth in 1972 was a key project aimed at boosting the international linkages the economy needed, and Mr Lee had personally secured the pact for SIA's first and most lucrative route then, to London. So when its pilots association took illegal industrial action in 1980, Mr Lee confronted them, threatening: "I do not want to do you in, but I will not let anyone do Singapore in."
Fifteen ex-co members were charged and convicted, and the association was deregistered and re-formed as the Air Line Pilots' Association Singapore (ALPA-S).
In 2003, following a leadership ouster at ALPA-S and a dispute with management that threatened to cost the airline hundreds of millions of dollars in losses, the Senior Minister summoned 14 of the union leaders to the Istana for a two-hour meeting.
As he later told a global forum: "In Singapore, when we decide that they are breaking the rules of the game, the unspoken rules as to how we survive, how we have prospered, then either their head is broken or our bones are broken … So we are telling them, both management and unions, 'you play this game, there are going to be broken heads'. Let's stop it."
But the iron fist was not the only thing Mr Lee was about. Permanent Secretary Yong Ying-I highlighted the care with which he had designed the Labour Court — not involving lawyers in hearings, so as to encourage settlement of disputes rather than an adversarial approach; and there being no fees to act as an obstacle. The top priority was "to give companies and workers no excuse not to settle".
POLITICAL OPPONENTS
For all his ruthless legal actions against key political opponents since the People's Action Party's (PAP) dominance of Parliament was broken in the 1980s, Mr Lee was not against the idea of having a good parliamentary opposition — something that would provide ministers with sparring partners to keep them on their toes.
"I have said if we have a credible First World opposition, we'll treat them with First World civility," he wrote. "If you are polite to me, I'm polite to you, but I'll demolish your policy. It is the job of every government to do that if you want to stay in power."
On Mr Chiam See Tong, he noted: "I've never been rough with Chiam. He's gentle, I'm gentle. He's a decent man and I respect him for that."
But woe betide those who accused him of corruption or misusing his powers of office; or who set out to be destructive "trouble-makers". Mr Lee unleashed the full force of not only his oratory, but also his legal weaponry on them.
And he made no bones about using libel suits to remove his political rivals. "If we had considered them serious political figures," he said of Mr Chiam and Workers' Party's Low Thia Khiang in 2003, "we would not have kept them politically alive for so long. We could have bankrupted them earlier."
His fiercest and most bitter antagonist was Mr Joshua Benjamin Jeyaretnam. After winning the 1981 Anson by-election, Mr Jeyaretnam became a thorn in the PAP's side. Although barred from contesting the 1988 General Election upon conviction of misappropriating funds, he spoke at the campaign rallies and alleged that Mr Lee had tried to cover up former National Development Minister Teh Cheang Wan's corruption. He lost the defamation suit and was ordered to pay S$260,000 in damages to Mr Lee.
Other actions followed in 1995 and 1997, brought by other PAP MPs, and in 2001 Mr Jeyaretnam was declared bankrupt. Mr Lee said bluntly in 1997: "As long as Jeyaretnam stands for what he stands for — a thoroughly destructive force for me — we will knock him.
"There are two ways of playing this. One, you attack the policies; two, you attack the system. Jeyaretnam was attacking the system, he brought the Chief Justice into it. If I want to fix you, do I need the Chief Justice to fix you? … He brought the Chief Justice into the political arena. He brought my only friend in university into our quarrel. How dare he!"
Another Opposition leader who became the target of two libel suits by Mr Lee was Singapore Democratic Party (SDP) chief Chee Soon Juan — first after the 2001 GE and again in 2008 for an article in the SDP's newsletter. In the latter case, Mr Lee took the stand along with fellow plaintiff Prime Minister Lee Hsien Loong.
The point Mr Lee was making in all this, said former Cabinet Minister S Jayakumar, was: "He is prepared for a robust criticism of his policies. He can be criticised for foolishness, maybe even for incompetence, for arrogance, but his red line was: Not on reputation and integrity … he would want to demonstrate that that is a red line, you justify it. He's prepared to justify his record."
THE MEDIA
To Mr Lee, the idea of a free press as the "fourth estate" was anathema.
"Freedom of the press, freedom of the news media, must be subordinated to the overriding needs of the integrity of Singapore, and to the primary purposes of an elected government," he declared in 1971 to a General Assembly Of The International Press Institute.
And that was what he set out to drill into the Singapore media — to act "as a positive agent in nation-building". He would brook nothing less.
In a speech to the Singapore Press Club in 1972, Mr Lee warned: "When any newspaper pours a daily dose of language, cultural or religious poison, I put my knuckle-dusters on. Do not believe you can beat the state." Indeed, former Singapore Press Holdings English and Malay Newspapers Division Editor-in-Chief Cheong Yip Seng described the 1970s as "the bare-knuckles phase in the turbulent history of government-media relations".
In 1973, for example, Mr Lee demanded that a Sunday Nation writer be sacked for decrying the relentless pursuit of good grades – what Mr Lee saw as a critique of education policy.
The Newspaper and Printing Presses Act of 1974 set the framework for greater government control of the media; later amendments restricted the circulation of foreign publications that engaged in Singapore politics or refused to grant the Government a right of reply. This was because Mr Lee believed the foreign press should be observers and not participants in domestic politics.
"If we do not stand up to answer our critics from the foreign media, Singaporeans, especially journalists and academics, will believe that their leaders are afraid of or unequal to the argument, and will lose respect for us," Mr Lee wrote in his memoirs.
Over the years, restrictions were imposed on the local circulation of various international publications that refused to print in full the Government's reply to articles: Time Magazine, the Asian Wall Street Journal, Asiaweek magazine, the Economist.
The Far Eastern Economic Review, in addition to having its circulation cut from 9,500 copies to 500 in 1987, also was hit with a libel suit, which Mr Lee won, in 1989. The International Herald Tribune came in for a couple of libel suits in 1994.
To criticisms that he came down too hard on the media and political opponents, Mr Lee countered: "Wrong ideas have to be challenged before they influence public opinion and make for problems. Those who try to be clever at the expense of the government should not complain if my replies are as sharp as their criticisms."