11 men charged with multi-million fuel heist from Shell's Bukom plant
SINGAPORE — Eleven men involved in a multi-million dollar fuel heist were charged in court on Tuesday (Jan 9) with misappropriating, and receiving fuel from Shell's plant in Pulau Bukom.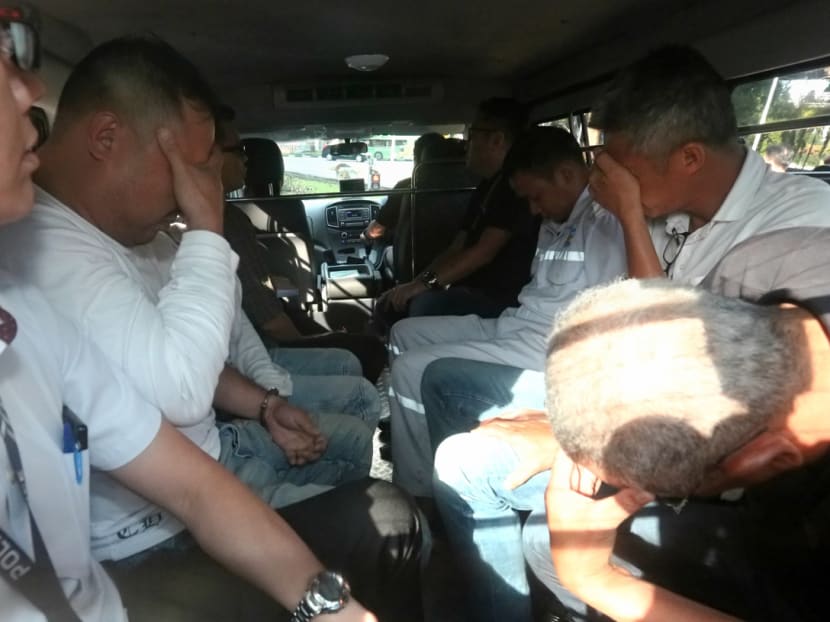 SINGAPORE — Eleven men involved in a multi-million dollar fuel heist were charged in court on Tuesday (Jan 9) with misappropriating, and receiving fuel from Shell's plant in Pulau Bukom.
The men were part of a group of 17 arrested, after the police conducted an islandwide sting operation on Sunday following a police report lodged by Shell Singapore in August last year.
The 11 charged on Tuesday are: Muzaffar Ali Khan Muhamad Akram, Juandi Pungot, Cai Zhi Zhong, Tiah Kok Hwee, Koh Choon Wei, Muhammad Ali Muhammad Nor, Mohd Ibrahim K Abdul Majid, Abdul Latif Ibrahim, Richard Goh Chee Keong, Nguyen Duc Quang, and Dang Van Hanh. It is not known when the remaining six of the 17 suspects would appear in court.
According to court documents, among the accused are eight Singaporeans who are employees of Shell. There is another Singaporean suspect who is not an employee of the company. They each face one count of criminal breach of trust by a clerk or servant, an offence punishable with a jail sentence of up to 15 years, and a fine.
Two Vietnamese nationals, Nguyen and Dang, are both accused of dishonestly receiving stolen property. If convicted, they can be jailed up to five years and fined.
Court documents showed three different conspiracies, all amounting to more than S$2.4 million worth of fuel. 
On Nov 21 last year, Muzaffar, Juandi, Cai, Tiah, and Koh are said to have jointly misappropriated some 2,322 tonnes of Shell fuel, worth around S$1.27 million. 
The five men, who are Shell employees at the time of their offences, were allegedly at it again on Jan 7. This time, they conspired with Muhammad Ali and stole some 1,260 tonnes of Shell fuel, valued at around S$688,000. Muhammad Ali is not a Shell employee and it is unclear who he was working for. 
The loot was then believed to be moved onto a Panama-registered vessel, Prime South, which Nguyen, 46, and Dang, 37, were on. It is not known how the duo are related to the five Shell employees. 
A check online showed the vessel to be docked off Pulau Bukom. It was supposed to be bound for Vung Tau in Vietnam by Jan 10. 
As for Goh, Ibrahim and Latif — who were Shell employees — they allegedly conspired on Jan 5 to misappropriate more than 800 tonnes of fuel, worth around S$437,800, from the company. 
Deputy Public Prosecutor Stephanie Chew said that, as investigations are still ongoing, additional charges may be brought against them.
Of the 11, only Koh, Goh and Cai are represented by lawyers. The rest have told the court that they intended to get a lawyer.
No indication of plea was heard in court on Tuesday.
Nguyen and Dang will return to court on Jan 16, while the rest will be brought back on Jan 15.
During Sunday's islandwide operation, the police seized around S$3.05 million in cash, as well as the tanker, which weighed approximately 12,000 tonnes.
"The police also initiated the freezing of the suspects' bank accounts to prevent dissipation of suspected criminal proceeds," the police said in a media release issued on Monday night.
Shell Singapore said in a media statement on Monday night that it reported the suspected theft to the police after "we became aware that we may have been the victim of a crime".
It did not elaborate on how much fuel was lost, citing ongoing investigations by the police. 
In an internal staff memo seen by TODAY on Tuesday, Shell Singapore's Country Chair Goh Swee Chen said some additional employees may be asked to assist the police with the investigation and "we expect everyone to cooperate fully".
Ms Goh added that, to continue to cooperate with the police and to support the employees, "we have asked some people to take time away from work until further notice".
"This gives them time to focus on their own care and, at the same time, minimises distractions at work," she said in the memo. "Counselling and support are available for impacted employees."
Ms Goh said that while the company anticipated a "short delay in supply operations in Bukom", Shell still expects to "meet our contractual supply obligations to customers".
"All Shell employees are expected to comply with our Code of Conduct and to uphold the highest standards of ethical behaviour," she said. "Breaches are not tolerated and carry serious consequences, up to and including dismissal."
 
WHO ARE THE 11 CHARGED
SHELL SINGAPORE
Muzaffar Ali Khan Muhamad Akram, Singaporean, 36
Juandi Pungot, Singaporean, 41
Cai Zhi Zhong, Singapoean, 34
Tiah Kok Hwee, Singaporean, 41
Koh Choon Wei, Singaporean, 35
Mohd Ibrahim K Abdul Majid, Singaporean, 52
Abdul Latif Ibrahim, Singaporean, 59 
Richard Goh Chee Keong, Singaporean, 48
PRIME SOUTH
Nguyen Duc Quang, Vietnamese, 46
Dang Van Hanh, Vietnamese, 37
UNKNOWN
Muhammad Ali Muhammad Nor, Singaporean, 51