Subsidised vaccinations, smart watches and e-health booklets among recommendations for a healthier Singapore
SINGAPORE — In a bid to transform how Singapore promotes healthy living, a taskforce has set out wide-ranging recommendations such as subsidised vaccinations, smoking cessation programmes and workplace workouts.
SINGAPORE —  In a bid to transform how Singapore promotes healthy living, a taskforce has set out wide-ranging recommendations such as subsidised vaccinations, smoking cessation programmes and workplace workouts.
These recommended programmes will target more groups of Singaporeans holistically and will be progressively rolled out. It arose from the HealthySG taskforce chaired by Mr Amrin Amin, Senior Parliamentary Secretary of Home Affairs and Health, a media release by the Health Ministry said on Sunday (July 28).
EMPOWERING INDIVIDUALS
As there are barriers preventing Singaporeans from taking personal responsibility of their health, such as affordability concerns and lack of accessibility to services, the taskforce identified several ways to encourage individuals to have greater ownership of their health.
Vaccination subsidies: To increase the affordability of vaccines, the taskforce recommended subsidies for vaccines under the National Adult Immunisation Schedule (NAIS) against diseases such as Influenza, Hepatitis B, chickenpox and the human papillomavirus by the end of 2020. MOH aims to more than triple the current vaccination coverage for these recommended adult vaccines to over 50 per cent within five years from the roll out of the subsidies — the current coverage is around 14 per cent for influenza vaccination and 12 per cent for pneumococcal vaccination in persons aged between 65 and 74.

Smoking cessation support: The Government will pilot new smoking cessation programmes, such as subsidised nicotine replacement therapies and intensive smoking cessation counselling, to encourage some 10,000 smokers over the next two years to quit. One in six smokers contemplates quitting but only three in 100 take action to stop smoking. The programmes, which will cost S$5 million and start from 2020, will encourage more people to quit smoking, with a target to lower smoking prevalence among Singapore residents from 12 per cent in 2017 to below 10 per cent.

Health promotion through wearables: Working with manufacturers, Singapore can provide technology-enabled, personalised coaching solutions for health promotion. This can be done through wearables — smart watches or fitness devices — to capture biometric data, nudging users towards achieving their health goals. Think of it as a high-tech version of the National Steps Challenge.

Lifelong Virtual Health Booklet: Remember the child health booklet? The taskforce recommended one for adulthood, but this time it is voluntary, fully digital and gives users a personalised dashboard to look at one's health status, with data taken from national databases. A first version of this virtual booklet, targeting 40- to 59-year-old Singaporeans, is slated to be out by end-2020.
COMMUNITY ENGAGEMENT
The taskforce also found that it could enhance people's experience with the current services by requiring agencies to be more "integrated and targeted" in their programming, said MOH's statement.
Low-income groups, for example, are more likely to have health risks. The ministry's national population surveys have shown these groups generally smoke more, have higher body mass index, exercise less and eat more unhealthily.
Customised HealthySG support programme: Run by the Health Promotion Board and meant for low-income households and other disadvantaged groups, the taskforce recommended a "Passport Scheme" from the second quarter next year, which will encourage these families and individuals to participate in activities — such as healthy eating trails, supermarket tours, cooking classes and nutrition workshops — and earn incentives when they do. The programme aims to reach at least 15,000 residents, and will tap community and neighbourhood networks for support.

Active living programmes for working adults and seniors: The Young Working Adults Project will extend ActiveSG's Active Health Lab physical activity readiness assessments in weekly HPB-run exercise sessions directly to the workplace, starting with three companies from the last quarter of this year. To promote active ageing and raise awareness in fall prevention, seniors above 50 can also take part in events by ActiveSG and People's Association. In total, these programmes aim to shift around 200,000 people with sedentary lifestyles to active ones by 2024.

One-stop service platforms: The taskforce recommended a seamless process to book sports and community facilities, without one having to go to different platforms to do so. Healthpoints, accumulated by performing healthy actions such as buying healthy food and used to exchange for shopping vouchers, can also be converted into ActiveSG credits and be used for booking facilities.

Enhanced training for health volunteers: To boost community involvement, the HPB will provide training of soft-skills and health skills, and eventually involve other volunteer networks like SG Cares. HPB health ambassadors can also be integrated with the network of public hospital volunteers from 2020 onwards.
HEALTHY ENVIRONMENT
Adding to existing efforts to promote health through good urban design and planning, the taskforce recommended more ways for health agencies and infrastructure to support healthy living.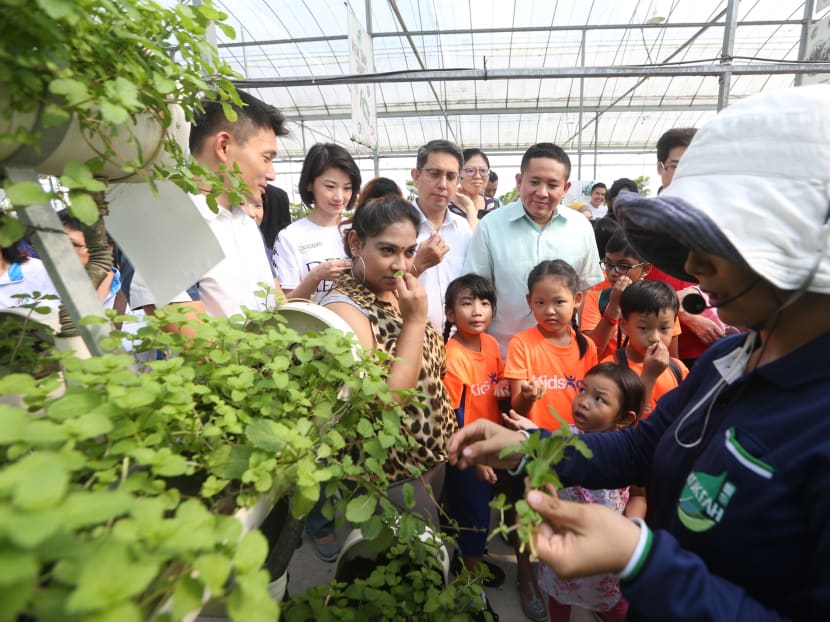 Healthy Precinct Toolkit to encourage community ownership: Starting with the Jurong Spring Housing Board estate from the end of this year, the new toolkit by the Health Ministry will mean more collaboration and coordination with residents to plan health solutions. This will allow the community to shape their social and physical environment based on their health needs from the bottom up. Another site has been identified in Woodlands.
Healthier food options: About 30 more HDB tenders will be awarded for new eating houses that will include healthy eating as a component of the tender score over the next five years. There are 10 already awarded so far. HPB will also increase the number of stalls that offer at least two healthier options by 400 in the next two years. These will increase the number of healthier meals sold under the Healthier Dining Programme by half a million per month.
Co-funding more facilities: To encourage active mobility, the Land Transport Authority will co-fund facilities such as showers and lockers at workplaces, which will enable commuters to freshen up at their destinations.
ABOUT THE TASKFORCE
The taskforce was formed in November 2018 and has engaged more than 300 Singaporeans aged between 18 and 60 through focus group discussions, public engagement sessions and an online consultation to hear their views on how to chart a path for a healthier Singapore.
Chaired by Mr Amrin, its other members include Mr Baey Yam Keng, Senior Parliamentary Secretary for Transport, and Culture, Community and Youth; Ms Low Yen Ling, Senior Parliamentary Secretary for Education and Manpower; Associate Professor Faishal Ibrahim, Senior Parliamentary Secretary for Social and Family Development and Education; and Ms Sun Xueling, Senior Parliamentary Secretary for Home Affairs and National Development. The taskforce also involves multiple ministries and agencies.
More details of each recommendation will be revealed at a later date.
Mr Amrin said: "We believe that the key success factor to the transformation of health promotion is to work with each and every Singaporean — from individuals to health practitioners, community and the grassroots, as well as industry partners — to ensure the effective co-delivery of these initiatives."