16 Omicron cases detected in Singapore so far; MOH stresses vaccinations, boosters are 'best protection'
SINGAPORE — Eight new confirmed Omicron cases have been detected in Singapore as of Tuesday (Dec 14), along with six other cases from early testing of the new coronavirus strain also confirmed by genomic sequencing, the Ministry of Health (MOH) said.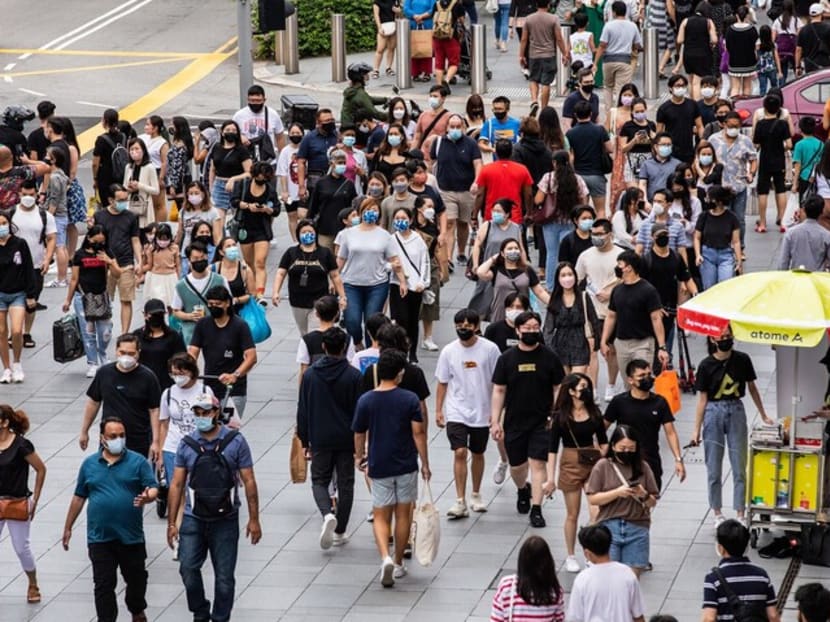 Eight new cases of the Covid-19 Omicron variant have been confirmed in Singapore
That takes the total number of cases of people infected by this virus strain to 16
Of the 16, 14 are imported and two were airport workers
The patients have had minimal interaction in the community
Boosters and vaccination are Singapore's best protection against any looming wave of the Omicron variant, MOH said
SINGAPORE — Eight new confirmed Omicron cases have been detected in Singapore as of Tuesday (Dec 14), along with six other cases from early testing of the new coronavirus strain also confirmed by genomic sequencing, the Ministry of Health (MOH) said.
Together with two people confirmed on Dec 6 to be infected by this variant, the total number of these cases detected here is now 16, MOH said in a media statement on Tuesday.
Of the 16, 14 were imported and the other two were airport passenger service staff members.
With the Omicron variant now detected in more than 60 countries and evidence showing that it is at least as transmissible as currently circulating variants, community cases of Omicron are expected to rise, the ministry said.
Vaccinations and boosters are the best protection against an "unknown and likely highly transmissible" Covid-19 variant such as Omicron. So far, the Omicron cases detected here had "minimal interactions in the community", it added.
All of these patients are fully vaccinated with no or mild symptoms, and 13 of them are recovering in isolation wards at the National Centre for Infectious Diseases. Three have been discharged. 
"Active contact tracing is being conducted to ring-fence close contacts of these cases and reduce onward transmission once infection with the Omicron variant is suspected, through the detection of S-gene target failure in their test results," MOH said.
"This includes quarantine at designated facilities. The National Public Health Laboratory subsequently confirms infection with the Omicron variant through genomic sequencing of the test samples.
"Global observations continue to suggest that most infections with the Omicron variant are either asymptomatic or with mild symptoms, although it is still unclear whether the Omicron variant causes overall less severe disease than other strains." 
It added that early real-world studies also suggest some degree of immune evasion that could result in an increased risk of breakthrough infections among people who have recovered from Covid-19 and are vaccinated.
As such, the ministry highlighted that boosters are needed to increase one's immunity and mitigate any effects of immune evasion.
To encourage more people to get vaccinated and boosted, MOH announced last week that it will begin vaccination for children aged five to 11 years before the end of this year, using the paediatric doses of the Pfizer-BioNTech vaccine.
Education Minister Chan Chun Sing said on Tuesday morning that if Covid-19 vaccines for children between the ages of five and 11 arrive as scheduled, the booking of vaccination appointments will open up progressively from next week.
The immunisation exercise will then start from the end of this month for children in Primary 3 to 5, and early next year for the younger ones.
The booster programme is being rolled out from Dec 14 to people aged 18 to 29 years.
The ministry said that all eligible persons will be able to receive their booster dose of a messenger ribonucleic acid (mRNA) vaccine five months after completing their primary series vaccination regime. These would be the Pfizer-BioNTech or Moderna vaccines.
As domestic and international data indicate that there is a lower risk of serious allergic reactions such as anaphylaxis from booster vaccination doses of mRNA vaccines, the ministry said that it will streamline the process for administering booster vaccination doses of mRNA vaccines, by reducing the post-vaccination observation time from 30 minutes to 15 minutes.
DETAILS ON THE OMICRON CASES
At a press conference by the national Covid-19 task force, Associate Professor Kenneth Mak, director of medical services at MOH, said that the 14 imported Omicron cases are people who had entered Singapore after going to countries such as Dubai, Finland, France, Germany, India, Mozambique, Nigeria, Qatar, South Africa, the United States, the United Kingdom and the United Arab Emirates. 
Most of them were detected when they tested positive for Covid-19 on arrival. One was diagnosed under quarantine after arrival and had no contact with the community.
The remaining one was detected while self-isolating after entering Singapore on a vaccinated travel lane scheme. "His household members are all well and they've so far tested negative," Assoc Prof Mak said.

As for the two airport workers, they were detected through work-required routine regular testing. They had no symptoms and were fully vaccinated.
There is no evidence that they were infected by people in the community. Their exposure to Omicron is likely to have been from workplace exposure to infected travellers in the transit areas.
Their close contacts have been placed on quarantine and remain well, and their Covid-19 tests have been negative for now.
"We do not have any evidence so far to suggest that Omicron variant is spreading in the community. But we must be prepared for the possibility of more local Omicron cases and clusters arising in future," Assoc Prof Mak added.
He also said that at the peak of the Delta variant wave here in late October or November this year, the bed capacity in intensive care units surged to about 280 beds, with hospitals on standby to raise the capacity to 350 beds at very short notice. 
"Now, for the Omicron variant with its increased transmissibility, we are preparing for the possibility of it having a higher virulent and associated increase in the rate of severe infections.
"And this means that we may need to prepare to increase our ICU bed capacity to even up to 500 beds.
"We do have sufficient stock of ICU equipment, medications and other treatments to care for this projected number of ICU patients and we've worked with our public hospitals to study whether infrastructure upgrading needs to be done to better support and provide care in our hospitals," he said.