2 MCCY officers given warnings for fabricating claim records after Auditor-General flags irregularities
SINGAPORE — Two officers from the Ministry of Culture, Community and Youth (MCCY) have been given official warnings, after they admitted fabricating claim records, Second Finance Minister Indranee Rajah said.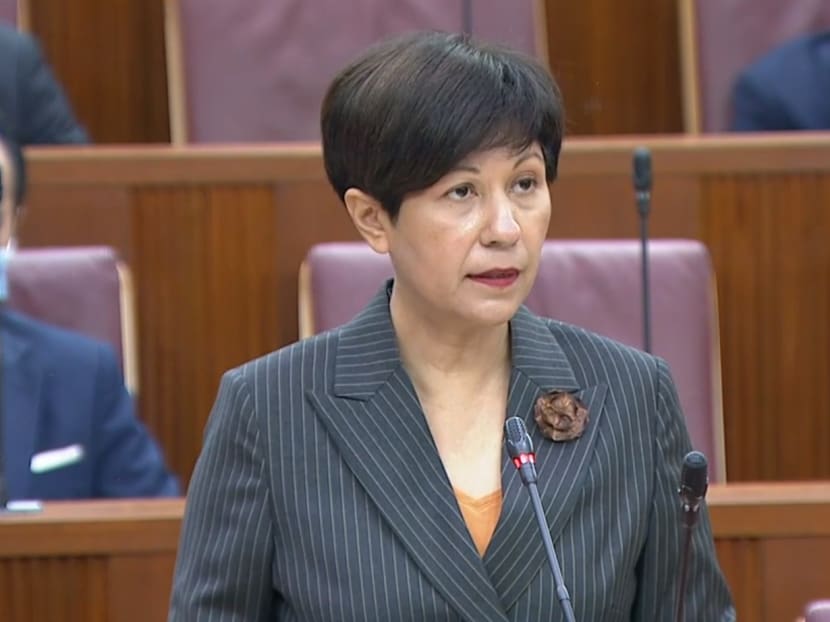 Two officers from the Ministry of Culture, Community and Youth have been given warnings, after they admitted to fabricating claim records
Second Finance Minister Indranee Rajah disclosed this in Parliament
The Auditor-General's Office had earlier found lapses and possible irregularities at MCCY and other government units
Separately, Culture, Community and Youth Minister Edwin Tong said that lapses at the People's Association were "not systemic"
SINGAPORE — Two officers from the Ministry of Culture, Community and Youth (MCCY) have been given official warnings, after they admitted fabricating claim records, said Second Finance Minister Indranee Rajah.
Their acts also affected their performance assessments. 
The officers had falsified the claims for services done by third-party vendors because they could not locate the records when the Auditor-General's Office (AGO) requested them. 
The claims were, however, valid and the services were rendered.
"While the claims were real, the conduct of the officers in fabricating the claims records was wrong," Ms Indranee told Parliament on Monday (Sept 13). 
She was responding to questions from Members of Parliament about the lapses and possible irregularities uncovered by AGO in its latest yearly report released in July.
In particular, Leader of the Opposition Pritam Singh asked about the actions taken against officers in cases where investigations have ended. 
In its report, AGO uncovered lapses in areas such as procurement and weaknesses in information technology controls, as well as possible irregularities in the records of three government ministries and two statutory boards. 
Apart from MCCY, the other government bodies where irregularities were found were the Ministry of Education (MOE), Ministry of Home Affairs (MHA), the Housing and Development Board (HDB) and the People's Association (PA).  
AGO had said its audit of MCCY found that supporting documents for claims contained signs that they could have been photocopies of one another, with changes made to the dates and duration of services rendered.
Turning to the irregularities at the other government departments, Ms Indranee said that investigations had concluded into two out of the three cases of possible irregularities in records provided by MHA contractors. 
One contractor was charged and the other had been given a 12-month conditional warning. 
Action has also been taken against a third contractor for flouting contractual requirements. 
There was no fabrication of records by MHA officers, but two of them are undergoing internal investigations for a lack of due diligence, she said.
Investigations into the possible irregularities at MOE, HDB and PA are still under way. 
Separately, Ms Indranee said that AGO had detected recurring lapses mainly in the areas of procurement, contract management, IT controls and grants management. 
"Given the scale and complexity of government operations, it would be unrealistic to expect zero lapses," she said.
"With 150,000 officers in the public service handling hundreds of thousands of transactions each year and more than 2,000 government IT systems built over the years by different vendors and using different technologies, human errors and process gaps will occur from time to time."
She also said that the Government was trying to improve the system by automating certain processes and training its officers to be better equipped at more complex types of procurement and contract management. 
LAPSES AT PA 'NOT SYSTEMIC'
In Parliament on Monday, MPs zoomed in on the lapses at PA, with several questions directed at MCCY, which oversees PA. 
Mr Edwin Tong, Minister for Culture, Community and Youth, said that the lapses in how PA manages its contracts for development projects were "not systemic". 
The statutory board had improved its system of controls and oversight immediately after those lapses were discovered. 
It has also engaged EY, a professional services firm, as an external consultant to review its governance and compliance systems, and the findings will be released after the review has been completed. 
At PA, AGO had found signs of falsification of quotations, alteration of hard-copy payment supporting documents, and the creation and backdating of documents relating to the construction and maintenance of two community hubs — Our Tampines Hub and Heartbeat@Bedok. 
The two hubs are among 788 community facilities managed by PA.
After being told of the irregularities by AGO, Mr Tong — who is also PA's deputy chairman — said that a panel helmed by senior officers from PA and MCCY conducted a thorough review of the processes. 
When investigations concluded and confirmed AGO's observations, PA made a police report and suspended the staff members behind the irregularities. 
When contacted, the police said that it was inappropriate for them to comment on the case as investigations are continuing. 
Among the steps taken by PA, an internal audit team has looked into all other facility management contracts at Our Tampines Hub to ascertain if there were irregularities similar to those flagged up by AGO. No possible falsification or alteration of documents were found. 
PA has also set up a task force to review and strengthen Our Tampines Hub's processes in procurement, contract and facility management as well as improve manpower resources, including those overseeing contractors and managing agents. 
Mr Tong said: "In many ways, we are tougher on ourselves when lapses are discovered. We must continue to do so and build a strong culture of zero tolerance." 
He added that the authorities cannot always prevent fraud, which may happen from time to time. 
"But what's important is to be able to detect it, to pick it up and then act firmly against it."