200 have found full-time jobs while undergoing SGUnited traineeships, attachments: MOM
SINGAPORE — Two hundred people have found full-time jobs while undergoing traineeships or attachments under two government programmes that were introduced last year to help boost the ailing job market amidst the pandemic.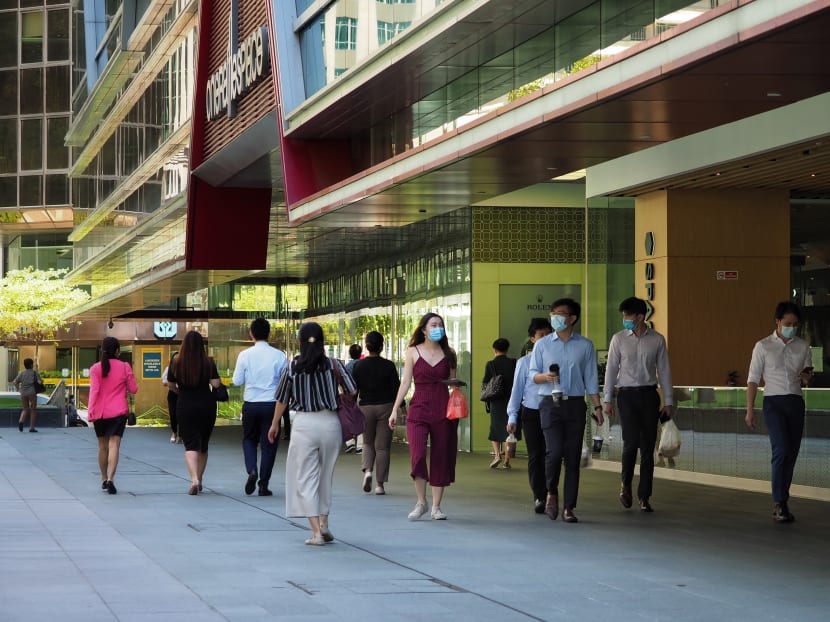 The Government started the two programmes in 2020 to help boost the ailing job market amidst the pandemic
As of February 2021, 9,500 people have been placed into these programmes
Of these, 200 have found full-time jobs
The Manpower Ministry said the programmes have since been extended and enhanced
SINGAPORE — Two hundred people have found full-time jobs while undergoing traineeships or attachments under two government programmes that were introduced last year to help boost the ailing job market amidst the pandemic.
These 200 include those who were offered full-time positions by their host companies during their traineeship or attachment, and those who left the programmes early as they had secured jobs elsewhere, the Ministry of Manpower's (MOM) said in its latest jobs situation report on Monday (April 12). 
A total of 160 people have also completed either the SGUnited Traineeships Programme or SGUnited Mid-Career Pathways Programme. 
When Workforce Singapore (WSG) conducted a survey of their job situations, half of this group responded, with 60 per cent of them reporting that they had found full-time employment since leaving the programmes.
As of the end of February this year, a total of 9,500 people have been placed into traineeships or attachments through these programmes, which were launched last year to bolster the labour market by helping recent graduates and mid-career individuals find traineeships or attachments where they could develop new skills and boost their employability.
MOM said the programmes have since been extended and enhanced, with companies hosting traineeships and attachments that started before March 31 this year now being able to qualify for financial support.
Previously the programmes were slated to end on March 31 this year. 
From April 1, training allowances were also raised for Institute of Technical Education and diploma graduates, as well as mid-career jobseekers aged 40 and above.
Of those who have applied and were accepted into these programmes:
Four in five are recent graduates

One in five are mid-career individuals

200 have found full-time employment while the programme was ongoing
There have been a total of 2,500 host organisations, including public sector agencies, of which nearly nine in 10 are small and medium-sized enterprises. Top sectors include infocomm technology and media, financial services and professional services. 
WSG said that they will be engaging participants who have not secured full-time employment to further support them in their job search.
SURVEY FINDINGS 
WSG also conducted a survey of 500 host organisations whose trainees have either completed their traineeships or attachments, or are completing them by June this year.
It found that:
Of the 250 that responded, 85 per cent have either converted or intend to convert suitable trainees to regular employees

Of the remaining 15 per cent, key reasons for not converting the trainees include:

The trainees wanting to further their studies

Needing more time to assess the trainees

Finding the trainees unsuitable

Not having available headcount
OPENINGS AVAILABLE 
The MOM said that in the coming months, another 15,000 traineeship and company attachment opportunities will likely be available, but WSG said it has started to observe a moderated pace of applications. 
WSG noted that in its survey of 500 host organisations, conducted between December last year and January this year, it found that nearly half of the applicants who had received at least one traineeship or attachment offer had turned it down, with fresh graduates more likely than mid-career applicants to do so.
The key reason cited was another traineeship or full-time employment opportunity.
Speaking to reporters about the jobs situation report after a visit to insurance firm Prudential, Manpower Minister Josephine Teo noted that the unemployment situation has eased and pockets of tightness have started to appear in the labour market.
But she added that the ministry decided to extend and enhance the two programmes as it wanted to study their take-up among upcoming cohorts of fresh graduates.
"In terms of the host organisations, the interest has not waned. In terms of the applicants, those that can apply are broadly already in the job market for several months already. The next cohort of graduating students, we will look at their interest which is why we decided to go ahead to extend as well as enhance the programmes," she said. 
She added that while MOM remains focused on the fresh graduates who will be joining the job market and starting their search, interest among mid-career applicants is also growing, particularly because the allowances have been enhanced.
"I think more and more mid-career individuals see that this is an opportunity to explore careers they may not have considered before. They find that if they jump straight into a new career, requiring a new set of skills, they may not be very well equipped but these company-hosted attachments allow them to pick up useful skills."
She added that through this programme, individuals will be able to have a better sense as to whether these roles meet their career aspirations and it also helps them to build up their resumes. 
WSG said it noticed that 70 per cent of the applications were concentrated on 20 per cent of vacancies, as applicants tended to focus on better-known organisations and prominent sectors.
It said that applicants should consider applying to a broader range of host organisations, and those with fewer applicants.
SUCCESSFUL PLACEMENT
Mr Jonathan Cai, 38, returned to Singapore last March after living In Melbourne, Australia for the last 10 years and applied to the SGUnited Mid-Career Pathways Programme. 
He had worked in two startups in Melbourne, as a business improvement and operations manager, in a short-term rental business and a housekeeping business, both heavily dependent on the tourism industry.
He said that finding something else to do in Melbourne was "almost impossible" because of the pandemic as there was a lockdown and travel ban. 
"It all happened so quickly so I didn't have much time to think. I booked a ticket and I left three days later, but I guess I felt a sense of excitement more than anything because I would have the opportunity to try out something new," said Mr Cai.
"I wasn't worried because my family is very supportive. I guess they trusted that I know what I want to do, and then I just went ahead and started applying for all the new jobs," he said.
He joined Prudential in October last year as a data testing trainee. 
"It's very different because I have to build everything from scratch and it's something I've got no knowledge of. But it was a pretty smooth transition, because the programme was planned out really well," he said.
"There was knowledge training and there were a lot of documents to assist me in my role. My teammates were all very helpful and supportive as well." 
Mr Cai said he hopes to continue working in his current role and has taken an interest in data testing. 
"So I think in the future I'll still be looking for software-testing or data-testing roles. Given that I'm only halfway through my attachment, my focus is on learning and equipping myself with the necessary skills," he added.
"As for my long-term goal, I hope to continue my career journey with Prudential if possible, and be one of the success stories for anyone looking for a mid-career opportunity."