45 per cent more long-term care workers needed by 2020: Study
SINGAPORE — The Republic needs to almost double its pool of long-term care workers by 2020 to care for its ageing population, but challenges such as low pay and an over-reliance on foreign workers could stall efforts to meet that target.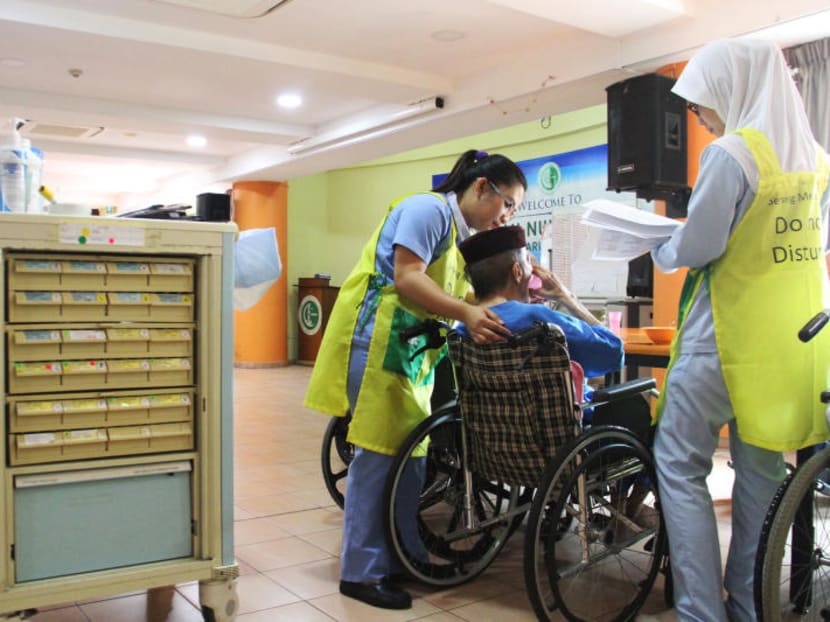 SINGAPORE — The Republic needs to almost double its pool of long-term care workers by 2020 to care for its ageing population, but challenges such as low pay and an over-reliance on foreign workers could stall efforts to meet that target.
The Lien Foundation revealed this on Thursday (July 26) in a new study, which was based on an in-depth literature review of Government, academic and private sector documents, as well as interviews with about 35 local and foreign care providers. Face-to-face surveys were also conducted with 250 long-term care workers and 50 hospital workers in Singapore.
The population of elderly people — those aged 65 and above — was about 517,000 as of last year, and is expected to grow to 610,000 in 2020, and swell to 960,000 in 2030.
The study commissioned by the philanthropic organisation, which evaluated Singapore's long-term care manpower needs in comparison to four other Asia-Pacific economies with similar ageing needs, noted that the direct care workforce needs to increase by 45 per cent by 2020 to meet the growing demand.
The Ministry of Health (MOH) is aiming to attract 3,700 more direct care workers to the sector by 2020. According to MOH statistics, as of March 2017, there were 8,300 such workers in Singapore.
These direct care workers — including nursing aides, nurses and therapists — make up an estimated three-quarters of all long-term care workers in Singapore, according to the study. Depending on their qualifications, direct care workers are then classified as either professional care or support care workers.
LOW PAY, POOR PROMOTION PROSPECTS
The study highlighted several areas of concern in the sector, such as salaries.
It found that long-term care workers in Singapore are the lowest paid among the five economies surveyed, which included Japan, South Korea, Hong Kong and Australia. This disparity in wages is especially wide among support care workers such as nursing aides and healthcare assistants.
This is despite Singapore having the second-highest post-tax national median monthly wage, and the highest Gross Domestic Product (GDP) per capita.
While salaries in the sector have gone up by at least 30 per cent since 2012, following a salary adjustment exercise, the study found that support care staff are still paid less than those working alternative jobs with similar qualifications.
For instance, local nursing aides, who earn around S$1,350 a month, get paid less than childcare workers (S$1,400), clinic attendants (S$1,738), and sales assistants (S$1,547).
They also earn less than their counterparts overseas. Singaporean support care workers earn an average basic salary of about S$1,350 a month, while foreign workers earn about about S$850 a month.
In comparison, support care workers are paid a post-tax salary of S$3,750 in Hong Kong, S$3,300 in Australia, S$3,000 in Japan, and S$1,800 in South Korea. Their salaries are not differentiated based on whether they are local or foreign.
The study also found that Singapore relies most heavily on foreign workers. Almost three-quarters of direct care workers here are foreigners, compared to a third in Australia, 10 per cent in Japan, and less than 5 per cent in Hong Kong and South Korea.
Long-term care workers who were polled in the study expressed dissatisfaction with pay and promotion prospects, despite noting that passion and the need for a job were the main motivating factors to work in the sector.
Compared to those working in hospitals, long-term care workers said they have limited promotion opportunities, especially for support care roles.
For example, trained foreign nurses who come to Singapore as nursing aides have to undergo a four to 10-year-long process to obtain a conditional licence to become a nurse.
Long-term care workers here clock in the longest hours weekly – 50 – among the five economies surveyed, barring Hong Kong.
Almost half of foreign long-term care workers said they are open to leaving Singapore to work in another country, with Australia the most attractive destination as it offers higher salaries and an easier path to permanent residence.
"It is untenable in the long run to simply rely on the passion and dedication of these workers for their jobs," said Lien Foundation's programme director Gabriel Lim.
IMPROVING WORKERS' LOT
Lien Foundation set out a series of recommendations to improve the situation of these workers.
These include putting in place a sector-wide skills and productivity-based wage progression pathway, similar to the Progressive Wage Model already in place for the cleaning, security and landscape industry.
Public spending could also go up further, it added. As of FY2016, Government spending on long-term care was relatively low – 0.19 per cent of its GDP – compared with 0.92 per cent in Australia, and 2 per cent in Japan. Only Hong Kong, which has double the number of seniors, spends less per elderly person.
Another recommendation was for operators to recruit directly from source countries to eliminate the middleman and improve the quality of foreign workers. This would help save agency costs for workers, making Singapore a more attractive place to work in.
The quality and reputation of the long-term care sector could also be improved through a grading system to rank such facilities, similar to what South Korea does, the foundation noted.
Responding to the study, a MOH spokesperson said that the ministry agrees on the need to build a stronger local pipeline, and it has been addressing this through various initiatives with the Agency for Integrated Care. Last year, 1,000 locals — of which 250 were support care workers — were recruited.
Through the salary adjustment exercise, MOH also extended S$200million to participating providers over the past six years to raise long-term care workers' salaries.
MOH will "continue our efforts to recruit and retain manpower in the long term care sector and balance right-pricing long term care with affordability", said its spokesperson.
"We are on track in meeting the projected manpower needs in 2020, and will continue to monitor progress."
Sign up for TODAY's WhatsApp service. Click here: