Co-payment mandated for new IP insurance riders in bid to curb 'buffet syndrome'
SINGAPORE — Those who buy Integrated Shield Plans (IP) with riders — which currently reimburse healthcare expenses without out-of-pocket payment — will have to co-pay at least 5 per cent of their hospital bills by April 2021.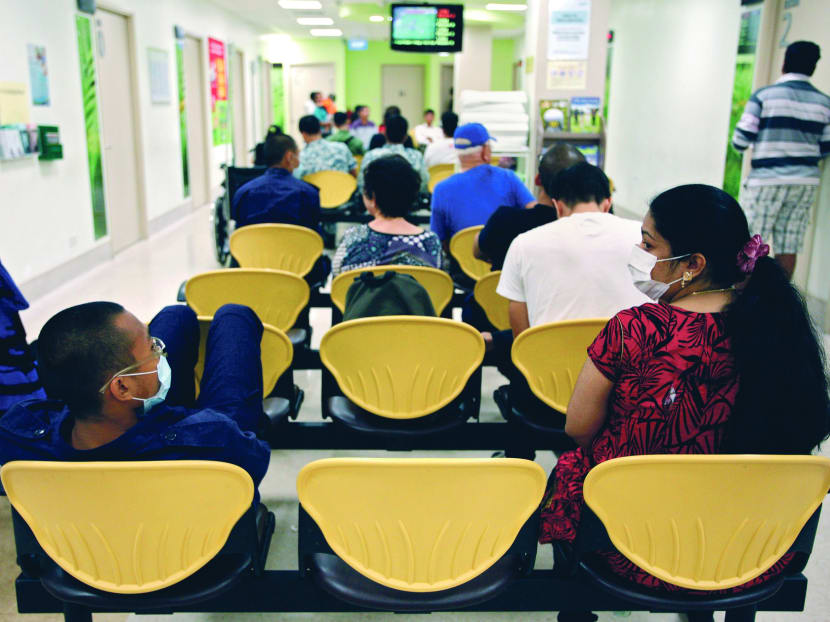 SINGAPORE — To curb the "buffet syndrome" among healthcare consumers who do not have to pay out-of-pocket for their hospital bills, new Integrated Shield plan riders must feature co-payment of at least 5 per cent, the Ministry of Health announced on Wednesday (March 7).
New riders incorporating co-payment of 5 per cent or more will be available by April next year.
In the meantime, insurers can still sell existing rider plans, some of which are full riders that cover the entire co-payment sums for hospital bills. But the insurers must inform new policyholders that they will transit to new riders with co-payment from April 1, 2021, said Senior Minister of State for Health Chee Hong Tat in Parliament on Wednesday (March 7).
It remains to be seen if more than 1.1 million Singaporeans who currently have Integrated Shield plans with full riders will have to co-pay their hospital bills. Unless their insurer changes the terms of the existing contract, they will not be affected.
"If insurers intend to make changes to their existing rider policies, they should consider the interest and well-being of all policyholders, as they seek to keep premiums affordable for everyone in the long term," Mr Chee said.
Speaking at the MOH's Committee of Supply debate, he said some instances of over-consumption and over-servicing "are, to put it plainly, disturbing". 
"In one case, a full rider policyholder made claims for 12 nose scopes in a year, without clear medical need," he said.
Another policyholder with a rider underwent a surgical procedure amounting to S$70,000 to remove a small lump from her breast, when there was an "equally effective" alternative which cost just S$5,000, he added.
"To be fair, not all doctors prescribe such expensive treatments and not all full rider policyholders submit such large claims. But it is clear that full riders have a detrimental impact on overall healthcare costs in Singapore. This is a key reason why rider premiums have increased by up to 225 per cent over the past two years," he said.
Such behaviours have had an indirect effect on premiums for IP policies across the board, said Mr Chee. IP premiums have risen by up to 80 per cent over the same period, with older policyholders and those on private hospital plans experiencing higher increases.
All insurers clocked underwriting losses — between S$5.1 million to S$29.2 million — in 2016 for the first time since IP full riders were first introduced in 1994. 
Mr Chee said the MOH's new requirement was not to "bail out the insurers".
"(It) is to address the concerns with over-consumption, over-servicing and over-charging, as these will lead to patients and policyholders paying rapidly escalating fees and premiums over time," he said. "It will be an unsustainable and undesirable outcome for Singapore, especially when we are ageing as a society."
Currently, a policyholder aged 50 would pay up to S$2,800 annually for a private hospital IPs and full riders – about twice the premium paid by a someone of the same age who has a private hospital IP without no rider. A policyholder aged 80 may pay up to S$12,200 per year for a private hospital IP with full rider.
As of December 2016, 68 per cent of Singaporeans are covered by IP plans, which includes mandatory national health insurance scheme MediShield Life and an additional private health insurance portion. Three in 10 have also topped up their IPs with full riders — which allows policyholders to pay nothing for hospitalisation and treatment, after forking out a higher premium initially. 
According to a 2017 report by global health and retirement services firm Aon, the Republic's gross medical inflation rate stood at 15 per cent in 2016.
But to cap the risk exposure for new policyholders against very large hospital bills, most insurers plan to set an annual co-payment cap of S$3,000 for their policyholders, said Mr Chee. They are allowed to set a higher threshold. Policyholders can use their Medisave funds for co-payment, up to applicable limits.
Full rider plans have resulted in higher bills and more frequent claims, despite their policyholders being generally younger and less susceptible to chronic disease. 
According to MOH, the average bill claimed by a full rider policyholder cost S$9,093 in 2016, about 58.5 per cent higher than that of an average IP holder (S$5,738). Patients with riders were more likely to visit private hospitals than those without riders, contributing to a bulk of this differential.  
Nine per cent of full rider policyholders made claims in 2016, compared to 7 per cent of those without riders, according to the ministry.
With the new co-payment feature, patients with riders will co-pay at least S$180, or 5 per cent, of a Class A hospitalisation bill amounting to S$3,600, where they previously would not incur any out-of-pocket expenses. The ministry estimated that one in two rider policyholders would have to co-pay S$100 or less for hospital bills across all ward types, while nine in 10 will co-pay no more than S$550.
The new riders offered by the six IP insurers — AIA, AXA, Aviva, Great Eastern, Income and Prudential — will likely have lower premiums than full riders. Those who buy IP plan riders in the coming year may opt to switch to the new riders before April 2021.