5-hour search in Hillview by police, including Gurkhas, for man allegedly spotted in drain wearing only underwear
SINGAPORE — A man believed to be wearing only his underwear sparked a five-hour search on Thursday (May 25) along Hume Avenue in Hillview after a call was made to the police that a person had been spotted in a drain.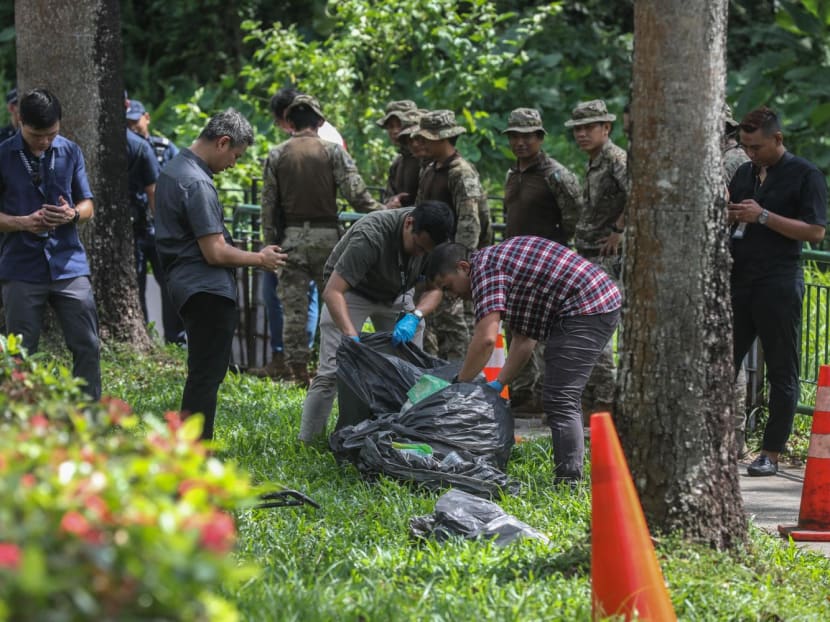 A man was allegedly spotted in a drain along Hume Avenue, sparking an almost five-hour police search for him on May 25
Mr Victor Ilanos, who made a police report, said the man was in his underwear and seemed to be opening luggage in the drain
When TODAY went to the scene from 9.15am, seven Gurkha police officers were spotted searching for the man
The police left the area at about 12.30pm
At around that time, it did not appear that the man had been found
SINGAPORE — A man believed to be wearing only his underwear sparked a five-hour search on Thursday (May 25) along Hume Avenue in Hillview after a call was made to the police that a person had been spotted in a drain.
When TODAY arrived at the scene at 9.15am, eight police vehicles were parked along the road. The drain cover nearest to a path leading towards the Rail Corridor was cordoned off, with the police directing curious onlookers away from the scene.
Seven Gurkha police officers in camouflaged uniform, noted for their skill in searches, were spotted at the drains along Hume Avenue towards Upper Bukit Timah Road. Officers from national water agency PUB were present as well.
TODAY has sought comment from the police on whether the man has been found, among other questions. Pending more details from police, TODAY has pieced together what is known so far from witnesses and residents.
Mr Victor Ilano, 50, who declined to disclose his profession, said that he was the one who had called the police.
He told TODAY that he was out for a walk at about 6.30am when he noticed a light shining out of a hole in one of the drain hole covers.
"I was looking at the ground — it was still quite dark at around 6.30am — when I noticed a light shining from a hole in the drainage cover," the resident at a Hume Avenue condominium said.
"That was when I realised there was a man inside, shining what seems to be his phone at a luggage."
Mr Ilano filmed the man in the drain on his phone, but hesitated to call the police because he thought the man might have been working, or a repair man. However, he later noticed that the man was wearing only his underwear.
Feeling uneasy about the situation, Mr Ilano stopped a jogger headed towards the Rail Corridor to confirm if he had seen the man in the drain. At 6.39am, the jogger then urged Mr Ilano to call the police.
"He (the jogger) didn't have his phone with him, so I called 999 and asked him to speak to the police. After the police said that they would come, the jogger went off and asked me to wait," Mr Ilano said.
"Two police officers then came by around 6.50am or 7am, and they seemed surprised that there really was a man in the drain. They then asked people to stay away before calling for back-up."
Mr Ilano then told the police what he had seen and showed them the video of the man in the drain.
Between 11.50am and 12.30pm, TODAY spotted waste management workers removing two chairs, a mattress, a black item of luggage and a brown luggage bag from the drain, among other things.
Police officers were spotted looking through the items and packing them into about 30 black trash bags.
At about 12.30pm, the police officers and waste management workers left the scene.
TODAY also left the scene at that time. By that time, the man did not appear to have been found.
Mr Ilano and other onlookers said that they were surprised by the police presence on Thursday morning.
The route between Hume Avenue and the Rail Corridor is often crowded in the morning with people going for a morning walk or run, or to get breakfast at the Rail Mall nearby.
One resident at Symphony Heights condominium, who declined to reveal her name or age, said that she noticed the police there at around 7.30am on her morning run.
"I wondered what was happening, nobody will say anything," she said, hoping that nothing unfortunate had happened.
A woman in her 70s, who also declined to be named, said that the commotion was surprising for the usually quiet neighbourhood. She noticed the unfolding drama at around 9.30am while on the way to buy groceries at the Rail Mall.
TODAY has asked PUB about legal penalties applying to people who enter drains without the authority to do so.
National daily The Straits Times reported in 2017 that anyone who enter waterways, including drains, without prior approval may be fined up to S$3,000. ADDITIONAL REPORTING BY NURIA LING