5 new large childcare centres to open in Punggol, Sengkang by 2020
SINGAPORE — To ease a space crunch which has left some young parents frustrated, five new mega childcare centres will be opening in Punggol and Sengkang over the next two years, adding 2,600 more childcare and infantcare places to these housing estates.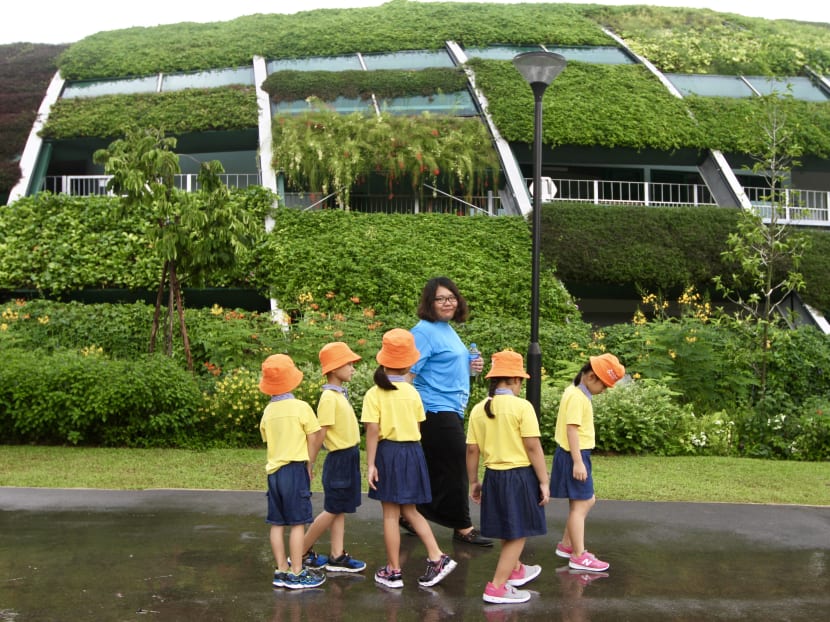 SINGAPORE — To ease a space crunch which has left some young parents frustrated, five new mega childcare centres will be opening in Punggol and Sengkang over the next two years, adding 2,600 more childcare and infantcare places to these housing estates.
Four of them will be built in Sengkang to provide between 300 and 550 places, while the fifth in Punggol will offer 650 places, announced Minister for Social and Family Development Desmond Lee on Wednesday (July 25).
Speaking at the opening ceremony of the Skool4Kidz large childcare centre at Sengkang Riverside Park, Mr Lee said that the Government will focus its efforts on estates with many young families to support young parents in raising their children.
The upcoming Sengkang childcare centres — which are expected to be completed next year — will be located at Fernvale Community Park, and along Rivervale Crescent, Sengkang Central, and Fernvale Lane.
The fifth centre along Punggol Road is expected to be completed in 2020, and anchor operators will be announced at a later date.
The Early Childhood Development Agency (ECDA) will provide more details on how parents can register their children for places in these new centres in the first half of next year. Interested parties can then register via ECDA's online portal.
The addition of these five new centres will bring the number of large childcare centres in Singapore to 14.
Currently, the nine operational mega childcare centres are in Punggol and Sengkang, as well as Yishun, Woodlands, Jurong West and Bukit Panjang. They have added more than 5,000 preschool places over the last two years.
Large childcare centres, which offer between 300 to 1,000 places each, have three to five times more capacity than centres located at void decks of Housing and Development Board (HDB) blocks. Developed by anchor operators from ECDA, they are located primarily in areas with high localised preschool demand.
"We are working closely with operators to design preschools and deliver programmes that create more opportunities for our children to interact with the community, play and learn outdoors," said Mr Lee.
Lessons will be planned to incorporate outdoor learning, and spaces will be "well-integrated with the surrounding environment", he added.
For example, the 4,000 square metres Skool4Kidz centre at Sengkang Riverside Park, which was built in partnership with the National Parks Board, features garden spaces where students can harvest ingredients for their own meals, as well as large art areas.
The centre, which began operations in February and can take up to 462 infants and children, is currently at half capacity as enrollment is being carried out in phases. Ms Teri Teo, Skool4Kidz's director of communications and capability development, said that there is a "healthy waiting list" for places, and they expect to reach full capacity by February 2019.
According to ECDA statistics, as of the first quarter of this year, there were 98 childcare centres in Sengkang with 10,713 places, and 54 centres in Punggol with 6,778 places. Mature estates such as Bedok and Woodlands each had 82 centres with a capacity of 7,172 places and 7,843 places respectively.
RELIEF FOR PARENTS
Residents in Sengkang and Punggol welcomed the news, as they pointed out the difficulties in securing a place for their children in the area.
Sengkang resident Janice Tan, 33, applied to 10 preschools last year to enrol her four-year-old daughter, but did not hear back from any of them for six months.
"Demand was crazy, especially because we lived overseas for two years and had to catch up," said the mother-of-two, who works part-time in administration.
She finally got a spot for her daughter in Bright Kids School House in Punggol through her cousin's referral, before securing a place at Sengkang's Skool4Kidz large child care centre. She plans to enrol her one-year-old son in playgroup there when he turns 18 months old.
Fellow Sengkang resident Crystal Wong, 27, is also hoping to enrol her son into playgroup now that the new centres are coming up. Her mother-in-law is currently taking care of her infant son.
"From what I heard, Sengkang childcare centres… focus more on full-time infant-care and childcare," said the auditor.
Noting that many parents apply for spots "very early", she added: "Sengkang and Punggol (preschool places) are in high demand too, so I'm concerned about finding a spot for (my son) in preschool eventually."
Mr Adrian Lim, 39, said that while it was "not easy" to find a childcare place in Sengkang, where he lives with his wife and two young daughters, it is important for parents to find a childcare centre that they are comfortable with.
The financial planner faced similar problems as Ms Tan, having registered interest in many schools in the area a year ago but receiving no responses. "There's definitely a shortage of supply, but I can see that efforts are being made to increase (the number of places)," he added.